Concrete is the most widely used construction material in the world, with a wide range of regular uses. However, problems such as freeze thaw, spalling/cracking, carbonation, chemical attack and impact, amongst others, can all result in concrete damage.
When a repair is needed, reducing downtime and maintenance costs are top priorities. Yet, there can be situations where applications aren't straight forward, such as overhead and vertical repairs. Using traditional or alternative concrete repair methods can mean more time and costs associated with a repair. Formwork or shuttering is also required to mould the material into shape and provide support during and after the application. Not only does this extend the maintenance period, but also introduces further labour and material costs.
superior performance and application benefits compared to traditional and alternative concrete repair methods. Lightweight properties allow repairs to take place without the need for installation of formwork/shuttering for overhead and vertical repairs. Mechanical properties are also superior with higher impact resistance and higher levels of adhesion.
In addition, concrete generally must be left to cure for a minimum of 28 days. Belzona's composite concrete repairs can achieve a full mechanical cure in as little as 12 hours.
One of Belzona's latest innovation, Belzona 4141FR, introduces a further performance benefit for composite concrete repair systems in the form of fire resistance. In the world of construction, safety is a top priority. Particular areas such as tunnels, metro/subway systems and high-rise buildings, are more susceptible to smoke and concentrated heat, which can dramatically increase the risk of environmental damage and threat to life.
A fire in a confined space, such as a tunnel or underground parking garage, can generate much higher temperatures than one in an open space, due to containment and reflection of the heat.  Fire can cause significant damage to concrete resulting in severe structural damage.  The generation of smoke can significantly hamper rescue services attending the blaze. This was shown in a number of previous events that took place in tunnels, car parks and commercial buildings. With temperatures reaching over 1000°C, severe deterioration of the concrete can lead to a huge loss in structural integrity. These buildings and structures need to be closed and repaired for a prolonged amount of time, or in the worst of cases, completely demolished. This creates a wide number of economic and environmental consequences.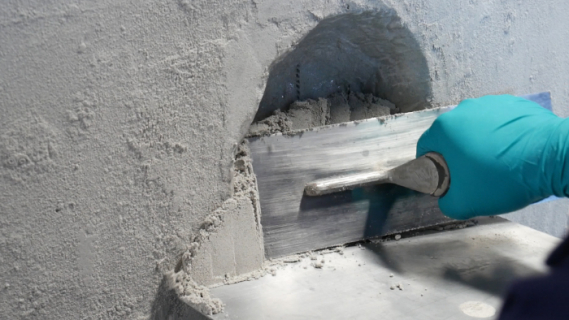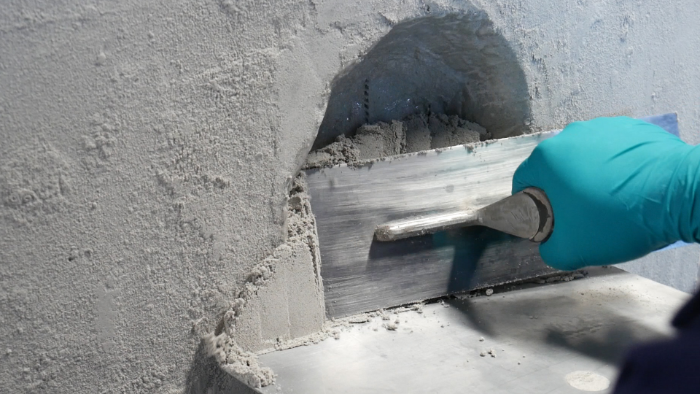 To eliminate such dangers, Belzona 4141FR has been developed as a fire resistant, lightweight repair composite for the rebuilding and protection of damaged vertical and overhead concrete surfaces. This high-build system simplifies application whilst providing durable results. Both thanks to its mechanical properties and the fact that it is fire resistant, it received a Euroclass Classification of B s1 d0.
During fire testing, the system was exposed to temperatures greater than 1900°C (3450°F) for periods of 30 minutes, with no damage or loss of material contributing to the spread of flame. Additionally, as a solvent-free material, it is ideal for both internal and external masonry, experiencing no shrinkage during cure.
Belzona's R&D Manager, Jason Horn, said the following; "Belzona has an established range of composite concrete repair systems that have been used in hundreds of projects around the world.  With this product, we wanted to extend the capabilities of the range by developing a system that would complement our existing concrete repair systems, introducing an added element of safety – more specifically, fire safety.  Belzona has now introduced a fire-resistant concrete repair system that is non-combustible, produces a very low volume of smoke and maintains its structure under immense heat.  This allows the product to meet the conditions of projects where stringent fire and smoke standards are specified, for example underground services."
Belzona 4141FR aims to provide a safety conscious, fire-resistant composite concrete repair system. Without the need for formwork/shuttering, downtime is reduced and allows for an easy and quick application even with basic tools. From high-rise buildings and car parks to metro stations and tunnels, the system provides a long lasting, cost-effective solution for any type of building and structure.