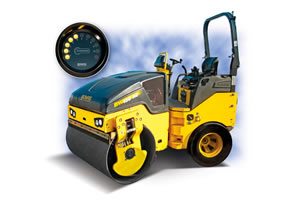 The BW138AC-5 Combination Roller from BOMAG features a traditional vibratory steel drum in the front and four smooth pneumatic tires at the rear. This "combination" delivers added material manipulation for asphalt compaction and enhanced tractive effort for operating on steep grades.
Powered by a Tier 4 Interim Kubota diesel engine, 35.4″ drum diameter, Smooth rear pneumatic tires manipulate the compacted material and ensure that the liquid asphalt is even throughout the lift, Equipped with a pressure water sprinkler system that includes 76-gallon water tank, Filtered spray nozzles and an interval sprinkler timer save water, windscreens ensure drum is wet in windy conditions, Separate 13-gallon tank holds emulsion liquids for wetting the tires
Suspended, vibration-isolated operator's platform includes adjustable and laterally sliding seat for added comfort and clear view to the drums, Operator efficiency enhanced with multifunction dual travel levers and Smart Drive steering wheel that provides more working room and view of all machine controls, Optional Bomag Economizer system enables continuous control of compaction energy and offers real-time compaction data to the operator, Compaction level indicated by an increasing number of illuminated yellow LEDs on the display and maximum compaction achieved when the number of LEDs does not increase with repeated passes.