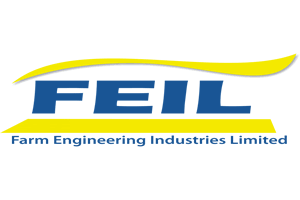 Established in 1985, Farm Engineering Industries Limited (FEIL) is the leading supplier of world-class machinery brands for the Construction, Mining, Agriculture and forestry industries holding franchises for Hyundai, BELL, Soosan, Escorts, Frumecar, Roadtec, Stehr, Altec, Claas, Colombo, Pramac, Stara and other well renowned brands from all over the world.
All the products FEIL brings in are fully supported by complete back up and service support. All FEIL technicians are highly trained to train the machine operators, carry out services and trouble shoot any issues related to any of the equipment. FEIL has managed to custom manufacture fire engine truck one of the first to be assembled in Kenya.
Other equipment from FEIL custom manufacturing division include skip-loaders, dump trucks mostly used by city councils, water bowsers and fuel tanks.
520LC-9 Excavator: Wide Cabin with Excellent Visibility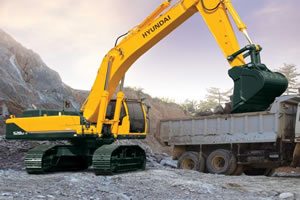 The newly designed cabin was conceived for more space, a wider field of view and operator comfort. Special attention was given to a clear, open and convenient interior with plenty of visibility on the machine surroundings and the job at hand. This well balanced combination of precision aspects put the operator in the perfect position to work safely and securely.
Cummins QSM11 Engine
The Tier III compliant, six cylinder, turbo-charged, 4 cycle, water cooled, Cummins QSM11 diesel engine is built for power, reliability, efficiency and reduced emissions.
The QSM11 from Cummins. With advanced electronics. Higher torque. Better throttle response. Shorter service times. Longer maintenance intervals. Increased fuel economy. Decreased noise. Diagnostics. Prognostics. Engine protection, and more. All wrapped up in something we call the Quantum system. The QSM11 is built to withstand the toughest work environment. Bearings have more surface area to handle higher loads with greater durability. The exhaust manifold allows for heat expansion and contraction, eliminating metal stress fractures. Reduced friction in the power cylinder means longer life and increased power output. From the structurally reinforced block to the stiffened gear housing, the QSM11 is built stronger to last longer.
Hi-Mate Management System
Hi-mate, Hyundai's proprietary remote management system, provides operators and dealer service personnel access to vital service and diagnostic information on the machine from any computer with internet access. Users can pinpoint machine location using digital mapping and set machine work boundaries, reducing the need for multiple service calls. Hi-mate saves time and money for the owner and dealer by promoting preventative maintenance and reducing machine downtime.
General specs
Undercarriage- Sealed track chain (urethane seals) / Standard track rail guard / Comfortable bolt-on steps. Large upper roller cut-outs for debris clean-out / Tapered side frames for debris clean-out / Grease-type track tensioner.
Engine Technology – Proven / reliable, fuel efficient Cummins Tier III QSC engine. Electronically controlled for optimum fuel to air ratio and clean, efficient combustion. Low noise / Auto engine overheat feature / Anti-restart feature.
Hydraulic System Improvements
New patented hydraulic control for improved controllability / Improved control valve design for added efficiency and smoother operation / New auto boom and swing priority system for optimum speed / New auto power boost feature for additional power when needed / Improved arm-in and boom-down flow regeneration system for added speed and efficiency.
Pump Compartment
Industry-leading, powerful, reliable Kawasaki designed, variable volume in-line axial piston pumps. New compact solenoid block equipped with 3 solenoid valves, 1 EPPR valve, 1 check valve accumulator and pilotilter controls 2 speed travel, power boost, boom priority, safety lock.
Improved Visibility
Enlarged cab with improved visibility / See-through upper skylight for visibility and ventilation. Larger right-side glass, now one piece, for better right visibility. Safety glass windows on all sides – less expensive than (polycarbonate) and won't scratch or fade. Closeable sunshade for operator convenience / Reduced front window seam for improved operator view.
Improved Cab Construction
New steel tube construction for added operator safety, protection and durability. New window open/close mechanism designed with cable and spring lift assist and single latch release.
Improved Suspension Seat / Console Assembly
Ergonomic joysticks with auxiliary control buttons for attachment use. Now with new sleek styling. Heated suspension (standard) or optional air ride suspension with heat. New joystick consoles – now adjustable in height by way of dial at bottom. Adjustable arm rests – turn dial to raise or lower for optimum comfort.
Advanced 7″ Colour Cluster
New Colour LCD Display with easy to read digital gauges for hydraulic oil temperature, water temperature, and fuel. Simplified design makes adjustment and diagnostics easier. Also, new enhanced features such as rear-view camera are integrated into monitor. 3 power modes : (P) Power, (S) Standard, (E) Economy, 2 work modes : Dig & Attachment, (U) User mode for operator preference. Enhanced self-diagnostic features with GPS download capability. One pump flow or two pump flow for optional attachment now selectable through the cluster / New anti-theft system with password capability.
Boom speed and arm regeneration are selectable through the monitor.
Auto power boost is now available – selectable (on/off) through the monitor. Powerful air conditioning and heat with auto climate control, 20% more heat and air output than 7A series! RMS (Remote Management System) works through GPS/satellite technology to ultimately provide better customer service and support.
Below is a Fire Engine truck assembled from Farm Engineering industries Ltd Custom Manufacturing Division, one of the many successes of FEIL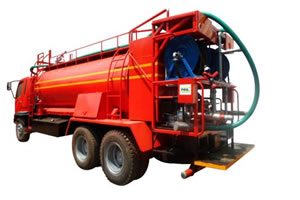 Farm Engineering Industries Ltd Open Day
The second edition of the FEIL open day kicked off at the FEIL Business Park, Nairobi, on Thursday 7thNovember, and lasted up to Saturday 9th November. The idea behind this event was to offer specialized attention to FEIL's loyal clients. Over 100 pieces of equipment and machinery on building and construction, agriculture and forestry, firefighting as well as mining and water technology were on display.
FEIL open day was meant to cater to the demands of not only the Kenyan market, but the entire East African region by offering discounted prices in all machineries on display, hence, there was an inflow of clients from the neighboring countries like Uganda and Tanzania among others. FEIL partners with various financing institutions to finance clients who are not able to pay lump-sum amount at the time of purchase, so Guardian bank and Kenya Commercial Bank were on site to cater for clients who needed financing at that time.
The price offers were meant to last for three days of the show but there was an extension of one week after the closure of the show. On 8th a cocktail party was held for FEIL's corporate clients, the idea was for FEIL's management and sales team to interact directly with clients face to face and to get to know their thoughts, share ideas on areas of improvement and also receive constructive criticism essential for customer satisfaction.
At FEIL emphasis is always placed on the genuine spare parts, therefore, Spare parts were also displayed for customers to purchase at discounted prices. In addition, from the mechanical division, diagnostic testing was being carried on to machines in order to resolve technical issues. The well abled Mechanics were on sight to respond to technical queries raised by customers and carry out demonstrations in case a client demanded to.
To make sure that FEIL's clients got assurance of the quality and performance of the machines they purchase every day, there were representatives from various manufacturers namely; Bell, Pramac, Soosan and Hyundai. The Bell from South Africa normally suppliesagriculturalmachinery like cane loaders, tele-loggers and construction machinery.
Pramac provides quality Genets'currently in stock for viewing while Soosan provides demolition attachments like breakers, rippers and couplers, Hyundai Heavy Industries obviously manufactures the famous Hyundai excavators, wheel-loaders, backhoes among other heavy machineries presently dominant in East African market. The aim of these representatives being there was to meet their clients face to face, therefore, helpingbuild consumer confidence in their products. This was achieved through training of customers, responding to customer complaints as well as customer visit where diagnostic texting was carried out on various machines at their working sites.
The three day event came to an end leaving all parties involved equally satisfied, the FEIL customers were the happiest of course having taken home a number of machineries at very fair prices.Due to success of this event, more of these events are planned to take place from time to time.
About FEIL
FEIL has 4 large branches across East Africa, with state – of –the – art facilities comprising of 100,000SQFT housing a fabrication division, machine & mechanical shop, a fully stocked parts warehouse, showroom and management offices.
This year FEIL will move into its brand new HQ, based on Mombasa Road in Nairobi. This building has world – ranking facilities for fabrication and machine rebuilding making it one of the most modern amenities in the country.
This significant investment will encompass a show room, management offices, a 4 floor high spare – parts warehouse, a training center, a technical department, an engine re-build section, a full fabrication division with 20T capacity gantries, a machine shop with laser cutting, profile cutting, bending, drilling, milling, rolling, power saws and lathe machines. Theexisting Kisumu and Kampala facilities remain as they are. With planned branches across East Africa, this new HQ, a new branch in Mombasa this year – we pose a sustained commitment to support our customers region wide.
As you already know East Africa and Africa as a whole has become the business destination for this century and FEIL has felt the need to be the leader in fastening this massive growth taking place in today's Africa economy. Hence,FEIL has improvised ways of retaining and expanding its market share in agriculture, construction and mining sectors. This is by bringing equipment from the leading manufacturers from all over the world. FEIL providesequipment duly customized to suit the ever growing needs of the East Africa's booming industrial and infrastructure market.
In construction and mining, new technologically advanced machines are released from time to time in order to meet the constant technological changes taking place rapidly every day. The HYUNDAI the Hyundai-9series Excavators, recently introduced into African market, is one of such examples of how far FEIL is willing to make its customers work easy. Recently,alsothe Bell E-Series ADT (articulated Dump Trucks)was introduced to Kenyanmarket adding another up-to-date machinery in the range,all these new machines are customer-focused.
Other suppliers FEIL holds franchise with include Pramac who manufacturer very effective and efficient generators and Lifting Equipment, the Soosan Drill Rigs & demolition attachments meet the mining challenge in Africa. FEIL believes in the vitality and importance of equipping all its staff with the latest technological advances thus the emphasis is placed on training and staff empowerment to handle all these equipment as they come.
In Agriculture there is a big range of products from well-established manufacturers all over the world. BELL (South Africa) supplies the Cane Loaders widely used by the biggest sugar manufacturing companies in Kenya namely Mumias Sugar Company and Nzoia sugar among other large scale individuals.The CLAAS (Germany) on the other hard supplies a number of agricultural equipment, very powerful tractors of which customers have praised on productivity and fuel consumption, there are also the balers, combine harvesters among other equipment.
The TATU (Brazil) provides withploughs and other agricultural implements whileGreat Plains (USA) has catered for zero tillage need and a range of other agricultural implements.Stara and Colombo both from Brazil have also provided unique implements meant for the modern economical farmer. The SOLIS (India)has provided affordable and productive tractors for both large scale and small scale farmers.
For more information, photographs and to arrange a time to view the machines or premises please contact Panvir Bhurji on:
A: P.O. Box 19030-00501| Nairobi | Kenya
T: +254 (0) 20 6535745 | 6536152
M: +254-733-638709
+254-722-203658
W: www.feil.biz