Known in the industry as a global player and system solution partner with a high level of individualisation, mbk Maschinenbau GmbH has been inspiring its customers with technical innovations and future-oriented systems since the company was founded in 1961.
At their headquarters in Kisslegg, Germany a highly experienced development and technology team, develops, designs and implements efficient and reliable reinforcement mesh welding machines for the construction, concrete and precast industries on an area of around 10,000 m2 .mbk Maschinenbau GmbH has successfully established itself as one of the leading manufacturers for innovative machine concepts that enable state-of-the-art manufacturing processes and markets welding machines and equipment for the construction and concrete industries in over 60 countries worldwide.
Flexible mesh welding machine
Alongside know-how and experience, innovative capability also means recognizing the current trends and reacting accordingly to the demands of a modern market. The automatic production of CAD-based reinforcement meshes for the manufacture of precast concrete elements with recesses for window and door openings is becoming increasingly significant. mbk recognized this trend and reacted with the flexible mesh welding machine MSM-M.
Mesh length ranges
This mesh welding machine welds reinforcing steel meshes directly from the coil – in accordance with individual specifications. The width of the mesh that can be produced ranges from 400 mm to max. 4,000 mm, depending on the requirements.
The mesh length ranges from 1,000 mm – 14,000 mm, larger dimensions are possible on request. This new mesh welding machine is currently available in five sizes. The newly developed multiple rotor straightening and cutting machine DRA-M is used for automatic loading of the longitudinal and cross wires for flexible mesh production from the coil.
The wire diameters processed range from 6 mm to 16 mm, as an option also from 5 mm to 20 mm. The longitudinal reinforcement is placed directly from the rotor straightening and cutting machine DRA-M in the desired mesh position on a mobile transport table.
A fully automatic transport and transfer to the welding unit of the mesh welding machine follows from there. The grid size for the longitudinal reinforcement is 25 mm, the respective reinforcement bar diameter is decisive for the distance.
Cross reinforcement
The cross reinforcement is also placed in the required lengths in the correct sequence on an additional transport table, which is likewise mobile. The cut cross bars are then transported to the welding unit, where they are individually fed from below to the longitudinal reinforcement. The minimum distance between the cross wires is fixed at 50 mm, but is optionally infinitely variable.
An impressive range of accessories for automation makes it possible to add useful features such as mesh handling, mesh deposit for "stand-alone" systems or in following circulation systems as well as for further processing in downstream bending stations.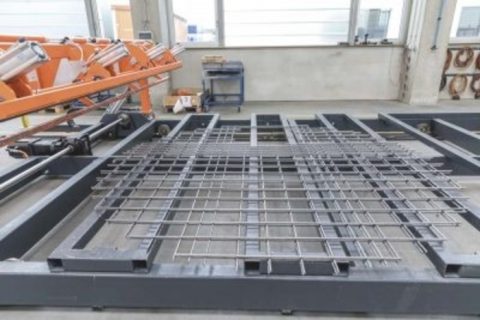 This flexible MSM-M mesh welding machine from mbk is an innovation on the market that satisfies all requirements for suitability for everyday use and cost-effectiveness. The robust design and low maintenance requirements guarantee efficient production processes.
An uncomplicated and free exchange of information within a precast concrete plant is ensured by the connection to the Unitechnik CAD-CAM interface, LAN and WLAN connections offer the best conditions for fast and uncomplicated help in the event of a malfunction as well as simple and professional production planning through the use of various updates.
The MSM-M average production output is approximately 200 m2/h. However, this depends on the mesh coverage and the recesses. A higher throughput can of course be achieved on request.
One of mbk's major strengths is its ability to develop and implement modern, future-oriented solutions that are tailored to the actual situation of the customer and the requirement profile.
The professional and well-developed after-sales service – a key company focus – ensures that all machines and systems developed and built operate smoothly, well after commissioning, and that customers are able to benefit from a complication-free, economical day-to-day work flow.
For mbk such aspects are a matter of course. This is something that customers all over the world have come to appreciate. Even in a world dominated by technology, it is values that shape customer relationships (strong connections!) and decide how market shares develop.