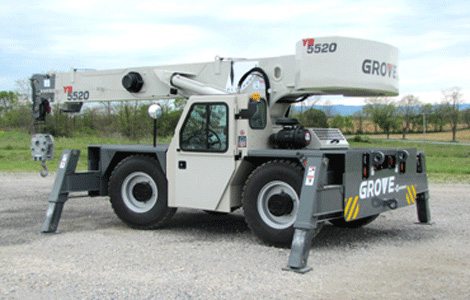 The Grove YardBoss YB5520 is a new industrial crane to replace the older 16 tonne YB5518.
The new crane has 18 tonnes capacity and a 16.6 metre four section, full power boom.
The crane comes with two jib options, a 4.6 m boom extension and an adjustable 4.6 m to 7.6 m swingaway boom extension.
The YB5520 has a 4.6 by 2.4 m footprint and stands 2.5 m tall. It comes with crab steering with self-alignment and pivoting boom nose; these are adjustable to five positions from minus 30 to 80 degrees. The crane will be fully CE certified in line with the latest European EN 13000 regulations. All other YB cranes will be similarly CE certified by mid-2013.
Thomas McCallum, director of industrial crane sales and crane remarketing at Grove, said the new YardBoss YB5520 marks a new generation of Grove industrial cranes. "Three years ago we started a project to completely redesign the YardBoss from the ground up," he said. "The end result is a wholly-innovative, superior machine that builds on the YardBoss tradition, but possesses technology all its own. "The size of this crane makes it perfect for work in auto or industrial plants, shipyards, refineries and other job sites where space is limited," McCallum added.
Other features include a two-speed hoist and a 3.3 litre, Euromot 3B Cummins diesel engine and ITL power shift transmission. The YB5520 will also be able to drive on unimproved, semi-rough terrain, such as gravel and dirt, the company said. New safety features include LED lights and an outrigger monitoring system. The YB5520 is manufactured at Manitowoc's factory in Shady Grove, Pennsylvania, USA.