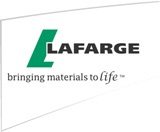 Nigeria leading Cement maker, Lafarge Cement WAPCO Nigeria PLC has introduced a new product into the Nigerian market Called Lafarge Powermax.
Lafarge Powermax is a premium Technical Cement that combines excellent strength performance at all ages with versatility and enhanced durability benefits.
The characteristics of superior workability and good early strength in particular make Lafarge Powermax the effective solution to the productivity demands of large construction projects while also satisfying the needs of homeowner building projects.
The special Powermax cement is formulated from Portland clinker together with selected type of limestone and strength -enhancing additive.
The group is headquartered in France. The company deals in manufacture of building materials in the of Aggregates & Concrete, as well as Gypsum, in addition to cement. The company currently operates in 61 countries around the world.
The company's operations in Nigeria was an entry with construction of Benue Cement Plant, joint venture agreement with Blue Circle Industries with the incorporation of Atlas Cement Company Nigeria Limited. It acquired Blue Circle in 2001,and took over West African Portland Cement (WAPCO), which was renamed to Lafarge Cement WAPCO Nigeria Plc.
Other investments include AshakaCem in the North and UNICEM in the South-South. Recently, it was planning to merge the SA and Nigeria units.