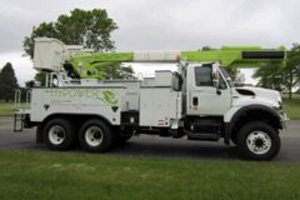 Terex has launched its new Hi-Ranger SCM overcentre material handling aerial device, available in three height sizes: SCM48, SCM50 and SCM55.
According to Terex, the side-by-side lower boom configuration on the SCM Series provides overall height under 11 ft (3.3 m) on a 40-in (101.6 cm) frame for greater mobility.
The low profile of the SCM series allows for low platform stow near centreline of the truck to provide operators with exceptional clearance of overhead obstructions such as bridges, trees and powerlines during travel.
A side mount, one-person, 700-lb (317.5 kg) capacity platform comes as standard on all SCM units, as do minimized control hose loop and standardized controls. Dual platforms can be requested.
The Terex HyPower Hybrid System is another option for the SCM Series models. This allows operators to save fuel, reduce noise and increase efficiency.