115 West Street building is the new headquarters located in Sandton for Alexander Forbes, a South African financial services company. It is often the first structure that visitors to South Africa see after the airport, located across from the new high-speed Gautrain station.
Zenprop Property Holdings developed the structure for its tenant, Alexander Forbes. The project has received certifications for 4-Star Green Star SA Office v1 Design and As-Built. The client needed to combine its offices, which were previously spread across two structures on Katherine and Rivonia Roads, in order to make better use of the 2500 square feet available. Modern work environments had to be built, and technology services had to be upgraded with more security.
Search for construction leads
The construction of the Alexander Forbes: 115 West Street, Sandton was completed in 2012.
The project team
Quantity Surveyor: Schoombie Hartmann
Architect: Paragon Architects
Main Contractor: Tiber Bonvec Construction
Developer: Zenprop Property Holdings
Structural Engineers: Sotiralis Consulting Engineers
115 West Street building features
A wide range of staff amenities are built into the 115 West Street building, including a crèche, a gym and health studio, prayer rooms, a beauty salon, physiotherapist rooms, a 200-seat auditorium, state-of-the-art AV meeting rooms, staff training rooms, a fully integrated caterers kitchen and canteen, coffee shop, bar, and wine cellar.
The design guaranteed a flexible structure hence the large floor plates, punctuated by two atria. These would help to maximize the natural daylight in the office spaces. The site's northwest orientation had an impact on the design as well. Thus, strong scalloped elements were used to capture north and south light and shield the building's occupants from east and west light.
Reported 0n 12th October 2014
Alexander Forbes Headquarters takes the AfriSam-SAIA Award for Sustainable Architecture 2014 in SA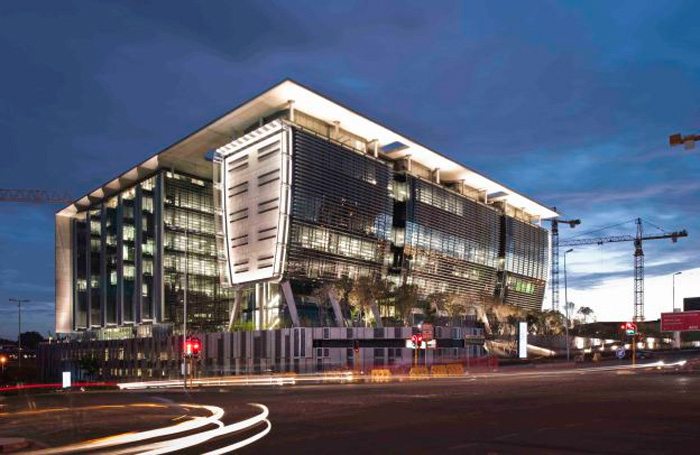 The Alexander Forbes Headquarters in Sandton, Johannesburg, designed by Paragon Architects and Paragon Interface, took top honors in the built work category at the 2014 AfriSam-South African Institute of Architects Award for Sustainable Architecture, announced on 9 October at Johannesburg City Library.
Commendations in this category went to a further four projects; UNISA Phase 2 in Parow, Cape Town, designed by Michele Sandilands Architects; the Seed Library in Alexandra Township, Johannesburg, designed by Architects of Justice; Monaghan Farm near Lanseria, Gauteng, submitted by Claude Bailey Architecture & Design on behalf of Clewer Development Trust, and House Jones in Hurlingham, Johannesburg, designed by ERA Architects.
A second award, in the category of works of social importance, including research, went to Vukuzakhe by Koop Design in Durban, which examines urban development in the Municipality of eThekwini, while Collis & Associates received a commendation for research into concrete recycling in Cape Town.
Employing a total of 2,500 people, the Alexander Forbes Headquarters has already been confirmed as a Four Star Rated Green Building. Occupied for two years, the accommodation impact was designed to reduce any negative impact on water, energy, and waste. Reduced power consumption, reuse of water, and recycling initiatives have contributed to lower water consumption by 70%, waste generation by 50%, and energy consumption by 40%.
The role of louvers, skylights, glazing and scallops assists with light whilst reducing the impact of heat and, at street level, the building edge is softened with xeriscaping, indigenous trees, and plants.
"In acknowledging this building as the recipient of the AfriSam-SAIA Award for Sustainable Architecture for 2014 in the built category, it is hoped that the Alexander Forbes Headquarters will provide a beacon of inspiration, not only as a place to work but also as a worthwhile contribution to the urban fabric of Johannesburg and human experience in the area," said Stephan Olivier, AfriSam's CEO.
Vukuzakhe by Durban's Koop Design, which took the AfriSam-SAIA Award in the research category, acknowledges the rapid urbanization taking place in Durban, common to most cities in the developing world. The study also understands the need for harmonization across a series of approaches to solve the challenges that are faced, including social interaction with communities, combined with infrastructure development by local authorities.
Read Also: Construction of 35 Lower Long office tower in South Africa complete
"Vukuzakhe is a brave attempt to record, evaluate and propose systems for urban construction in South Africa. The litmus test remains for the document to be implemented and robustly challenged which, if successful, could offer realistic opportunities for urban development in South Africa," said Olivier.
In commending the UNISA Phase 2 building by Michele Sandilands Architects, the jurors particularly noted that, although the building is located in an industrial area, the architecture uplifts an otherwise dispirited part of Cape Town. The building reflects its workings – rainwater tanks and wind towers become powerful elements of the architecture and draw the visitor's eye to their function, while intriguing attention to detail has been included around lecture room entrances and bathrooms.
Commented Sindile Ngonyama, President of SAIA and chair of the adjudicator's panel, "In celebrating this building, the awards program hopes to draw attention to the powerful impact that educational buildings can have on our society. UNISA Phase 2 reveals a thoroughness by the architects and an indication that the joy of architecture need not be compromised in the pursuit of responsible design."