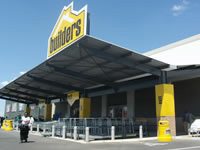 Grand Opening
The opening ceremony Airport Junction Mall , in April 2012, was something many will remember for a long time. The intended targeted residents of the nearby Sebele; Phakalane; Gaborone Block 10, Broadhurst and Gaborone North as well as others who travelled further to marvel at the new landmark all flocked the mall taking advantage of fantastic opening sales.
They were dazzled by funky music and performances by various entertainers who were celebrating the unveiling of the magnificent Airport Junction Shopping Mall.
The tenants were in top form with opening giveaways and discounts. One of the anchor tenants, Spar, even had competitions for shoppers and clowns outside their store for children's amusement.
Shoppers who could not make it to the launch were made part of the action via a live broadcast on Gabz Fm, a local radio station.
As its name suggests – Airport Junction Shopping Centre – the P469 million mall is enclosed on the south side by the Airport Road and it is also adjacent to the A1 on the east flank. The entire mall takes up an estimated 45,800 square meters, making it one of the top three centres in Gaborone.
The entire mall comprises of four separate buildings, the first two of which are located closest to the A1 Highway. They house the new KFC drive-through and the Builders Warehouse.
The third and largest building is the main mall is located west of the site facing east towards the first two buildings with the parking lot located between all of them.
Careful consideration was taken to bring many new franchises to the centre and make for a unique shopping experience.
A number of new South African café and restaurant franchises such as Cuppachino's, and Panarotti's have been strategically placed in a whole row at the front of the mall facing the A1 to attract customers, along with the old favorites such as Nandos, Wimpy, Spur and Chicken Licken.
A play area with a water future is centralised at the major restaurant area with the aim of catering for children activities.
In addition to the mentioned franchises, a number of known banks such as Bank Gaborone, Barclays, ABC Bank and other anchor tenants such as Shoprite, Edgars, and Stuttafords, among others, have also been included in the mall.
Sparkling Auto, which is housed in the forth building, is located on the northern area of the site near the main entrance – one of three access points. It faces east towards the first and second buildings with ample parking in between them.
Project Team
Client/ Developer:                B E P Developments (Pty) Ltd
Architect:                              Frans Farmer Architects / Arctez
Project Manager:                  Shilo Holdings (Pty) Ltd / C-Pro Botswana (Pty) Ltd
Quantity Surveyor:               MLC Quantity Surveyors (Pty) Ltd
Mechanical Engineer:           Win Consulting Engineers  / A.R. Edwards & Associates (Pty) Ltd
Electrical Engineers:            Quad Africa / A.R. Edwards & Associates (Pty) Ltd
Structural/Civil Engineer:    ADA Consulting Engineers (Pty) Ltd
Main Contractor:                   Stefanutti Stocks Botswana (Pty) Ltd