Located in the pristine Boschhoek Mountain Estate in Nylstroom, House du Preez, an impressive three-bedroom, 400 m2 bushveld family holiday home, was built using timber frame and log profile cladding, not only to tread lightly on its surroundings, but to pay tribute to the earthy landscape it calls home.
Designed by Eugene Barnard Architects with engineering input from Hull Consulting Engineers, House du Preez is an elegant, yet robust answer to a client brief that called for a rustic, yet luxurious off-grid home that would not only reflect its surroundings, but be respectful of and sensitive to its environment. Exposed timber roof trusses, which lend volume to the space, were the order of the day, with smoothed plastered interior walls and modern flooring contrasting tastefully with the exterior log profile and combined rustic elements. The home faces eastwards, optimizing on orientation and maximizing expansive views.
Technical specifications
Eco Log Homes pays special attention to detail in both quality and execution of both large and small aspects of any build and House du Preez bore no exception. From anchors and insulation, to screws and lighting, all materials were purposefully selected to build a structure of the highest quality and a home imbued with integrity.
Wall structure:
House du Preez's walls were built of timber frame according to SANS (South African National Standards) 10082, using 38mm x 114mm S5 strength graded structural timber treated with CCA. All wall structures were sheathed with 8mm-thick oriented strand board for structural bracing integrity. High quality supports, anchors and tie-downs were used and all fasteners, bolts, rods, screws and nails were electroplated to SABS standards.
102mm-thick cavity batt insulation was snugly fitted into the generous wall cavities made possible by timber frame, which will ensure that the house will stay cooler in summer and warmer in winter, resulting in lower energy consumption – and associated costs – for the occupants over the lifetime of the structure.
The timber frame was cladded with 50mm-thick tongue-and-groove log profile cladding, which had been treated to Hazard Class 3 per regulations. All of the structural timber used, except the posts which were retreated from H4 to the required H5 due to sourcing challenges, was treated to H3. Furthermore, the exterior log profile was stained to blend in with the natural environment.
Since the majority of the exterior is of timber and the prevailing climate is hot and dry, a special timber treatment paint comprising a mixture of oils, insecticide and wax, was applied. Upon application, the oils and insecticide soak into the timber and a thin wax layer is left on the surface, creating a water-resistant barrier. This treatment was opted for, because a sealant would not work under such harsh weather conditions.
The house's corner finishes were completed using PAR 110mm x 25mm CCA-treated H3 timber and window and door reveals were manufactured from the same.
Roofing:
Outlet pipes were installed on the boxed flat roof section of the house and rusted chains where hung from these to create a natural water feature when it rains. No other gutters or down pipes were installed. A charcoal grey corrugated iron roof was specifically selected to complement the house and blend in with the environment, and the specially rounded corrugated iron towers, housing the staircase and outdoor showers, were primed and painted with a colour specifically matched with the Chromadek roof. High-density polystyrene tongue-and-groove 50mm boards were used for the ceiling above the rafters. To maintain the rustic appeal of the home, all bolts and plates were dipped in acid to create the rusted appearance required by the architect, who also specified that no fascias or eave ceilings be installed.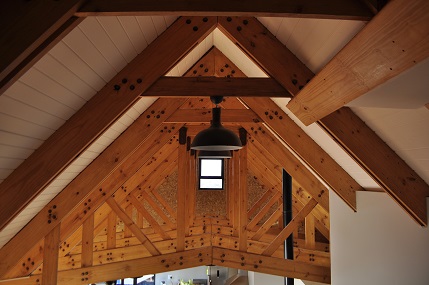 Flooring:
Maculata of the Eucalyptus family was used for the flooring, skirting and even kickboards in the kitchen. Maculata has become invasive in South Africa and an eradication programme is under way, which made the choice of floors a particularly thoughtful one and yet another nod to the environmental consideration of the home.
A cantilevered floor was specially created for the vaulted study area as a bulkhead was built around the cantilevered joists. A staircase leading up to the study was designed in a half spiral section, which was built using sheet metal and also covered with Maculata flooring. The exterior corrugated cylindrical staircase tower was specially designed and built for this project.
Exterior:
Decking around the pool was extensive and formed an important part of the client brief. Both the surrounds and the house are ideal for leisure time spent in the rustic outdoors, but with the luxury of a swimming pool easily accessible by well-crafted decking underfoot. Railings were made using stainless steel crimps on tensioners fixed to the end posts, a system that gives the client the best possible view through the railings.
The specially designed pergola was installed using 38mm x 114mm and 38mm x 76mm CCA-treated purlins spaced 50mm apart to create the illusion of a solid section, but allowing light to shine through. Polycarbonate sheeting was installed on top of the purlins and two box gutters were specially built to catch rain water, with down pipes between the posts of the support structure.
The exterior rounded shower cubicles made for an interesting juxtaposition with the otherwise pervasive straight lines of the house. Housing for the exterior shower was designed using specially rolled corrugated steel cladding.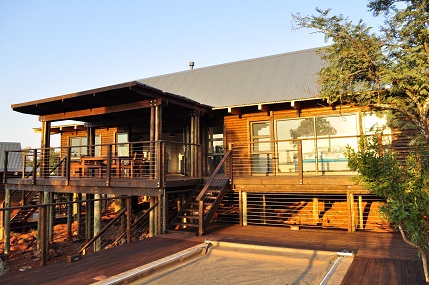 Energy efficiency
50mm high-density polystyrene was inserted between the floor joists, contributing an R-Value of 2.083m2K/W to the floor, already exceeding the minimum requirements of a complete suspended floor in Climate Zone 2. The 18mm shutter ply and 22mm solid timber floors contribute further to the R-Value of the completed floor structure.
Exterior walls were tightly packed with 102mm cavity batt insulation with an R-Value of 2.68m2K/W, also exceeding the minimum requirement for Climate Zone 2. The R-Value of softwood timber is approximately 0,05/mm and, with the exterior cladding being 50mm with an average thickness of 25mm, the cladding carries an R-Value of 1.25m2K/W. The 8mm OSB board has an R-Value of 0.46m2K/W and the 15mm internal gypsum board has an R-Value of 0.071m2K/W, making the collective R-Value of the peripheral wall +- 4.5m2K/W (the additional air barrier has not been taken into consideration into the calculation).
The roof insulation consisting of 50mm high-density polystyrene with an R-Value of 2.083m2K/W and 50mm Lambdaboard insulation with an R-Value of 2.08m2K/W make for a total R-Value of +- 4.163m2K/W for insulation, exceeding the minimum specifications for Climate Zone 2.
Bronze aluminium windows and doors were installed throughout the house. All glazing was coated with low-e film per the architect's specifications and energy efficiency calculations done according to national glazing standard specifications.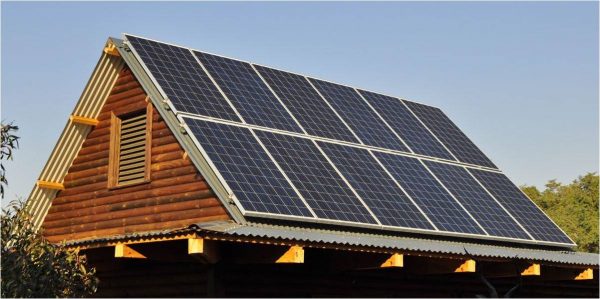 On point, off grid
Per client requirements, House du Preez was built off the grid with water supply from a borehole powered by a solar panel. Electricity is generated via photovoltaic panels, which charges a battery bank with power converted to 220V by a 3KvA inverter. An energy efficient pressure pump was installed with a slow start-up and shut-down control system.
Water is heated using gas, which also powers the stove and oven. All the lighting is energy efficient LED lights and household appliances are all AAA-rated.
While the project offered up its own unique set of challenges to the Eco Log Homes team, including no on-site accommodation, limited accessibility and especially rugged terrain, the beauty of the Boschhoek Mountain Estate more than makes up for this. With its magnificent vistas, abundant wildlife and distinct aromas rising from the veld to tell stories long forgotten, House du Preez stands proud – and yet humbly – an ode to the landscape upon which it sits and very much a part of it.
House du Preez won the Gold Institute for Timber Construction South Africa (ITC-SA) award in the Structures Larger than 220m2 category at the Institute's annual awards in 2016.