Five Stars Building is an iconic headquarters of Discovery global, located in Sandton, South Africa. The construction of the building began in 2014 and was completed in 2017.
Upon completion, the building received a 5-Star Green Star SA rating from the Green Building Council South Africa (GBCSA), making it the largest new build project to receive this rating as of 2017.
The 87,000 square-meter structure, which is located on the corner of Rivonia Road and Katherine Street, is made up of three connected office towers with a ground floor, eight office levels, and an activated top level with sports facilities.
The design features an abundance of natural light with most of the building being wrapped around a series of sunlit atria that illuminate the cores of the towers the cores of the building.
Also Read: Construction of South Africa's largest wind farm, Mpumalanga wind farm, to commence soon
Reported in July 2014
South African Discovery to construct Five Stars Building
Insurance provider Discovery is set to construct a green five stars Head Office building in Sandton, which will make it one of the exciting property developments in Africa due to its size, location, and green technology used in its construction.
Growth point Properties and Zenprop Property Holdings are some of the property developers who are targeting the contract for the construction of this building.
According to the Division Director of Growth point Properties Rudolf Pienaar, the building, which will be 87 000 m, will also aim for green star interior and socio-economic ratings.
John Robertson the Chief Information Officer of Discovery noted that the building was in line with the company's goal of becoming the world's best insurance firm and a "powerful source for social good" by 2018.
Earthworks on the building began earlier in the year while works on the basement are expected to begin in October. Construction of different levels of offices has been scheduled for January 2016.
Boogertman & Partners Architects are responsible for the design, which includes a double-sized façade for thermal control and good natural lighting. It will also incorporate features that will help harvest rainwater. The building will have eight floors of offices and nine basements for ample parking space.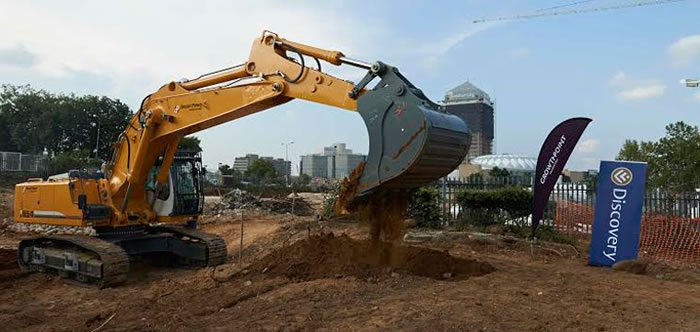 Reported in July 2014
Growthpoint and Zenprop to develop an efficient, environmentally innovative New global head office for Discovery
Discovery is set to have a new resource-efficient, cost-effective, and environmentally-sustainable global head office in Sandton, developed in a joint venture by two of South Africa's leading property companies Growthpoint Properties Limited and Zenprop Property Holdings.
It is the largest single commercial office development in Africa and is also one of the most innovative.
The developers are delivering a purpose-designed, ground-breaking green building, which is highly efficient, accommodates Discovery's future growth, and ensures the most resourceful use of space, time, and money.
Discovery's new 87,000 sqm headquarters will be situated at the gateway to Sandton Central, on the corner of Rivonia Road and Katherine Street, diagonally opposite Sandton City and a short block's walk away from the Sandton Gautrain Station. The building will comprise two wings with eight floors of offices plus a ground floor and a feature roof level. It will also offer nine basements with over 5,100 parking bays.
The property is owned by Growthpoint (55%) and Zenprop (45%). Discovery is expected to take occupation of its new global head office on 1 January 2018. Its initial lease period is for 15 years with the option to renew.
From its design to construction and operation, sustainable development is a key priority for Discovery, Zenprop, and Growthpoint. The building has been designed to incorporate a Green Building Council South Africa (GBCSA) green building accredited rating of five stars.
Growthpoint Properties Office Division Director Rudolf Pienaar says: "The new Discovery head office will be one of the most environmentally sustainable and efficient buildings in Sandton. It is also set to become a landmark on the Sandton skyline. Green building plays a key role in providing spaces in which businesses can thrive. For Discovery, it will create a stimulating working environment and reduce building utility costs with sustainable alternatives."
Growthpoint has firmly established itself as South Africa's leader in leasable green business space. It is the listed property company that owns the largest number of Green Star SA-rated buildings in South Africa, providing quality spaces that work best for its clients. It also leads the real estate sector in carbon disclosure in Africa and has won numerous green building and environmental awards.
"Offices should integrate flawlessly into our client's businesses and provide people with a positive, healthy, and energizing environment," says Pienaar. "This means creating user-friendly offices and solutions through innovation and creative design that push the boundaries. Working with Discovery has created the foundation for an operationally efficient, sustainable building that promotes. Increased staff retention and productivity, improved asset performance, reduced operational costs, and much more."
Zenprop Property Holdings CEO, James Tannenberger says: "This iconic building will be the largest single office development to take place in Africa. Accordingly, we have assembled a highly skilled project team in order to meet the inherent demands of a complex and multi-faceted delivery process, whilst integrating Discovery's specific requirements into the broader planning and design processes. This will ensure that this prestigious development meets the unique business needs of Discovery, now and into the future.''
Zenprop has established itself at the forefront of world-class office development in Sandton and has a proven track record of successful planning, design, tenant coordination, construction, delivery, and post-construction property and facilities management spanning over 15 years.
The new head office will provide many unique advantages for Discovery. It will serve as the company's hub for the growing international business that now has operations in South Africa, the US, the UK, Australia, and Asia-Pacific. It will bring all of Discovery's more than 5,000 Sandton-based employees under one roof in Sandton, instead of the current situation, where employees work across four buildings in the Sandton CBD.