Goscor Lift Truck's new residence has an area of 12 800m² with in excess of 7000m² – mainly workshop and warehousing space – under the roof. The business made an effort to make the structure as "green" as possible. For instance, all of the buildings' lighting is turned on by motion sensors, and solar energy helps to power the lighting in the main workshop.
Unquestionably, this is one of Southern Africa's top forklift workshops. They have a comprehensive IT system that manages their accounting, inventory control, contract management, equipment management, cost tracking, and parts. The business also has a system in place for reporting breakdowns and faults, which includes a system for reporting time with a reference number.
Goscor Lift Truck's new head office in South Africa is a symbol of the company's success
Search for construction leads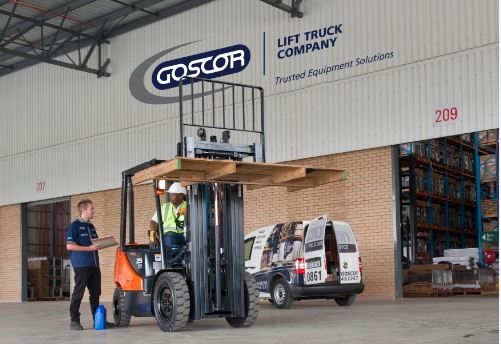 Goscor Lift Truck Company's (GLTC) magnificent new head office building in Neutron Road, Chloorkop, symbolizes a powerful South African business success story. Over the last 10 years, the company has worked on the integration of the different activities of the business into a cohesive customer service machine. "If you are on the switchboard, in the parts division, in sales or you're the MD, you have one central focus – the customer. This has made all the difference," says GLTC sales director Patrick Barber.
Since 1984 the Imperial group's Goscor Lift Truck Company has offered state-of-the-art equipment and solutions to the warehouse materials handling industry. Its famous brands – including Crown, Doosan, Bendi, and Hubtex – its extensive Southern African footprint of branches and service centers, and its state-of-the-art parts distribution center has helped Goscor to become the fastest growing warehouse and logistics materials handling company in Southern Africa for some years.
Read Also: Glow Lighting: Lighting up Kenya with class
Crown
With manufacturing facilities globally, Crown is the world leader in the manufacture of electric materials handling equipment.
One of Goscor's best-selling machines is it's Crown ESR reach trucks. From the narrow-chassis 5220 model to the top-performing 5280S, Goscor customers benefit from Crown's superior ergonomics, visibility, durability, and proven technology that assist the operator and keep running costs low. The unique features of these machines – like the Integrated Control System with Access 123, advanced AC steering system, and Crown's exclusive MoveSeat – have made them legendary sellers worldwide.
Doosan diesel and gas forklifts made industry headlines with their "brakes for life" system – an oil-cooled disc brake system, which, being totally enclosed, eliminates all outside contamination. The system significantly reduces operating costs and Goscor offers it a 60-month, unlimited hours guarantee.
Bendi For narrow aisle applications, Bendi articulated lift trucks have been a revelation. Apart from their ability to work in very narrow aisles – up to 50% of space can be saved by using the Bendis – they can work both inside and outside obviating the need for an extra forklift.
Hubtex Goscor's range of HUBTEX four-way reach trucks and lift trucks can handle long loads and has opened markets in which GLTC had never before operated. These include the steel and timber industries, the glass industry, builders' merchant outlets, and many others.