The Guangzhou Opera House is located in Guangzhou, Guangdong province, China. The project was designed by Zaha Hadid and began construction in January 2005. It cost an estimated total of US$200 million to construct and was inaugurated in May 2010.
The facility has become one of China's three biggest theaters. It includes a 1,800-seat and a 400-seat theater. Both have been equipped with L-ACOUSTICS sound reinforcement systems supplied by Chinese distributor Rightway Audio Consultants. Contractor Leifull Light and Sound Enterprises installed the L-ACOUSTICS sound reinforcement systems.
Search for construction leads
The opera house has a floor area of 7,100 square meters and a seating capacity of 1804. Its construction cost approximately US$200 million.
Also Read: Guangzhou Evergrande Stadium project timeline and all you need to know
Reported in August 2014
Guangzhou Opera House Awarded Good at the China Awards 2012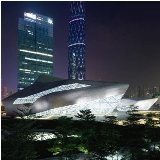 Guangzhou Opera House has been awarded 'Best Public Project' in the "Good Design Is Good Business" China Awards 2012. The program honors architects and clients who work together to create projects that demonstrate the power of design to advance the goals of businesses, public agencies, and private organizations.
Like pebbles in a stream smoothed by erosion, the Opera House sits in perfect harmony with its riverside location. The Opera House is at the heart of Guangzhou's cultural development. Its unique twin-boulder design enhances the city by opening it to the Pearl River, unifying the adjacent cultural buildings with the towers of international finance in Guangzhou's Zhujiang new town.
The 1,800-seat auditorium of the facility houses the very latest acoustic technology, and the smaller 400-seat multifunction hall is designed for performance art, opera, and concerts in the round.
Overlooking the Pearl River the Guangzhou Opera House is at the heart of Guangzhou's cultural site development. Adopting state-of-the-art technology in its design and construction it will be a lasting monument to the New Millennium, confirming Guangzhou as one of Asia's cultural centers.
The unique twin boulder design of the opera house will enhance urban function by opening access to the riverside and dock areas and creating a new dialogue with the emerging new town.