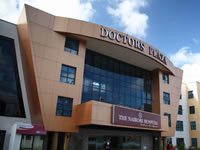 Cancer remains one of the most difficult challenges facing health professionals, medical researchers, care givers, patients and affected families worldwide. Apart from being an emotionally draining ailment, immense resources especially money and time are spent in managing the disease.
Many leading hospitals are establishing dedicated units to offer specialized treatment and support for afflicted individuals and their families.
As one of the leading health institutions in Africa, The Nairobi Hospital, a non-profit medical services provider in Kenya, is currently constructing such a wing to add to its extensive range of specialized services.
Beglin Woods Architects and Interior Designers were picked to lead the project team and works began on 25th November 2010. Handover is expected in May 2012.
The new Wing will accommodate:
– consulting rooms,
– examination rooms,
– two linac treatment bunkers,
– a bracheotherapy treatment bunker,
– private rooms
– wards.
Features
The synergy of Nairobi Hospital Cancer Centre creates an optimal treatment environment for patients challenged with persevering an intimidating and life-changing experience. Located on the western side of The Nairobi Hospital compound, this comprehensive oncology center will be branded The Nairobi Hospital West wing.
Designed to accommodate the latest medical equipment available in the world, it integrates radiation therapy, chemotherapy, minor procedures, clinical multi-specialty teams, diagnostics, and patient support and education, all in a warm friendly atmosphere. Many of the oncology services currently scattered throughout the main hospital will now be consolidated into one multimodal center.
Adorned with high quality granite finishes, full IT connections, fully backed up services, with a variety of different accommodation and with sanitation facilities for patients and staff on all floors, this facility is designed to bring many of the oncology specialists together in one building, creating a multi-disciplined team organization for physicians and staff for fast and effective treatment.
The Cancer Care Centre comprises three floors of accommodation and offering a warm homely environment for patients. It features state of the art equipment and a combination of consultants' rooms, treatment facilities, wards and private rooms.
The following are the facilities at each of the levels:
Ground floor
– Reception
– Waiting area with vending machines and background music
– Counseling rooms
– Examination rooms
– Treatment planning room
– 2 Linac Treatment Bunkers
– 1 Bracheotherapy Treatment Bunker
– Manager's Office
– Counseling Room
– Examination Room
– Toilet facilities for patients and staff on all floors
– Recovery Room
– Treatment Planning
– Radio physicist
First floor
– Reception
– Visitors lounge
– Chemotherapy Ward (9 beds)
– Chemotherapy Day ward (6 beds)
– 4 Consultants rooms
– 2 private rooms (2 beds total)
Second floor
– Reception
– Visitors' lounge
– 4 female wards ( 18 beds total)
– 2 Private rooms ( 2 beds total)
– 3 male wards ( 19 beds total)
Access considerations and blending
The site of the Nairobi Hospital Cancer centre is on the Western side of the Hospital Complex, close to the main reception area and adjacent to the existing car park area and South Wing for easy pedestrian and vehicular access.
The positioning of the centre makes it clearly visible from the hospital and from Ngong road. As the building is a three-storey construction, it is a continuation of the main hospital building's height. With matching external finishes, the new building is in harmony with the existing framework.
Project Team
Client: The Nairobi Hospital
Architect: Beglin Woods Architects Ltd.
Quantity surveyor: Barker & Barton
Structural engineer: Engplan
Electrical engineer: Varsani Associates
Mechanical engineer: Varsani Associates
Main contractor: Parbat Siyani Construction Ltd.
Bracheotherapy bunker consultant: Tecmed Africa
Electrical sub-contractor: Master Power Systems Ltd.
Mechanical sub-contractor: Northstar Cooling Systems
Lift sub-contractor: Schindler
Medical gases sub-contractor: Shemay Ltd.
Plumbing sub-contractor: Central Plumbers
Ironmongery sub-contractor: Architectural Supplies
Curtain sub-contractor: Elins Décor Ltd
Contributed by Aaron Odhiambo Ogutu, Beglin Woods Architects & Interior Designers