The Noor Ouarzazate Solar Complex is a 580MW solar power project located 10 kilometers north of the Moroccan city of Ouarzazate. It's the world's biggest concentrated solar power facility.
The construction of a 160MW concentrated solar power (CSP) plant, dubbed Noor I, was phase one of the Ouarzazate solar power plant project, while phase two featured the construction of the 200MW Noor II CSP plant and also the 150MW Noor III CSP unit. In phase three, a 70MW photovoltaic (PV) Noor IV CSP plant was constructed.
Read also: Partnership for Construction of Smart Paper Rooftop Solar Plant in Egypt
The first phase of construction of the World's Largest Concentrated Solar Power Plant began in August 2013, and Noor I was inaugurated in February 2016. In 2018, Noor II and Noor III were also commissioned. While Noor I and Noor II produce energy using concentrated solar power (CSP) technology and mobile 12-meter-tall parabolic mirrors, Noor III was to employ a solar tower to present a technological variation of CSP technology. Photovoltaic technology was to be used in the fourth phase.
ACWA Power Ouarzazate, a consortium comprising ACWA Power, the Moroccan Agency for Solar Energy (Masen), Aries, and TSK, constructed the project under the build, own, operate, and transfer (BOOT) strategy. A consortium led by NOMAC, an ACWA Power subsidiary, and Masen manages and maintains the Noor Ouarzazate Solar Complex.
Significance of the Noor Ouarzazate Solar Complex
The Noor solar energy plant was the country's first renewable energy project. Four more solar plants were expected to follow, providing a total of 2 GW of power by 2020 to cover the country's energy demands, which were met by imports to the tune of up to 95%. Morocco's solar-power policy was also to help minimize global warming. As the host of the United Nations Climate Conference (COP22) in November 2016, the country was leading the way.
The Noor I CSP plant created around 1,000 construction employment opportunities and 60 permanent jobs during the operation and maintenance phase. By offsetting 240,000 tonnes of CO2 emissions per year, Noor I was projected to contribute to the fight against global warming. Together, Noor II and Noor III were to help reduce 533,000 tonnes of CO2 emissions annually. When completed, the entire Noor solar complex was expected to reduce global CO2 emissions by an estimated 760,000 tonnes per year.
The Noor Ouarzazate Solar Complex was supposed to deliver solar power to 650,000 local residents from daybreak to three hours after dusk. That was the country's peak period for power use. The electricity capacity was aimed to be 580 MW by 2018, with a storage capacity of 7 to 8 hours, allowing power to be supplied to 1 million residences day and night.
Technolgy applied in the Noor Ouarzazate Solar Complex
For the first three plants, Sener was the technology licensor. Sener's unique SENERtrough cylindrical parabolic troughs were used in Noor I, SENERtrough-2 parabolic trough collectors were used in Noor II, and salt receivers were utilized in Noor III. Noor IV, the solar power plant, uses PV. The molten salt storage capacity of the Noor II and Noor III units is seven hours apiece, whereas Noor I has a three-hour capacity.
Other plants were to employ a dry cooling system, whereas Noor I was to use a wet cooling system.
Water for the plants was expected to be supplied from the Mansour Eddabhi dam, which is about 12 kilometers away from the project site and stored in 300,000m3 water storage basins. Noor II spans 612 hectares and features 400 loops, each of which is made up of four linked solar collector assembly (SCA) modules, which were to be reinforced by 12 solar collector element (SCE) modules. Noor III is around 598 hectares in size.
Noor Ouarzazate Solar Complex funding
The first phase of the Ouarzazate solar power plant reached financial closure in June 2013, while the second phase did so in May 2015. Phase one was expected to cost €500 million. The African Development Bank (AfDB) Group was the sole source of funding.
In the second phase of the Noor complex, the total investment was $2 billion, with an 80% loan and 20% equity.
Masen provided the whole debt facility, including financing from the AfDB, Agence Française de Développement, Clean Technology Fund, European Commission, European Investment Bank, Kreditanstalt für Wiederaufbau, and World Bank.
Reported earlier
Jun 2014
Morocco to construct the world's biggest solar plant
Morocco plans to build a total of five solar plants that will add 2 Gigawatts of energy to its power grid by 2020. These plants will be built next to each other at the Ain Beni Mathar to make up a mega US$9bn Concentrating Plant. The project is expected to help cut down the country's oil and coal imports.
The first 160MW power plant is already under construction at the Ain Beni Mathar, with Saudi developer, ACWA Power, leading a consortium in the construction. The World Bank, together with other 3 institutions is funding the first phase of the project. The other 3 organizations are European Investment Bank, Global Environment Facility, and African Development Bank.
The second phase will involve the construction of a 400MW solar plant, expected to go online in 2016. Thereafter, the construction of two 500MW will begin operations come 2017 and 2018. The last plant will contribute 100MW to the grid.
In addition to replacing coal generation, the Ain Beni Mathar-based plant will provide an opportunity for Morocco to build a skill base to operate similar facilities in the region in the future. This includes the planned Desertec solar power plant project. Morocco will also generate foreign revenues from such projects for the first time, as it could export some power to Europe.
Morocco: A Strategic Location For International Export
According to the World Bank, Morocco is ideal to serve European markets due to its strategic positioning and can take advantage of the positioning to take a technology and market lead. The World Bank plans to raise US$4.85bn to fund projects in North Africa.
Beneficiary countries will include Algeria, Egypt, Morocco, Tunisia, and Jordan. Middle East and North Africa will also gain from an additional US$750m investment already set aside for the World Bank's Clean Technology Fund for the establishment of Concentrating Solar.
A recent NPD Solar buzz's Emerging PV Markets Report: Middle East and Africa indicate that solar PV demand in the Middle East and Africa (MEA) region will grow 50 % year-over-year in 2014.
The report adds that between 2014 and 2018, annual PV demand will nearly triple as the MEA region becomes a key market for the global industry. By 2018, annual PV demand in the region will reach 4.4 GW, with an upside potential of 10 GW. PV demand from the MEA region in 2013 grew by 670 %, compared to 2012 when the region added approximately 140 MW, the research group points out.
Previously, the region had a substantial share of small off-grid PV systems; however, in 2013 the on-grid segment became the main factor driving growth to more than 1 GW, with a 1.6 GW forecast for 2014. In 2018, ground-mount systems will account for over 70 % of the market.
JANUARY 2015
Morocco completes bidding of Phase II and III of the Ouarzazate solar power project
Morocco is expanding its solar power projects in a move to have a reliable energy source, after having completed bidding for the second and third phases of the Ouarzazate Concentrated Solar Power (CSP) project.
According to Moroccan solar energy agency Masen, there are three phases of the project, with the first aimed at producing 160MW and is under construction. All three phases will produce around 500 MW.
The award of Phase I and II of the Ouarzazate solar thermal power project went to Saudi developer ACWA power international and Sener Ingenieria Sistemas SA of Spain. Phase 1 alone required $1.7 billion for construction. Phase III will be undertaken by consortia formed by Abengoa, Sener Group, and International Power (GDF Suez).
Once completed, the Ouarzazate solar power generation facility will be the largest in the world as only two exist. The construction project will provide 18% of Morocco's annual electricity generation and is part of the country's plan to install 2,000 solar capacity by 2020. The technology involves the use of mirrors that concentrate sunlight to generate steam and run power turbines.
The project is funded by World Bank, African Development Bank, European Investment Bank, and German Development Bank.
The country currently imports power from Spain, with demand growing by 7% in a year is spending heavily on subsidizing power production. China also will, according to last year's news, be investing US$2bn in solar power plants in Morocco.
Nov 2015
World's largest concentrated solar power plant in Morocco to be constructed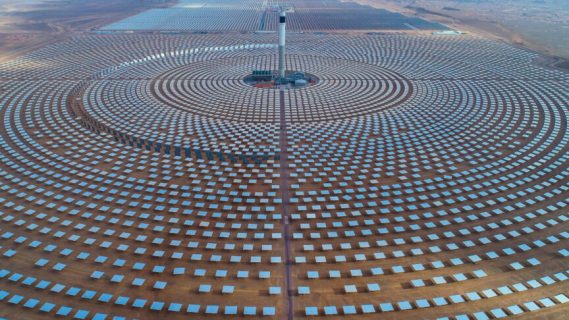 The construction of what is expected to be the world's biggest concentrated solar power plant in Morocco is ongoing. According to the World Bank, when complete the concentrated solar power plant in Morocco will supply electricity to 1.1 million Moroccans by 2018.
The country which is famous for its meandering medinas and the scenic Atlas Mountains will now be known as the largest solar power plant. The plant is being constructed in a 30 square kilometer area outside the city of Ouarzazate, on the fringe of the Sahara desert, famous as the filming location of Hollywood blockbusters like "Lawrence of Arabia" and "Gladiator," and the TV series "Game of Thrones."
The first phase, titled Noor 1, will be operational in the next few weeks, according to officials.
"The country is well-positioned to benefit greatly from this solar project at a time when other regional powers are beginning to think more seriously about their own renewable energy programs," Inger Andersen, World Bank Regional Vice President for the Middle East and North Africa, says in a report.
The greatest feature that will be on the solar plant is that it will be producing constant power even during the night. The Noor complex will use a technology called Concentrating Solar Power (CSP), which is more expensive to install than the widely used photovoltaic panels, but unlike them, allows storage of energy for nights and cloudy days.
It uses mirrors to focus the sun's light and heat up a liquid, which is mixed with water and reaches a temperature close to 400 degrees Celsius. This produces steam, which in turn drives a turbine to generate electrical power. It's hoped that the project, whose construction was officially launched by Morocco's King Mohammed VI in 2013, will reduce carbon emissions by 700,000 tons per year and even generate an energy surplus for exports.
Morocco heavily depends on fossil fuel imports at the moment, which currently provides over 97% of its energy, making the country vulnerable to its fluctuating price. Lack of reliable power has on many occasions been Africa's setback in a bid to industrialize and trigger economic growth.
In Sub-Saharan Africa, only 24%  of the population has access to electricity, which is the worst rate in the world. Excluding South Africa, the region's entire installed generation capacity is similar to that of Argentina.
According to the African Development Bank, rural connectivity in Africa is still wanting. For example, Kenya accounts for 5%., 4% in Mali, and 2% in Ethiopia.
Jun 2016
Global energy firms eye solar PV construction projects in Morocco
There is a major competition among three major solar developers that are seeking to scoop three major solar PV construction projects in Morocco with a cumulative capacity of 170MW in Morocco.
The three companies that are expected to be considered are based in Saudi Arabia and they include ACWA Power, Fotowatio, and Alfanar who placed the lowest bids and are likely to scoop the tenders.
According to Climate Action, the projects are the first to be based on PV technology in the Noor-Ouarzazate solar complex, with auctions and construction so far only covering concentrated solar thermal projects.
They explained that phase 1 of the solar complex includes Noor I, which comprises a 160MW parabolic trough project, which is in the advanced stages of construction.
"Phase 2 combines two projects: Noor II and Noor III, with generation capacities of 200MW and 150MW respectively.
"Noor II will be based on parabolic technology, with Noor III using power tower technology.
"Noor I, which is now operational, was developed by ACWA Power, in partnership with Aries and TSK and operates at a tariff of US¢18.9/kWh," Climate Action explained.
With a completion date set for 2017, the Noor II and Noor III developments, have tariffs of US¢14/kWh and US¢15/kWh, respectively.
"The final capacity of the Noor-Ouarzazate solar complex is expected to reach 2GW or 14% of Morocco's total capacity, and the project is expected to achieve full capacity by 2020," Climate Action stated.
April 2017
Morocco launches the construction of 70 MW Noor Ouarzazate IV PV plant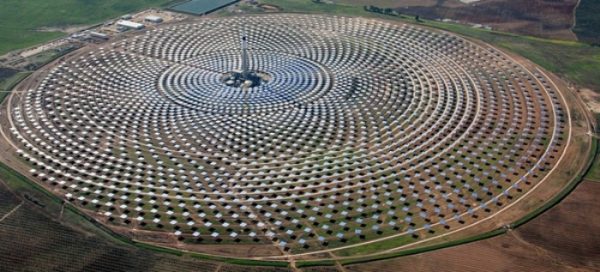 Morocco's King Mohammed VI has launched the building of the 70 MW Noor Ouarzazate IV PV plant. This fourth stage of the scheme is the PV portion of the 580 MW Ouarzazate Solar Power Station (OSPS), a CSP-PV solar power complex situated in the Drâa-Tafilalet region, central Morocco.
The complex involves the 160 MW Noor 1 CSP power stations, which were finished in February 2016, and the Noor 2 CSP and Noor 3 CSP, which are presently under development and will have a capacity of 200 MW and 150 MW, correspondingly. According to the Moroccan government, the Noor 2 CSP and Noor 3 CSP plants have reached a completion rate of 76% and 74%, correspondingly.
The Noor Ouarzazate IV PV project is similarly part of the Noor PV 1 program, which contains the construction of a 30 MW PV plant in Laayoune and a 20 MW PV power station situated in Boujdour.
In November, the Moroccan Agency for Solar Energy (Masen) signed a 20-year power purchase agreement (PPA) with Acwa Power for the development of the three projects. Saudi Arabia's Acwa Power was nominated after an international tender to develop, construct and run the three plants under a BOOT (Build, Operate, Own, and Transfer) scheme. Acwa Power signed the world's biggest EPC company, Sterling and Wilson, to build the installations in late November.
Masen allotted green bonds in the amount of $114.4 million for the projects, which are being developed in the outline of a three-part Independent Power Production (IPP) strategy with Morocco's power utility ONEE. The bonds were countersigned by local financial institutions Al Barid Bank, Attijariwafa Bank, the Caisse Marocaine de Retraite, and the Société Centrale de Réassurance.
German state-owned development bank KfW has delivered $64.0 million in funding for the Noor Ouarzazate IV project, whose prerequisite investment of $74.6 million.
Jul 2017
Morocco secures US $25 million loan for hybrid solar project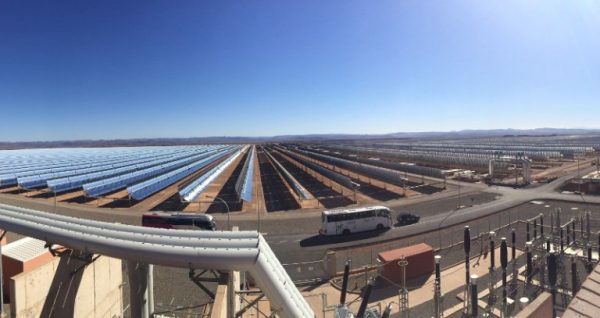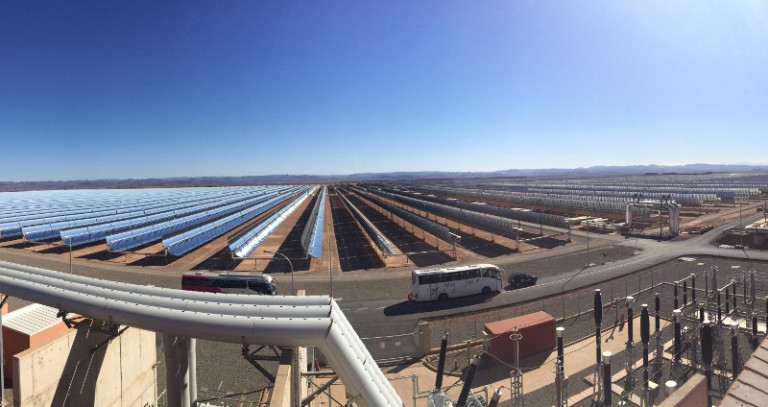 The Climate Investment Fund's Clean Technology Fund (CIF CTF) has approved a US $25 million loan for Morocco for a project to generate solar power through an innovative hybrid Solar Power (CSP) and Photovoltaic (PV) solution.
The African Development Bank (AfDB) and the World Bank are supporting the Midelt Phase I Concentrated Solar Power Project with an additional allocation of US$ 25 million in CTF resources.
AfDB's Director, Climate Change and Green Growth Anthony Nyong stated that in 2015, the world saw an important shift in CSP investment from the developed to the developing world, particularly in Morocco. He said that Morocco's path-changing Noor CSP program under CTF, for which they serve as an implementing agency, has been a critical element of that shift.
Anthony Nyong also said that the project would increase the development of solar energy, enhance its energy security and further help diversify the country's energy mix.
Also read: Morocco launches the construction of 70 MW Noor Ouarzazate IV PV plant
Selected sponsors for the project are expected to form a Special Purpose Company to build and operate the plants and sell the generated electricity to MASEN under 25-year Power Purchase Agreements (PPAs).
The Solar Plan will contribute to industrial development, and competitiveness and could create about 30,000 jobs. The project will greatly contribute to the Government of Morocco's achievement of its Nationally Determined Contribution under the Paris Agreement, including its goal of achieving 52% of installed capacity from renewable energy (20% from solar) by 2030.
AfDB's CIF Program Coordinator and Senior Climate Finance Officer Leandro Azevedo stated that to date, CSP has been the dominant renewable energy technology assuring electricity during peak hours and that by adding a PV component they expect to enhance the reliability of the power plant.
He went on to say that the combination of these two technologies would allow Morocco to optimize the dispatch of generated power during the daytime by ensuring that the utilization of the CSP component could be maximized during nighttime through the use of thermal storage.
Jun 2018
Morocco's Noor Ouarzazate III solar thermal power plant switched on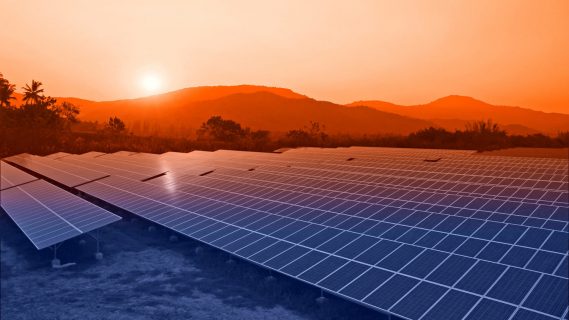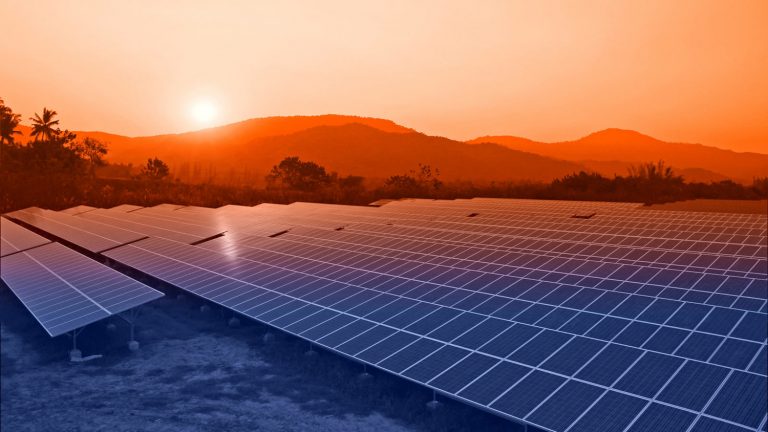 Morocco's Noor Ouarzazate III solar thermal power plant has been powered up in a bid to carry out necessary technical functional tests before its delivery planned for the last quarter of 2018.
The Spanish engineering company, SENER is responsible for the plant's conceptual, basic, and detailed engineering, equipment supply for the thermal storage system, construction of the solar field as well as the commissioning of the entire plant, carrying out the startup of the solar receiver, pointing the heliostats towards the receiver located on the top of the tower, at a height of 250 m, to pre-heat it to 320ºC.
SENER forms part of the turnkey building consortium for the Noor Ouarzazate I and Noor Ouarzazate II plants, both of which use SENER parabolic trough technology, and Noor Ouarzazate III, with additional advanced innovations.
The 600MW high-powered receiver has been developed in collaboration with Moroccan companies and, once in operation, it will enable the plant to reach a gross production of 150 MW and 7.5 hours of heat storage and is expected to provide electricity for 1.1 million people in the country
Also Read:AfDB approves Côte d'Ivoire's US $28m for off grid projects
Power demands
The thermal plant has 7,400 heliostats (HE54) and salt receiver technology, which will produce enough solar power to meet the demands of 120,000 homes per year and enable Morocco to avoid annual emissions of 130,000 metric tons of CO2 into the atmosphere.
Morocco is planning to generate 42% of its energy from renewables by 2020, with one-third of that total coming from solar, wind, and hydropower. As part of a low-carbon economy endeavor, the North African country set a target of bringing the share of renewable energy to 52% of total energy consumption by 2020.
Morocco is developing renewable energy because it imports over 90 %of its fossil fuel needs and spends 12 % of its gross domestic product on energy imports.
Sep 2018
Final tests to be done on the world's largest solar plant in Morocco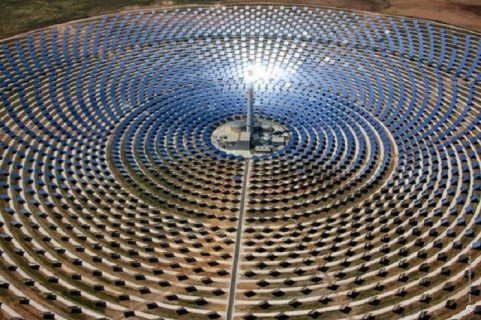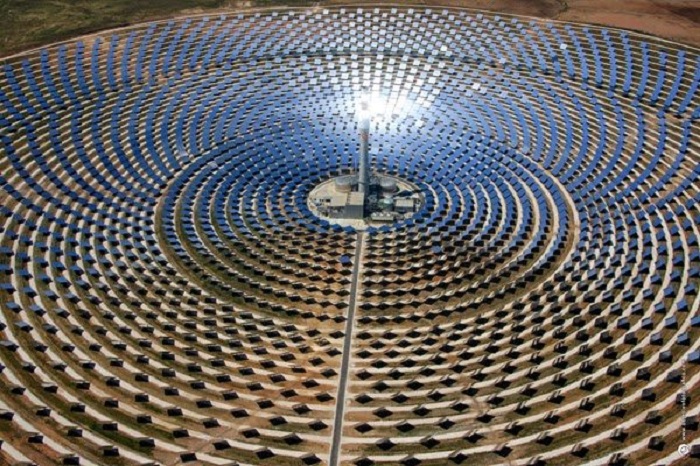 Morocco is set to undertake the final tests on the Noor Ouarzazate III which is the world's largest solar plant following the first synchronization of the 150MW Concentrated Solar Power (CSP). According to SENER, the Spanish engineering company responsible for the plant's conceptual, basic, and detailed engineering, construction of the power plant is in the final stages and the last phase will commence by the end of the year.
The solar plant which is estimated to have a capacity of 580 MW, was developed in collaboration with Moroccan companies, and once in operation, it will enable the plant to reach a gross production of 150 MW and 7.5 hours of heat storage and provide electricity for 1.1 million people in the country.
Also Read: Morocco's Noor Ouarzazate III solar thermal power plant switched on
Noor Ouarzazate III
Noor Ouarzazate III is composed of a solar field of 7,400 heliostats HE54 from the company's highly accurate tracking system known as the 'solar tracker'. The plant is equipped with a molten salt storage system that allows it to keep producing electricity for 7.5 hours without solar radiation and guarantees the dispatch ability of the power plant. Along with all these key components, SENER has fully developed the integrated control system of the receiver and solar field.
The plant represents a critical step in the Moroccan Solar Energy Program, which aims to generate 42 percent of its electrical power from renewable energy by 2020, and 52 percent by 2030.
The second unit was designed and built by SENER
This plant is the second unit designed and built by SENER using its own central receiver tower and molten salt heat storage technology, and one of the first ones in the world to apply this configuration on a commercial scale.
The high performance of this technology – the molten salt reaches higher temperatures than other CSP technologies, which maximizes thermodynamic efficiency – allows to manage the solar energy in absence of solar radiation and responds to the grid's demand. This is a unique characteristic of CSP that radically changes the role of renewable sources in the global power supply.
Jan 2021
Morocco launches call for 400MWp Noor PV II project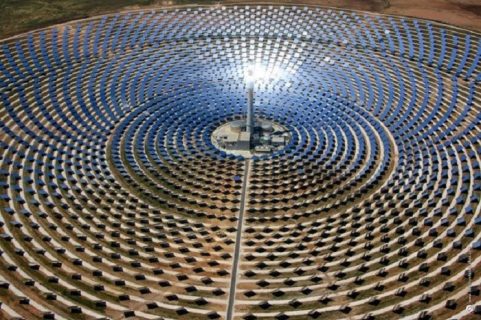 The Moroccan Agency for Sustainable Energy (MASEN) has launched the call for projects for the 400MWp Noor PV II project. This follows a call for expressions of interest (EoIs) that was held last year.
The tender is for the construction of the first phase of the Noor PV II complex. The project involves six locations: Sidi Bennour (48MW), Kelaa sraghna (48MW), Taroudant (36MW), Bejaad (48MW), El Hajeb (36MW), and Ain Beni Mathar (184MW). The given capacity is in direct current (DC).
The call for projects will be open to submissions by January 31, 2021, and winning bidders will be announced in the second quarter. The contracts are due to be signed in the third or fourth quarter of 2021.
Also Read: US$ 5m grant approved for Desert to Power (D2P) initiative
The tender process is part of Morocco's Noor solar program which was introduced back in 2009 with the goal of adding at least 2GW of solar PV across the country. This supports Morocco's target of lifting the share of renewables in its installed power mix to 52% by 2030.
Reported February 2021
Morocco extends the call for tenders for the 400MWp Noor PV II project
The Moroccan Agency for Sustainable Energy (MASEN) is extending by almost two weeks the deadline for its call for tenders to select companies for the implementation of the 400MWp Noor PV II project, which is spread over six sites i.e. Sidi Bennour (48MW), Kelaa sraghna (48MW), Taroudant (36MW), Bejaad (48MW), El Hajeb (36MW) and Ain Beni Mathar (184MW).
The deadline was initially set for January 31st this year but now, Independent Power Producers (IPPs) interested in the project have until the 11th of this month to submit their bids.
Also Read: Construction of center dedicated to smart electricity grids in Morocco
Masen expects to announce the PPIs selected in this process in the second quarter of 2021. The latter will be able to sign concession contracts as early as the third or fourth quarter of the same year.