Project to mark a huge beginning for NAI-TEX Developers
Kitengela, a bustling town located 30 kilometres south of Nairobi, is the new home to Kenya's fast growing middle class. Every day, maisonettes, bungalows and apartments are coming up in the area. There has been a huge influx into the town by families previously living in rented premises in the capital. Many have put up their own homes while others have purchased ready properties.
Realizing the town's potential, investors have also flocked the area in droves. Almost all the banks, hospitals and major insurance firms have branches in Kitengela town. Manufacturers have also set up outlets in the town.
Like in other areas surrounding Nairobi, developers have identified an opportunity in Kitengela as more people seek to move away from stifling congestion in the capital city. Among the big property investors in the town is NAI-TEX Developers Limited, who are putting up 107 homes under the brand Pinnacle Homes.
Project Scope
According to the developer, the overarching concept is to build quality middle income homes in a serene, well maintained environment that offers adequate living spaces with plenty of outdoor space such as parks and children play areas where inhabitants of the community can meet and enjoy.
"We are delivering a well thought out and designed housing development with homes built to high standards and featuring superior finishes. We also intend to incorporate as much greenery, trees, shrubs and grass", they say.
The project's concept is to develop single-family housing within a master planned gated community. The development will occupy an 11-acre parcel of land and will consist of four-bedroom, two-storey single-family houses. The homes are targeted for sale to the middle household income segments in and around Nairobi and Athi River areas. The development will also include a 3,000 square foot commercial centre, an on-site bio-digester sewer system, water borehole, and several communal pocket parks. It will also feature well lit streets and similarly lit parks and common spaces.
The Pinnacle homes will be constructed using EPS panel technology in lieu of conventional stone masonry units. Each home will sit on a plot size of approximately 3,500 sq feet which will be separated by "knee-height" hedges. There are two distinct home designs both consisting of 4 bedrooms, two and half baths with spacious well lit rooms. The homes are open style designed with the intended purpose of bringing in plenty of natural light. High quality paint and stylish tile floor finishes will be used in all areas. There will be an option to install wood tile floor finishes in selected living spaces.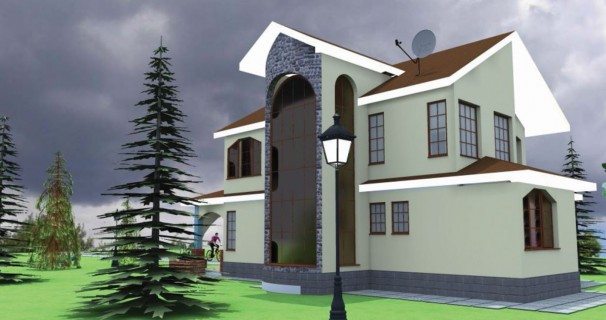 Residents will have excellent views of Ngong and Lukenya Hills
 A good investment
In coming up with this project, the developer has used available market research on population and housing trends in the region. The houses will make a good investment for those buyers not interested in purchasing for their own use. The development will employ a two-tier pricing model where cash buyers will be offered a slightly lower price compared to mortgage or bank financed buyers. The developer has brought on board several preferred banks that are willing to arrange long-term financing but will not exclude other banks that investors or buyers may rather utilize.
The project was scheduled to commence in September 2014 for a period of 24 months.
 Project Team
Client: NAI-TEX Developers Limited
Architects: Gitutho Associates
Quantity Surveyor: Gakuya Associates
Civil/Structural Engineer: NM Engineering
Main Contractor: Nasca Construction
Selling/Marketing: Hidaya Homes and Properties Ltd