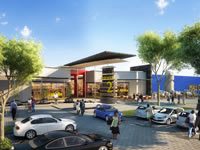 Having successfully completed 49 shopping centres and malls to date, MPD malls hold many of the top trading density stores in South Africa such as Shoprite and other grocery anchors
Pioneering into the emerging markets of sub-Saharan Africa, McCormick Property Development (MPD) now has an established footprint on the African continent. Founder, John McCormick began investigating Africa as a potential development hub in the mid 1990's.
Having initiated the development of many shopping centres in the South African rural areas (old "Homelands") and townships during the apartheid era, he understood the unique socio-political environment of those areas which in turn gave him a unique advantage in terms of having a similar insight into the African environment.
And now with 49 completed developments, 2 more under construction, 8 more currently being leased totalling over 200 000m² GLA (gross lettable area) in SA, and 3 in Africa totalling over 150 000m² GLA  currently being leased with construction planned to commence prior to year end, they are busier than ever.
Despite getting approached by other developers almost weekly, MPD prefers to utilise their "Project Development" division to source new business and define target areas.  MPD manages the entire process on a turnkey basis, from site identification, purchase, zoning, design, leasing, development management, project management, marketing management, launch management, facilities management and asset management.
MPD solely manages buildings that they have been involved in developing. They found that other developments have too many fundamental flaws and that the input required to correct these flaws is so substantial, that it is not worth their while.
"Our primary focus is on Emerging Market Retail," explains Jason McCormick, "However, given the importance of these developments within their markets and how they become the "nexus" of population movement in their markets, we have moved into mixed use developments over the past five years. For example, our Mogale City Mall development includes over 100,000m² of commercial space and 150,000m² of light industrial development, as well as 12,500 housing units within the development."
Projects
MPD are currently building two shopping centres, the 16,500m² "Diepkloof Square" in Soweto and the 12,500m² "Blouberg Mall" in Senwabarwana (Bochum) in Limpopo Province.
Another three shopping malls are anticipated to begin within the next 6-8 weeks in South Africa; two large Malls in Mozambique and one large mall in Borrowdale, Harare, Zimbabwe are expected to begin in the second half 2012.
Having successfully completed 49 shopping centres and malls to date, MPD malls hold many of the top trading density stores in South Africa such as Shoprite and other grocery anchors (trading density is a measure of a store's sales versus its' rentable area). It's difficult to name a "Flagship" project, however, Jason McCormick's favourites are the 42,000m² "Chris Hani Crossing" Mall in Vosloorus, the 34,000m² Tsakane Mall in Ekurhuleni, the 25,000m² Kwagga Plaza (about to be expanded to over 40,000m²) in Mpumalanga and the 26,000m² Jane Furse Plaza in Limpopo. These developments all have lengthy waiting lists for space, given the incredible trading densities that the stores within these malls produce.
Benefitting surrounding areas
All MPD projects have benefitted their surrounding areas, predominantly with direct employment. MPD has created over 40,000 new jobs in its 30 year history, in areas that are historically disadvantaged and hence in dire need of employment. MPD also works with local traders to ensure that they do have an opportunity to take up space in the malls.
MPD, have a firm belief that education is the answer to South Africa's productivity and unemployment problems and has been extensively involved in educational projects. From building schools in the "Previously Disadvantaged Areas" to offering annual bursaries and scholarships, this is a spin-off benefit to the areas in which they develop. MPD also have some extremely exciting Corporate Social Investment projects that are in the pipeline.
MPD make a concerted effort to ensure 'Green' building technologies wherever possible. More specifically, they have been working together with Pick n Pay and Shoprite over the past few years to reduce their electrical requirements. They have also increased the insulation specification within their own developments to further reduce air-conditioning loads in all projects. Other environmentally friendly practices utilised by MPD include rainwater harvesting in the 32,000m² "Edendale Mall" in Pietermaritzburg and a 2.4 Hectare fully rehabilitated and maintained wetland system as part of the same development. Light sensors are used in common areas and energy saving lighting is installed throughout all the malls.
Challenges
There are a multitude of challenges that face the development industry in Africa. Jason McCormick elaborates, "Our biggest challenge is that we are 100% committed to transparency and refuse outright to bribe anyone, on any level. We have found corruption to have become pervasive throughout our niche of the industry, and our not "paying our way" makes it incredibly difficult to get things through in what we would define as a "normal" timeframe, and often leaves us struggling for years to get developments approved."
"Socio-political pressures are also a huge challenge in the industry and working with local political structures is often incredibly difficult and sometimes downright frightening! We have however managed to create a model for working with these structures in these areas over the past 30 years which places us at a distinct advantage over newer entrants into these markets who may not know the extent of the pressure that will get exerted on them during the course of the development process."
"Development within the old "Section 293 Townships", where land ownership was not allowed under the Apartheid regime also remains a problem as title deeds can take years to acquire. We will not develop on land that does not have a title deed, and as such, development is being held back in many of these areas due to the time that it takes Department of Land Affairs to issue title deeds."
"Low rentals in the shopping malls, that tenants can afford, are a problem – especially when played against the huge costs of bringing services to the development areas. One must remember that these areas are traditionally under-serviced and as such they rarely have the bulk services to handle developments of the nature that we do. Given that the various Local Authorities generally do not have the budgets to service these areas, the onus then falls on the developers to bring in the bulk and link the services, creating a far higher cost base than would otherwise be the case. High costs and low rentals make it very difficult to make the returns needed to justify the risk of developing in these areas!"
Conclusion
As the 1st South African company to initiate BBBEE when John McCormick did a Share Scheme for local economic empowerment in his "Giyani Plaza" in 1985, the 1st company to focus solely on the "Emerging Market" and the current market leader in the South African Emerging Market development, McCormick Property Development stands out as a solid development company with a promising future as they continue to break ground in Africa