A luxurious, eco-friendly building, dubbed Swahili Dreams Lamu, fuses Swahili tradition with contemporary architecture and lifestyle. A condominium development with nine housing units, each with one or two bedrooms, the project is situated at the heart of the town of Lamu. Even though it uses entirely contemporary facilities and innovative environmental design, it retains the old feel of the island.
The oldest Swahili town is still in existence in Lamu, Kenya. It has a culture derived from African, Arab, and Asian heritage, as well as most of its original architecture. It is a UNESCO World Heritage Site situated on the Indian Ocean coast.
Search for construction leads
The ensemble was born from the townscape's morphology and effortlessly integrated into it by articulating the project around it. The volumes are simple and have a clean, white geometry through offsets and setbacks. The project's variation is emphasized by the material distinction between coral stone walls and plaster finishes, while still using local resources and expertise.
Overall, the aim was to establish a structure with a fragmented geometry there at the scale of Lamu. The houses are designed to deliver the finest views possible. Through well-positioned windows and large, private terraces, as well as ones on the rooftop, the structure frames views of Lamu Town, the Indian Ocean, and the adjacent Manda Island.
Swahili Dreams combines design with artisan crafts to evoke the palaces of the old sultans. Both exterior and interior finishes, starting with the plaster work done in the Lamu style throughout the project, were hand-designed by local artisans. Beamed ceilings, polished floors, and intricate Swahili ceiling designs enhance the main living areas.
From wooden shutters on sunny façades to fixed wooden lattices on windows to railings on full-height openings, they encompass tradition and contribute to passive climate control by filtering sun as well as letting wind through. Wooden joineries complete the spaces with hand-crafted lattices and patterns.
The ground floor is home to a spa and pool with Roman-inspired design, which are partitioned by walls and partitions to provide an intimate area with shade and freshness. From there, two ventilation shafts emerge and reach up to the building's top terrace. All apartments feature cross-ventilation because of the wind-catch towers' ability to trap the wind from above and let it enter the depth of the building. They allow filtered light to enter as well, much like a reduced patio.
By being a large enough mass for thermal absorption, load-bearing walls built of locally sourced coral blocks and reinforced concrete slabs were intended to reduce heat in the interiors. Lamu plaster with an anti-fungal treatment serves as the outside finish, allowing it to protect the structure and last over time. The plaster's white color also reflects sunlight and reduces heat absorption.
A 30000-liter underground rainwater catchment system for managing water allows near-sufficiency and effective use of natural resources. In order to start utilizing renewable energy, solar-powered water heating is installed. In the 2016 AAK Awards of Excellence in Architecture, the project did win the award for Best Residential Building Project.
Reported on 24 July 2014
Swahili Dreams Set to Stir Lamu's Property Market
Lamu, a timeless little town along the coast of Kenya, does not immediately slip into conversations about real estate investment in Kenya. But this is soon bound to change.
Although Lamu is internationally famous and is in fact a UNESCO World Heritage Site, it would have been inconceivable for investors to put in vast sums of money in real estate only a few years ago. It was seen as a remote destination which did not help shore up investor confidence. But this timeless, laid-back Swahili island where the main transport is still on donkey back and modernity seamlessly blends with 15th-century styles, looks set to be the next major frontier in Kenya's real estate boom.
In recent years, the fortunes of Lamu have been rapidly changing. The governments of Kenya, Ethiopia, and Southern Sudan are in partnership to open a major transport corridor terminating at Lamu and a deep sea port is in the works. Despite the usual teething problems with such gigantic projects, the prospects of Lamu are looking bright and early-bird investors have already hit the ground running.
Among these investors is Swahili Dreams Limited, who are putting up some exclusive apartments at the heart of Lamu's Old Town. Scheduled for completion in April 2014, the development, according to the company's management, will be a luxurious yet eco-friendly building with a complementary fusion of modern design and traditional Swahili themes.
Designed by the renowned architect Urko Sanchez to blend in with perfect harmony into the surrounding environment, Swahili Dreams is an exclusive concept of nine apartments in a three-storey building.
Features and Finishes
Built in coral stone and hardwood, this beautiful building is crafted to the highest standards and reflects the best traditions of Swahili design. All external and internal finishes use creative hand-crafted designs to blend ancient Swahili culture with contemporary comfort, creating harmony with the past but looking toward the future.
With its simplicity of structural forms, the architecture is evocative of the palaces of the ancient Sultans, yet maintaining a contemporary and fresh feel. The units feature modern amenities and conservation-conscious fixtures and fittings, all finished to the highest standards. Despite these modern amenities, the developer is keen to reflect the distinctive Swahili architectural legacy of Lamu.
Each residence boasts magnificent views, with the interiors being typically Swahili. Main living areas are enhanced with intricate Swahili ceiling sculptures, beamed ceilings, and polished cement floors. Satellite TV and internet have been provided for. The units conform to the highest standards of modern luxury. Kitchens and bathrooms boast European-style fittings and bedrooms are designed to provide the ultimate in comfort.
Fresh air naturally circulates through the living and dining areas. The finest hardwood has been used for all internal joinery. Swahili Dreams offers a beautiful indoor pool and spa, together with environmentally-friendly features such as a solar-powered hot water system and wind towers to catch sea breezes efficiently and keep the building comfortably cool all year round.
A Green Development
Swahili Dreams is an eco-friendly development. The building has been designed to work in harmony with its natural surroundings, minimizing its impact on the environment. An environmental strategy has been developed to promote resource conservation.
Wind catch towers allow for natural ventilation. Load-bearing walls made of coral blocks and reinforced concrete slabs have been designed to reduce heat in the interior and a colored Lamu plaster finish with an anti-fungal exterior treatment reflects the sun and reduces heat absorption.
All apartments are fitted with solar hot water systems while water consumption is reduced through the 30,000-liter underground rainwater catchment. Finally, the inclusion of a bio-digester wastewater treatment plant allows for the recycling of grey water.
An Ideal Living Space
No effort appears to have been spared in making Swahili Dreams the residence of one's dreams. The developer has thought of every possible amenity for today's discerning customer's needs and blended that with traditional Swahili themes to create a stunning development.
Whether buying a unit as a holiday home or as an investment, there is no likelihood of ever regretting one's decision. And with all signs that Lamu properties will hit stratospheric prices with the changing fortunes of the town, the best time to buy is now.
For more information, please visit www.swahilidreams.com.
Aug 2017
Swahili Dreams, Lamu Apartments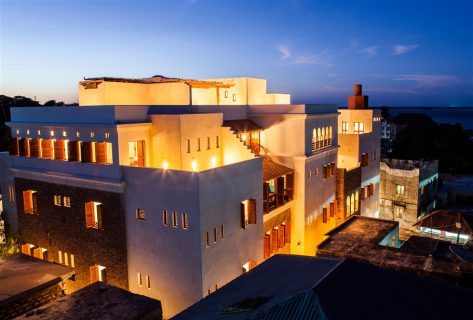 Swahili Dreams is a luxurious, eco-friendly building fusing contemporary architecture and lifestyle, along with Swahili tradition. Taking the scheme of condominiums, the project sits in the heart of the town of Lamu and consists of nine living units, each with one or two bedrooms. It adopts the old flavour of the Island, while being innovative in its all-modern facilities and environmental design.
Context: Lamu
Lamu, Kenya, is the oldest surviving Swahili town in East Africa, with a culture born from African, Arab and Asian heritage. Its architecture still, to a great extent, is intact, and on the coast of the Indian Ocean, it is designated a World Heritage Site by the UNESCO.
The Old Town, where the Swahili Dreams are located, is a maze of typical narrow, quiet, shady and fresh streets with twisted alleyways. Houses are distinct for their courtyard configuration, surrounded by thick, coral stone walls and accessible through elaborately carved wooden doors.
Swahili Dreams takes part in the ongoing development of the Lamu Corridor and offers modern, secure, eco-friendly lifestyle.
Also Read: Tudor Apartments, Mombasa, Kenya
Integration to context
By articulating the project around, Urko Sanchez Architects created an ensemble born from the morphology of the townscape and perfectly integrated to it. Through offsets and setbacks, the volumes are simple and harbour a clean, white geometry.
Material distinction, between plaster finish and coral stone walls, amplifies the variation of the project while using local materials and know-how. The aim, overall, was to create a building with a fragmented geometry at the scale of Lamu.
The houses are oriented for optimal views: from strategically-positioned windows, and ample but private terraces, including ones on the rooftop, the building frames views over Lamu Town, the Indian Ocean, and the neighbouring Manda Island.
Swahili inspiration
Evocative of the palaces of the ancient Sultans, Swahili Dreams blends design with artisanal crafts. Local artisans hand-designed all finishes, exterior and interior, starting with Lamu-style plaster work throughout the project. Main living areas are enhanced with intricate Swahili ceiling designs, beamed ceilings and polished floors.
Wooden joineries complete the spaces, with hand-designed lattices and patterns: from wooden shutters on sunny façades to fixed wooden lattices on windows and railings on full-height openings, they embrace tradition and participate in the passive climate-control for filtering sun and letting wind through.

Contemporary lifestyle: environment and sustainability
The architects wanted to invent homes in perfect harmony with their context, and which adopt sustainable lifestyles. A Roman-inspired pool and spa occupies the ground floor, divided with walls and partitions that give it intimacy, shade and freshness.
Two ventilation shafts take off from there and go up to the roof terrace of the building. These wind-catch towers 'catch' the wind from overhead and allow it to enter the depth of the building; this way, all apartments have cross-ventilation, with all sides able to open up. Like a reduced patio, they also allow for filtered light to come through.
Load-bearing walls, made of locally sourced coral blocks, and reinforced concrete slabs, were designed to reduce heat in the interiors by being a big enough mass for thermal absorption. The exterior finish is of Lamu plaster with anti-fungal treatment, allowing it to protect the building and last over time; its white colour reflects the sun and further reduces heat absorption.
Water is managed through a 30 000 litre underground rainwater catcher that allows near-sufficiency and good use of natural resources, while solar-power water heating is installed to initiate clean energy.
The project won the Best Residential Building Project prize in the AAK Awards of Excellence in Architecture 2016.
About the architects
Urko Sanchez Architects is an award-­winning Kenya and Spain-based boutique architectural firm renowned for excellence in design. Their projects range in size, complexity and function. In all cases, however, the focus is on the client and the context, with a tailor-­crafted approach to each unique project. Commercial projects include hotels, office buildings, industrial spaces and residential developments amongst others.
The firm is deeply committed to environmental stewardship, and for each project, the team considers the cultural roots of the structure, and how the building will be best integrated into its environment; the view, the indigenous materials and the flow of the surroundings. Hallmarks of Urko Sanchez projects include contemporary twists on traditional architecture; a green aesthetic that harnesses wind and solar power and recycled water; and leveraging natural architecture to showcase natural light.
PROJECT DETAILS
Project: Swahili Dreams (Lamu Apartments)
Location: Lamu, Kenya
Year: 2014
Client: Swahili Dreams Ltd. Kenya
Area: 1 600m2
Team: Blanca Sánchez-Balgoma, Verónica García Iguaz
Photo credits: Javier Callejas/Corrie Wingate