Swahili Gem is an intimate residential development of 14 luxury apartments set on the beautiful Tudor Creek of Mombasa. The project is exceptionally innovative in its architecture, skillfully combining the finest elements from the 2,000-year-old Swahili culture and from 21st century design. The Swahili Gem team brings a contemporary interpretation of Swahili architecture; it emphasises comfort, aesthetics, quality finishes and creative use of spaces.
Iconic award-winning architecture
Works on site started a few months ago, but Swahili Gem has already won an award by the Architectural Association of Kenya, an honourable mention in the 2014 awards of excellence in architecture (best residential project). This is recognition for the tremendous amount of work that was put into the architectural design of this project. The overall concept is to build modern apartments of the highest standard but also symbolically rooted in their cultural context. This is achieved by putting forth a modern architecture of the highest quality and at the same time by showing its attachment to Mombasa's history by borrowing inspiration from the rich traditions of Swahili designs. In a way, this development is committed to harmonising Mombasa's past, present and future architecture.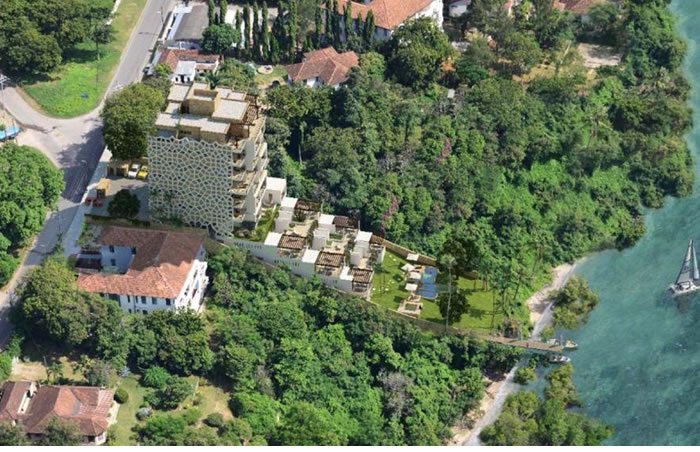 The building features a unique Musharabieh structural shell which is aesthetically pleasing but which also offers protection from the sun and from possible onlookers from neighbouring buildings. The project provides large outside living spaces and for the lower apartments, unique interior gardens which will boost natural ventilation.
This unique design is the works of Urko Sanchez Architects, a studio which has in the past ten years strived to achieve modern architecture with a local twist. Works of the Studio at Vipingo Ridge and in Lamu are examples of uniquely innovative architecture.
A residence of high calibre in the heart of Mombasa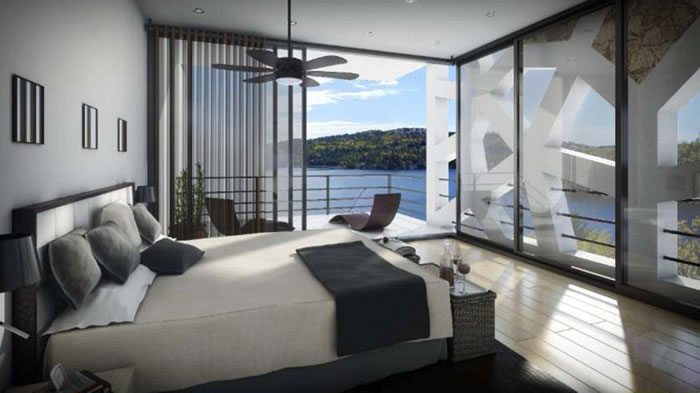 The Swahili Gem development is a work of art as much as it is a residence of high calibre. Swahili Gem apartments offer all the 21st century luxury and comfort of high standards. The development comprises 3 patio homes, 10 terrace apartments and 1 penthouse. All units are very spacious. The layouts are optimised to maximize creek views and natural ventilation. Terraces are vast and constitute a natural extension of interior spaces, hence maximizing living spaces.
The 14 units conform to the highest standards of modern luxury. Kitchens and bathrooms boast European-style fittings and bedrooms are designed to provide the ultimate in comfort. Air conditioning, lift, false ceilings, led lighting and backup generators are some of the specifications which make Swahili Gem the epitome of 21st Century living. Security and fire-protection are also enhanced through modern technologies.
An infinity swimming pool, gym and landscaped garden are amongst the amenities which will make living at Swahili Gem a great pleasure.
Convenient location
The development is on the island of Mombasa, minutes away from Mombasa Central Business District, the airport, the port, shopping centres and beaches. The location is ideal for a business base as well as leisure indulgence.
Environmental conscious development
Swahili Gem is an eco-friendly residential development which aims to minimize its impact on the environment. The building has been designed to work in harmony with its natural surroundings. An environmental strategy has been developed to promote resource conservation. Natural ventilation and protection from the sun are promoted. All apartments are fitted with solar hot water systems. The provision of a bio-digester waste water treatment plant allows for recycling of grey water.
More information on this residential development can be found at www.swahiligem.com
Project Team
Developer: Swahili Gem Limited
Contractor: Continental Homes Limited
Architect: Urko Sanchez Architects
Structural engineers: Interphase Consultants
Quantity surveyors:  Mandhry Associates
Mechanical and electrical engineers: East African Maritime Services Limited
Electrical contractor: Relcon Power Systems Ltd
Plumbing contractor: Ken Plumbers Ltd
HVAC: Shankar Electronics Ltd
Swimming pool: Davis & Shirtliff
Lift: Imagination Solutions Ltd