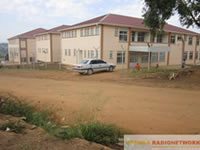 As part of establishing functional and sustainable mental Health services at hospitals, the Support to the Health Sector Strategic Plan Project (SHSSPP) has reconstructed, renovated and expanded a health unit at Mbarara referral hospital.
The SSHSSPP, funded by the African Development Fund (ADF) and Government of Uganda, is one of the MOH programs/ projects that are playing a significant role towards making a significant contribution to the well being of the people of Uganda in the areas of extended economic growth, increased social development and poverty eradication attainment.
The project is set to strengthen provision of, mental Health services throughout the country, and Primary Health Care (PHC) services in 11 Districts in Northern and Eastern Uganda.
These district, which have some of the worst poverty indicators in the country, are (Nebbi, Arua, Yumbe,, Moyo, Adjumani, Lira, Apac, Kaberamaido, Soroti, Katakwi and  Kapachorwa.) Mbarara district has been one of the districts that have benefited from this programme.
Mbarara National Referral Hospital, commonly known as Mbarara Hospital found in Western Uganda is a referral hospital for the entire country and specifically for the districts of Mbarara, Bushenyi, Ntungamo, Kiruhura, Ibanda and Isingiro. The hospital also serves as the teaching hospital of Mbarara University of Science and Technology.
The hospital is one of three "National Referral Hospitals" in Uganda, the others being Mulago National Referral Hospital and Butabika National Referral Hospital.
Located at Plot 8-18, Hospital Road In Mbarara town, the mental health service unit at Mbarara referral hospital has been reconstructed as part of the Support  to the Health Sector Strategic Plan Project (SHSSPP).
Design Concept
Recently opened, the newly finished two stored building is a complex that comprises of Blocks A, B, C. which hold a psychiatric Unit, Attendants unit & laundry block. The total gross floor area of the building is 8,295m2 and the building is equipped with modern medical facilities.
The design of the building is modern with local, classical design references and compliments. The reception area is huge with modern furniture and the building has a well paved ample parking space area.
The building has electrical and mechanical installation and associated external works.
The US$6,468,340 building project was undertaken and completed by Excel construction Company in partnership with El-Arch's Partnership as the consultant. Brief on Support to the Health Sector Strategic Plan Project (SHSSPP))
The SHSSPP project was commissioned in 2001 and the main focus has been on:
Rehabilitating / remodeling and equipping  National Referral Mental Hospitals  to strengthen their capability to meet priority needs of referral services, research and training in Mental Health;
Establishing functional and sustainable mental health services at six referral hospitals by constructing and equipping mental health units at these hospitals;
Rehabilitating/ upgrading and equipping 32 health centers  in 11 districts to enable them effectively  provide promotive, preventive, curative and rehabilitative services in line  with their levels of care as provided for in the HSSP and in the Uganda Minimum Health care packages;
Strengthening the capability of the 11 districts mentioned above for the provision of selected elements of PHC services by Governments and Non Government providers.
Special attention is being paid to community mobilization and empowerment for health; sanitation improvement malaria control; Information, Education and Communication (IEC); main streaming mental health services into PHC; and support to in service training of staff.
Benefits of the Project to Ugandans
As a result of this project, there has been:
Increased utilization / accessibility to mental health and PHC services by the population – because of better infrastructure, availability of well trained staff, good supply of drugs and better diagnostic capacity.
Better diagnostic capacity due to the procured general and specialized equipment and better trained staff.
Better- trained human resources; this in return will improve equity  and access to mental health and PHC services to the community
Provision of more knowledge and skills especially in MH- due to improved research skills, research output and better diagnostic capacity at Butabika Hospital.
Attracting and retaining quality specialized staff ( as a result of good infrastructure and availability of equipment).
Improved Technical supervision for Mental Health services to district and regional referral hospitals through  out the country due to availability of staff and improved transport capacity
Improved referral system due to the ambulance services and radio communication system.
Project team:
Client: Ministry of Health
Consultant: EL- Arch's partnership
Contractor: Excel Construction Company