The 500 kW tidal energy power plant at Dent Island Lodge in British Columbia, Canada, was developed by Dent Island Lodge, the NRCan's Clean Energy Fund, and Headwaters Foundation.
The power plant is connected to a tailored microgrid system by WWT. The latter has reportedly created an inventive technical solution to effectively harvest tidal and river stream energy. The system consists of a large, slowly rotating turbine housed inside an anchored floating structure. Energy extraction using this patented technology is highly efficient—nearly twice as efficient as with traditional propeller-driven devices.
Search for construction leads
The construction of the 500 kW tidal energy power plant at Dent Island Lodge, which also comprises a 500 kWh energy storage system built by Tesla, started in early 2014. This was after an initial front-end engineering and design (FEED) study supported by the ecoENERGY Innovation Program was put up for competition.
The majority of year one was dedicated to detailed construction design and establishment of the supply chain. WWTurbine 1 was launched and ready for deployment in July 2016.
Reported on September 2014
The Switch to deliver a full-power converter to Water Wall Turbine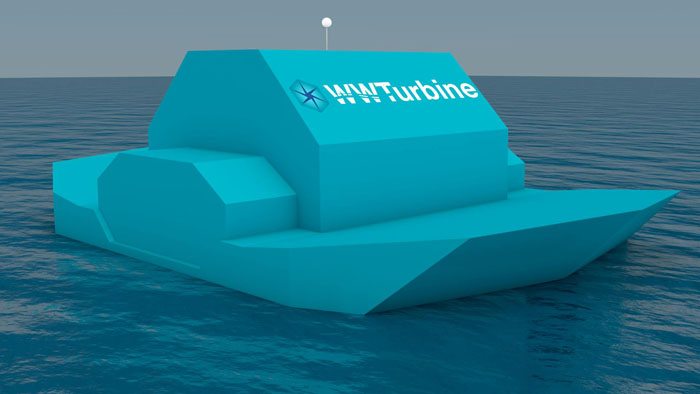 The Switch will supply its first 500 kW full-power converter in October 2014 for the tidal energy power plant at Dent Island Lodge, which will be used for the Dent Island Resort, near Vancouver Island off the west coast of British Columbia, Canada. System testing of the integrated equipment is planned for the first quarter of 2015.
Vancouver-based Water Wall Turbine Inc. (WWT) has selected The Switch to provide the 500 kW full-power converter for its innovative self-floating power plant. This new commercially viable system extracts potential and kinetic energy from large, fast-moving water currents for conversion into electric energy.
The vessel will power the resort, replacing existing diesel generators as the primary energy source, and is integrated with battery energy storage. The diesel generators will provide system backup. Additional 1 MW plants are being planned for other remote resorts and communities in British Columbia.
Also Read: Grizzly Bear wind farm project in Alberta, Canada, on the verge of completion
The WWT vessel leverages patented technology in a tethered above-water design to provide superior advantages over other tidal flow power generation concepts. Power extraction is extremely efficient in deep or shallow water currents. Environmental impact is minimal. The vessel offers easy accessibility for maintenance and construction. The technology is scalable from 500 kW to 1 MW, 2 MW, and up to 5 MW per unit. The vessels provide bi- or monodirectional operation for tidal and river currents.
"WWT was interested in The Switch converter because of our product knowledge and flexibility to work with them on the tidal energy power plant at Dent Island Lodge," says RistoAhvo, General Manager of The Switch USA. "They also appreciated the compactness of our design."
The Switch is a leader in permanent magnet generator (PMG) and full-power converter (FPC) packages for wind turbine applications that are similar to this specific co-generation current application. With over 7 GW of installed capacity, The Switch has made its mark with efficient and reliable power generation, lowering the cost of energy. As an operational reference in tidal wave applications, The Switch delivered a PMG and FPC package in 2011 to the Wello Penguin wave power application in Orkney, Scotland.
"We selected The Switch based on their know-how and experience of delivering converters that fulfill the strictest grid codes and utility demands for interconnection and power conditioning," says Marek Sredzki, CEO of WWT. "For us, it was also important to know that The Switch will be providing us with engineering application support."
Water Wall Turbine Inc. is a developer of renewable energy generation technology from marine and freshwater currents with the mission to become the world leader in the clean energy industry. WWT is a private corporation funded by private investors. Canadian government funding for the initial concept development was provided through the ecoEnergy Innovation Initiative.
With 7 GW of installed power generating capacity, The Switch is a pioneer in advanced drive train technology based on megawatt-class permanent magnet machines and converter packages. The main focus areas are wind, marine, solar, and special industrial solutions. The company's innovative drive trains make an impact on profitable power generation and energy use, with the ultimate goal of lowering the cost of energy and operations. Starting in 2006, The Switch reported net sales of EUR 46.2 million in 2013. The Switch is headquartered in Vantaa, Finland.