Construction cost estimating is the process of identifying the approximate, yet detailed, costs associated with a construction project. For small projects, an experienced contractor can come up with a quick estimate in his or her head but for large projects that require detailed bids, the process requires much more due diligence to achieve an accurate cost estimate, which is where construction cost estimating software's come in handy. These solutions offer numerous construction management software benefits, such as streamlining the estimation process, improving accuracy, enhancing collaboration among team members, and providing real-time data insights for better decision-making.
Also Read: Top 3 free and open source construction project management softwares
Construction cost estimating software is a cloud or desktop technology designed to streamline and improve the process of creating cost, material, and labor estimates for construction projects. In this article, we give our top construction cost estimating software picks in 2021 based on user rating.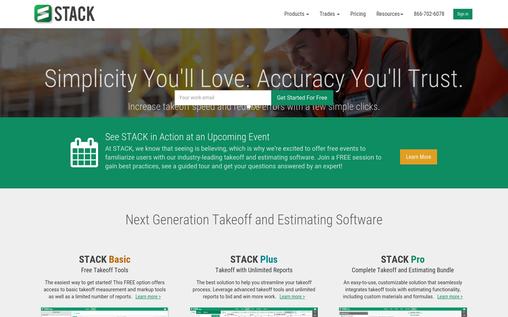 This is an all-inclusive takeoff and estimation tool for construction companies spanning various industries, including specialty trades, landscaping, MEP, concrete, roofing, residential, and commercial.
It's an excellent choice for subcontractors, general contractors, and suppliers alike as it has unique solutions with specialized features for each use case.
This is arguably one of the most popular construction management platforms on the market with more than 1 million users owing to the developer's outstanding customer service.
The Better Business Bureau rates them an A+, and reviews from around the web show a high level of customer satisfaction with their software, which is designed for homebuilders, remodelers, commercial developers, and specialty contractors of any size.
HCSS HeavyBid is an estimating and bidding software specifically designed to meet the needs of firms in the construction industry. It reportedly helps more than 35,000 estimators daily to create flexible estimates as well as manage bids efficiently.
HeavyBid uses data from multiple sources and automates any repetitive tasks, and its users can review and edit estimates with ease and determine the best prices. HCSS HeavyBid is suitable for companies of varying sizes and in different niches including industrial construction, power, transportation, oil, and more.
This software, developed by a company with more than 40 years of experience developing software, integrates digital takeoff, cost estimating, and bid analysis in one package. It has been built using the .NET platform and Microsoft SQL database.
ProEst features materials, databases, and cost update service support such as RSmeans, All Prier, and Trade Service, and it can also integrate with other project management and accounting systems.
The software is best for specialty subcontractors, home builders, and highway contractors among others.
CoConstruct's single-entry estimating software is an all-in-one tool for custom home builders and remodelers that allows you to enter your data once, and have that information flow through the estimate to the specs, selections, bid requests, proposals, change orders, purchase orders, and budget — including full integration with QuickBooks.
Causeway is built to help contractors reduce the traditional costs of tender inquiry by up to 50% and make the net value and costs more visible. This construction estimating software is an advanced tendering solution that can help you create more profitable bid proposals, reduce risks and manage costs successfully.
It is suitable for main contractors and specialist contractors in the building, civil engineering, and designing.
This is an affordable, yet powerful, web-based estimating and proposal generation tool designed for residential contractors and remodelers. It has a smooth user experience and workflow and is one of the cleanest interfaces of any estimating tool.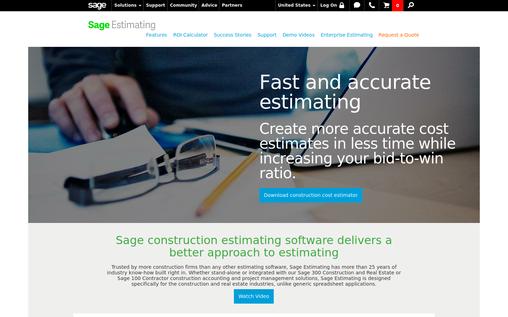 Sage estimating formerly a part of the Sage Timberline suite, is an ideal solution for construction companies, both large and small, providing the flexibility and power to expedite the process of estimating.
Its core function is to help its users build accurate bids and project estimates using data from their takeoff and BIM files, but it does much more than that. Even the most limited version of Sage Estimating can do the basic takeoff, sync with a price database, and generate detailed estimates and customized reports, while the more advanced versions of the product include features like access to the RSMeans cost database, building estimates from 3D BIM models, and generating a bill of material reports.
This is a powerful estimating tool built for subcontractors or general contractors and its long list of features and integrations make it a good fit for most general contractors, subcontractors, architects, and engineers.
Noteworthy, Sigma Estimates is an especially strong choice for Windows users.
B2W Estimate is designed for heavy construction firms or contractors. It can be used to calculate labor and material costs, track subcontractors and suppliers, manage bids and quotations.
B2W Estimate offers Excel integration support and can also integrate with other project management and accounting systems such as Oracle, Dexter + Chaney, Maxwell Systems among others.