Pumps are arguably the most widely manufactured piece of machinery in the world and find use in many home appliances, cars, industry and of course to supply water. In construction and infrastructure development, pumps find use in draining flooded construction sites, in boreholes and in water reticulation.
The selection of a pump always depends on very many factors. There are many different water pumps for several applications available. There is the need for a buyer to know that machines are also manufactured hence when purchasing, they should focus on that which will meet their need so as to cut out costs on future damages.
Search for construction leads
Also Read
10 factors to consider when purchasing Submersible Water Pumps
9 steps to proper Submersible Water Pump Installation
The following are the leading water pumps manufacturers in the world
Wilo
Wilo Group, one of the world's leading manufacturers of high-tech pumps and pump systems for the building technology, water and industrial sectors with headquarters in Dortmund, Germany. Founded in 1872, the company is an innovative and solution-oriented market leader. The company has 60 subsidiaries in 50 countries and total staff of over 7,830 worldwide. The group is manufacturing pumps and pump systems at 17 production facilities across Europe, Asia and America.
The extensive product range extends from high-efficiency pumps designed for residential & commercial buildings, municipal clean & waste water and Industry market segment for water boosting, HVAC, firefighting, raw water intake, clean water supply and irrigation, waste water collection and transport, waste water treatment application.
Wilo offer their customers tailored products and make complex technologies user-friendly with a high level of system efficiency and maximum energy conservation. To be in closer reach of its customers, to better address their challenges and improve on responsiveness for East African region, the company open  Wilo East Africa platform head quartered  in Nairobi Kenya and support all the east African countries, Sudan, South Sudan , Ethiopia, Eritrea, Tanzania , Djibouti, Burundi, Uganda, Somalia  and Rwanda.

ETEC Company
ETEC is one the leading pumps manufacturing company established in the late 1980s with technical innovation in manufacturing high volume pumps, and the subsequent breakdown of technological paradigms.
Since the origins of the company, ETEC has maintained a synonymous of innovation, hydraulic efficiency and reliability.Such is its strength that having ETEC pumps is almost an obligation in the aquaculture market. The presence of ETEC pumps has been strengthening and growing into other market segments such as: flood control in urban and agricultural areas, irrigation districts, aqueducts and industrial applications.
The company has made every effort to ensure the efficiency and appropriate handling of large volumes of water through providing long-lasting and efficient engineering solutions while also maintaining unmatchable efficiency levels even when operating under the toughest conditions.
The presence of ETEC pumps has been strengthening and growing into other market segments such as: flood control in urban and agricultural areas, irrigation districts, aqueducts and industrial applications.
ETEC assists every user of its pumps in a step-by-step process to implement the right design for the pump station and complementary constructions to guarantee the best performance of the system.The company has the ability to design "custom made" packages, starting with civil works, to the final conception of equipment adapted to unique and special operating conditions.
GRUNDFOS (PTY) LTD 
Grundfos is the world's leading pump manufacturers with over 16 000 employees and annual production of more than 16 million pump units a year. They directly accessible in 56 countries, additionally their presence extends through a wide network of partners, distributors and subdealers.
The company has a set of standards in terms of innovation, efficiency, reliability and sustainability for their water solutions for the world which help their partners and customers move water to where it is supposed to go. Providing drinking water for the smallest villages and the highest skyscrapers, treating and removing wastewater and bringing heat and comfort to the world – or cool it down if needed
Grundfos offers a wide range of products and solutions for variety of applications including water treatment, wastewater, irrigation, commercial building and various industrial applications. Its product portfolio ranges from borehole-type submersible pumps to end-suction surface pumps, fire pumps, chemical dosing, disinfection, monitoring and control equipment.
Products portfolio also include a solar driven solutions. The development of the Grundfos solar pumps began nearly forty years ago, which is evidence of the company's long-standing ambitions to provide water solutions that change people's lives for the better. Another Grundfos product that brings safe and clean water to communities is the innovative AQtap water dispenser. The AQtap is an intelligent rural-based water dispenser system that can be used to treat and deliver clean and reliable water to informal urban settlements and rural areas.
Grundfos products are energy-efficient, durable, sustainable and most importantly driven by innovative technology. With the purchase of a Grundfos product comes the benefits of reducing operational costs of systems, possibility of remote monitoring and control, service level agreements which ensure that you get maintenance and repairs when necessary and a life-long relationship with high-quality products. Additionally, you have access to Grundfos digital platforms for easy sizing, ordering and remote monitoring.

Hydroo Pump Industries SL
Hydroo Pump Industries SL is a European based manufacturer of high efficiency stainless steel pumps for industry, building services, HVAC, irrigation and water treatment, specially reverse osmosis and filtration systems.
The company offers a wide range of pumps, which meet different technical needs, offering quality solutions in water pumping systems. Their highest pump performance is related to the motor and the hydraulics detailed design.They use the high-end technical resources to reach the best in the market results. Maximised hydraulic efficiency and IE3 standard motors turn out to a unique leading pump concept: robust, reliable, flexible, user-adjustable, smart and multi-purpose.
Hydroo has also adopted a policy of quality and environment-centered commitment to satisfy customers with reliable and efficient products and services, made with the highest levels of quality and environmentally friendly. To achieve it the company focuses on processes that add value to customers and shareholders and wants to set up a centre of excellence in quality, agility, flexibility and protection and respect for the environment.
ZMSA
ZMSA offers a wide range of different water pumps and assist in determining the correct pump for each individual site. The products have a unique aspect is that they are all renewable energy products.The difficulties of Eskom were now becoming a reality for small farmers and the projection of electricity increases of 35% for the next 3-4 years really gave impetus to the addition of renewable energy solutions to the company's range.
They can pump water using the power of flowing/water and can also assist with hydro electric power generation provided they are issued accurate flow statistics.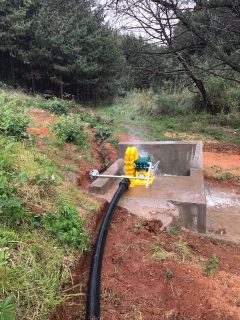 Vossche
Vossche has been a leading pump manufacturer in the world for over 30 years offering different products for different applications with its headquarters in Texas, USA where they have research, development and design facilities, as well as manufacturing facilities.
The company's, main products include; Centrifugal pumps, deep well pumps, submersible pumps, sewage pumps and circulation pumps, ranging from 0.5kW to 200kW consumption. Their pumps are designed for domestic transfer and booster, wastewater and sewage, irrigation and agriculture, fountain and water feature, fire protection and swimming pool applications.
The company produces over 2 million pump sets every year under 12 major categories with more than 2,000 specific models.As such, all their products undergo comprehensive production and operational testing to ensure that they adhere to the high standards they have set for themselves.
The company has also  dedicate a huge amount of time and resources towards research, development and innovation to discover new and better models, applications and methods of production to continue adding value for clients.
Robot Pumps
Robot Pumps Holland, effectively handles and pumps raw, unscreened sewage and is the preferred pump brand by many municipalities across South Africa. They also have a vast installation base in Lesotho and in the Seychelles, as well as in Namibia, Mauritius, Nigeria and Ghana.
They keep stock of Robot pumps and have the most used models available
and can convert them to client's specific Robot pumptype.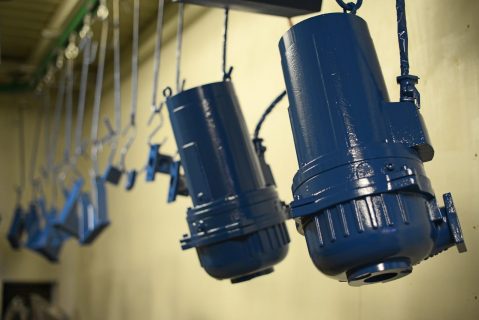 Sulzer
Established in 1834 in Winterthur, Switzerland, Sulzer is a global industry leader with reliable and sustainable solutions for the oil and gas, power, water, and the general industry markets.
The Company has maintained a core in flow control and applicators, specializing in pumping solutions, services for rotating equipment, and separation, mixing and application technology and developing a reliable, fast, and trusted partner for its customers.
Sulzer offers one of the most comprehensive ranges of submersible pumps available on the market today. The applications extend from pumping of light and medium duty within residential and commercial properties to pumping of heavy duty with high concentration of rags and solids in municipal wastewater collection networks and in industrial wastewater applications.
Calpeda
Since conception in 1959 Calpeda has been a leading developer, manufacturer, service provide and spare provider of pumps and accessories for all kinds of industries be it water supply, circulations, treatment, pools to waste movement and chemicals management all of it, be it above or under the ground or in submersed in water. 
With evolvement of the pumps to changing requirements, Calpeda brings a high level of quality and reliability to the market. Every pump is fully Italian made at their own 450,000 m2 production facility, supported by own in house R & D centre and foundry.
Their pumps are fully tested before leaving production and the performance of their products are certified and tested to international standards for Industrial standard pumps and even pumps for domestic and commercial applications.