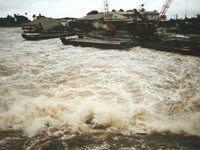 The launch ceremony for Phase 1 of the deepwater port project in Kribi, Cameroon, undertaken by China Harbour Engineering Company Ltd.
(CHEC), was held in early October this year.
Located about 30 kilometers south of south Cameroon's city of Kribi, the Deepwater Port project involves construction of a 50,000t container berth, a 40,000t multi-purpose berth, as well as relevant supporting facilities such as breakwater and port machinery, with a contract value of 489 million US dollars and a construction period of 36 months.
After completion, the Kribi Deepwater Port will play a positive role in promoting Cameroon's economic development as a large container transit port and integrated hub port in Central Africa and West Africa.