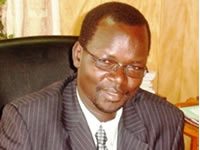 The government has announced plans to introduce new standards and codes for the construction industry to address safety in construction work.
Known as Eurocodes, the new set of rules will provide a common reference point for all contractors and consultants in the country – replacing the British Standards that have guided the local construction industry for half a century. Public Works PS John Lonyangapuo said the implementation of Eurocodes will help address safety in construction work while enhancing professionalism to wipe out shoddy work.
"We have witnessed collapsing buildings in Nairobi, Kiambu, Embakasi and leaning towers in Mombasa.
The professor said the introduction of Eurocodes would aid situation of collapsing of buildings in the country.
Today, the
National Construction Authority
, which was created by an act of parliament, has been carrying out inspection of buildings around the country from 2014, after a series of buildings collapsed. The National Construction Authority is mandated to oversee the construction industry in the country by creation of necessary regulations.
The authority is also tasked with registration of contractors in the Kenya's building and construction industry and has
already registered a number of them
. This helps in ensuring that rogue contractors do not engage in construction activities that could compromise quality of structures, which endangers lives. The National Construction Authority arrived at the decision of
subjecting all contractors to an auditing in 2013 after revelations that 80% of the 10,000 contractors
in the country by then were fake. This was according to the National Construction Authority chief executive officer, Daniel Manduku. The authority has put in place measures such as ensuring professional representation in firms/contractors when the latter are being registered.
The exercise of inspecting and auditing would see some buildings and structures in various parts of the country demolished, while others required/forced to fulfill certain conditions. It would also see important guidelines implemented on ongoing construction projects in the country.