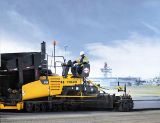 Paving performance is increased with global technology utilized in the Volvo PF6110 tracked paver, according to the manufacturer.
The auger system on the PF6110 is independent of the conveyor system. Each of the two auger and conveyor drives uses sonic sensors for more precise handling of material. The conveyor system has chains that are automatically tensioned for proper performance and less downtime. The conveyor chain cover cleans itself, providing easier maintenance. Reversible augers and conveyors are available as optional equipment.
Hopper capacity for the series is 14.4 tons (13.1 t), giving the paver a practical production rate of 820 tons (744 t) per hour.