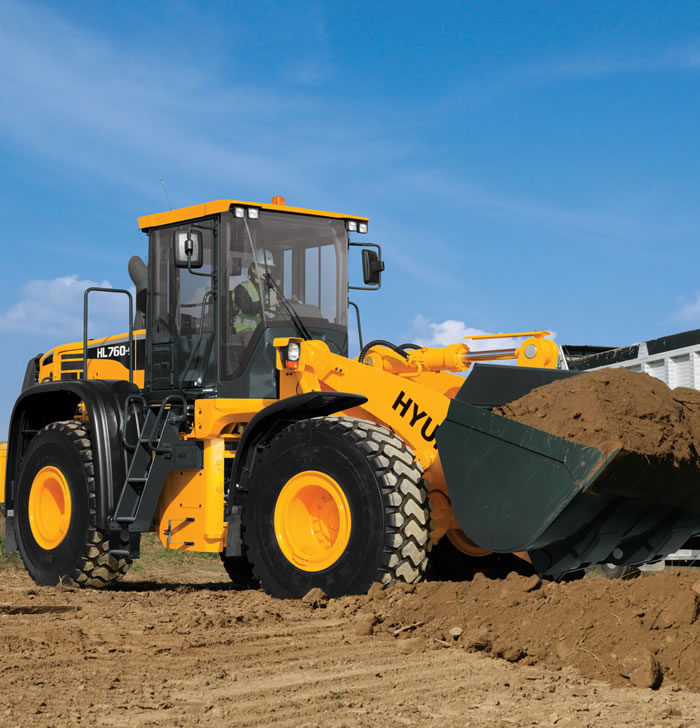 High Power Equipment Africa – HPE Africa – hosted a working demonstration recently of the new Hyundai wheel loader HL 760-9 series, which is an upgrade on the previous -7 series.
"These robust wheel loaders, which were launched in South Africa last year, have been designed for efficient performance in arduous working conditions in mining, construction and agriculture," says Alex Ackron, managing director, HPE Africa (a division of the Capital Equipment Group, Invicta Holdings Limited). "These versatile machines, with an operating weight of 18 400 kg and heaped bucket capacity of 3,1 m³, are suited to the terrain and load of every specific application."
Hyundai -9 series wheel loaders, fitted with fuel efficient, low noise Cummins 2 tier engines, have an in-line fuel pump that delivers more power at high injection pressure, for cleaner combustion and lower emission.
The fully automatic transmission system is designed for durability, minimum power loss, low noise and improved travel speed. The new clutch control design and reduced shifting shock, ensure a smoother ride when travelling.
The automatic transmission system of the -9 series of Hyundai wheel loader also allows the operator to customise automatic transmission shift timing and clutch cut-off, based on operating conditions and personal preference. These variable operating modes – which contribute to improved productivity, reduced fuel consumption and enhance operator comfort – include manual, auto-light, auto-normal and auto-heavy modes. Convenient rotary type switches enable easy adjustment of power transmission modes and clutch cut-off.
The 'ride control system' – an optional feature – has a shock absorbing accumulator that cushions the boom, reduces material loss and improves operator comfort. The operator of this Hyundai wheel loader is able to turn this system on or off with an overhead switch.
These loaders also have enhanced axles for efficient and safe operation in uneven ground conditions. Self adjusting brakes that automatically regulate disc clearance, ensure improved brake performance and reduced service time.
The new load sensing hydraulic system, with a variable volume piston pump and closed centre main control valve, provide efficient hydraulic power and additional energy savings. These 9 series of the Hyundai wheel loader machines have a newly designed parallel-mounted cooler configuration and non louvered fins to prevent clogging.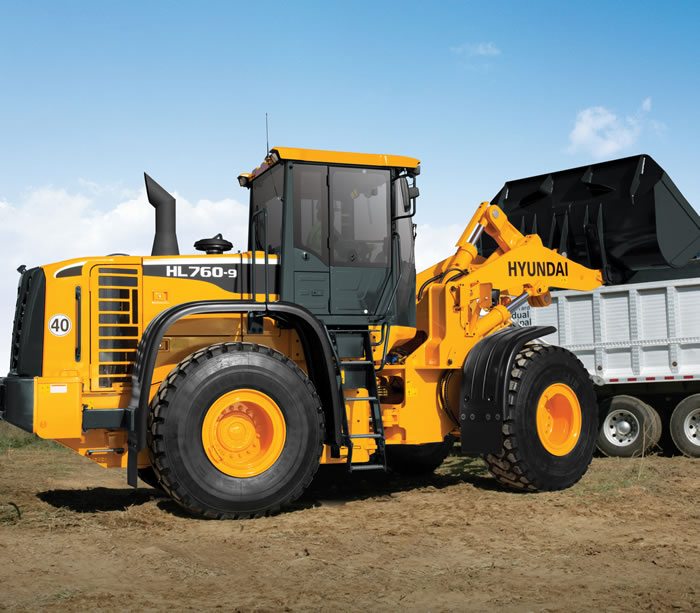 All coolers are designed with an aluminium bar plate configuration and withstand thermal shock, impulse and vibration, to ensure extended service life. The top mounted non-louvered aluminium air condenser and variable displacement A/C compressor, offer maximum cooling capacity, energy savings and easy clean-out.
Ground level access to fuel and oil filters, grease fittings, fuses, machine computer components and wide open compartments, also simplify maintenance procedures. The 9 series has been designed for longer lubrication intervals and extended component life. The new centre pivot roller bearing design, which is now double tapered, also requires less maintenance.
An advanced colour LCD monitor display unit is fitted onto an adjustable swivel mount to enable the operator to easily and efficiently control the machine. Self diagnostics, maintenance check lists, as well as start-up machine security, have been integrated into the monitor of the -9 series, for greater versatility and improved safety. A colour rear-view back-up camera is an additional option.
Hyundai has re-designed these machines with new features for improved visibility and enhanced comfort for the operator. The cab has rounded front glass and larger door glass for a better field of view and a fully automatic climate control system improves heating and cooling in the cab. Other features include a tilting and telescopic steering column and an adjustable wrist rest to reduce operating stress. For improved safety, the access ladder has a 20 ° incline and large, deep tread, non-slip steps.
The -9 series wheel loaders can be equipped with optional full rear fenders and front and rear mud flaps to reduce material splatter to the cab and machine frame.
HPE Africa offers customers an operator training programme to ensure optimum performance from every machine.
The company, exclusive distributors in Southern Africa of Hyundai earthmoving and construction equipment, also supplies McCloskey crushing and screening plants, MB crusher buckets, as well as Soosan hammers and drills.