Ganjlik Mall is the largest shopping centre in Azerbaijan. Located in Baku, the Mall is a retail and entertainment destination built around a stunning four-story central atrium that floods the entire mall with natural light. The mall, which attracts a wide range of shoppers, is conveniently situated north of the city centre, close to the Tofiq Bahramov Football Stadium, and has easy access from the busy Ganjlik metro and bus stations.
The mall is owned by a real estate developer, Pasha Construction and was opened in April 2016. It offers a brand-new retail and entertainment area, a variety of restaurants and cafés, a multiplex movie theatre, bowling, and family entertainment facilities.
Reported on 12th October 2014
Baku's largest and most cutting-edge shopping mall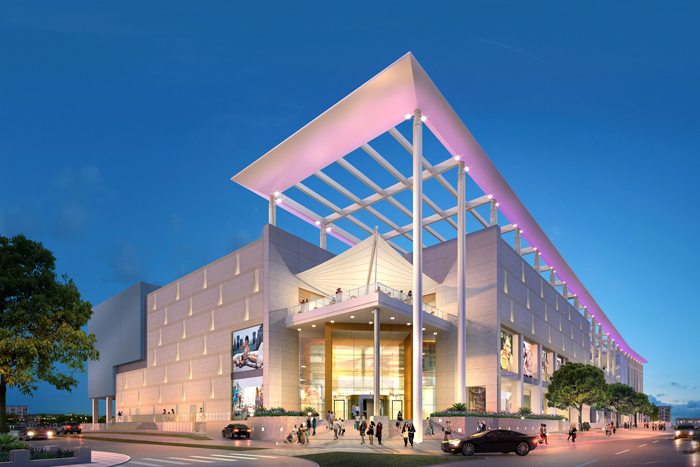 Anel Group, which has completed mega projects according to international standards, continues to stand out with the Ganjlik Mall project. Expected to attract attention with its creative architecture, the Ganjlik Mall will cover an area of 120,000 square meters. With a 11,000 kW mechanical capacity and a 12,000 kW electrical capacity, it will be Baku's largest and most developed shopping mall.
The Mechanical-Electrical Project Manager Hasan Fatih Pamukçu gives his opinion of the project, saying,  "There will be a direct connection with the Ganjlik underground station, seven movie theaters, a bowling alley along with other entertainment venues. With outdoor and indoor cafeterias where you can relax and observe the city, as well as a choice of two different shopping malls, we believe Ganjlik Mall will be a popular place for visitors."
Read Also: Alexander Forbes: 115 West Street, Sandton
Aiming to pioneer a number of projects in Baku
The shopping mall, which began construction in June 2014, is expected to lead the way for a number of other projects to come in Baku. Anel Group, which has completed many successful projects in Baku, will stand out with this project just as it has always done.
Anel Group completes every project it starts reliably as a team and puts customer satisfaction first. The firm aims to increase its success in appropriate proportion with the contentment of its business partners, shareholders and employees.
The Anel Group pioneers projects on a global scale with the principle of generating value and sharing that value. The firm manages the mechanical and electrical systems of the largest shopping mall in Baku, the capital of Azerbaijan.
AnelElektrik took on the Baku Olympic Stadium's electrical and mechanical systems in 2013 and made a record success with Ganjlik Mall. The firm combines engineering, technological strength and strategic skills for a sustainable world in terms of environmental, social and economic considerations. The firm has signed an agreement for the electrical and mechanical systems of Ganjlik Mall, which is projected to open in September 2015.