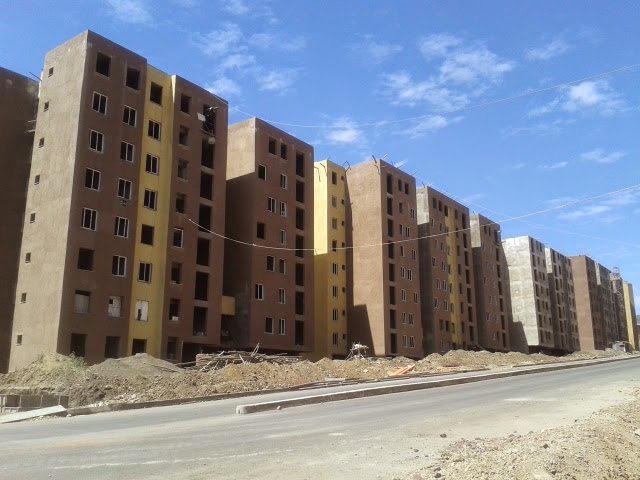 Construction of 18,000 flats for a housing scheme in Yeka Abado, Ethiopia is nearing completion.
The Yeko Abado housing project is part of the new 4-year Housing Development Programme being undertaken by the Addis Ababa City Council to alleviate housing shortage in the city.
The Yeka Abado housing scheme is spanning 200 hectares on a green-field site located 16km east of Meskel Square, Addis city centre. It will be hooked to the center by the Light Rail Transit (LRT) system.
The city administration had announced that 40 000 condos of the 20/80 scheme would be handed over to their owners within two months. The allocation is done by a chance draw with computer. Most of the 40, 000 housing units in the Yeka Abado and Tulu Dimtu. In these areas, 80% of construction is complete. On March 22 last month, 35, 000 condos were handed to owners in the 10/90; and 20/80 categories.
The Yeka Abado housing project will involve a mixture of 10/90, 20/80 and 40/60 schemes, alongside social and commercial areas. Schools and health centers, as well as green areas will be constructed.
The buildings at Yeka will be of one to multi-storey in nature, coming alongside other infrastructure. The flats will be sold to beneficiaries who register for the scheme and open an account with government-owned Commercial Bank of Ethiopia (CBE) – the bank is providing down-payment options (10, 20 or 40 per cent of the house value) for the housing schemes, with a payment period of 3, 7 and 5 years respectively for the condominiums. The bank will also provide mortgages for the 90, 80 and 60 per cent remaining.
The supply of Yeko Abado 10/90, 20/80 and 40/60 housing schemes far by way of figures fall short of demand. Apparently, the Addis Ababa Saving Housing Development Enterprise (AASHDE) will transfer the housing units to the owners. The buildings are set close to each other for the middle and upper-income categories.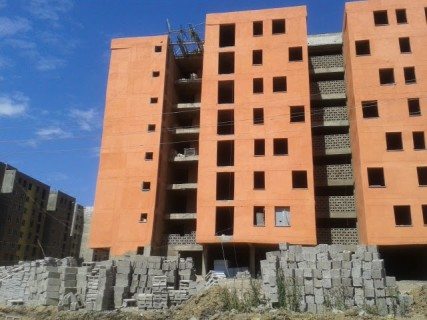 The 10/90 Scheme is targeted at low income households earning below 60 USD in a month. Only one house type – studio flat – will be provided in this scheme and each will be a 31sqm unit, each going at 2,000 USD. The Ground plus 1 or two floor buildings in the 10/90 scheme are set further apart than the 20/80 and 40/60 scheme buildings. Registrants targeting to own these houses provided 10% of the housing costs by paying a monthly amount to an account at CBE and the rest financed via bank loan. Only 3% have chosen the 10/90 scheme since they had to contribute an amount translating to about half of their low income while they had to pay for their rents.
20/80 housing scheme is targeted at lower-middle and middle-middle income households. They contributed 20% of the housing cost over 7 years while the rest was financed via loan. Ground + 4, 7 or 12 floors buildings are being constructed. Users will access one, two and three bedroom flats at a price of 6,200 USD, 11,000 USD and 15,000 USD respectively. The monthly savings are  USD 9.62, 19.70 and 24 respectively.
The Yeko Abado housing scheme buildings will have no internal wall and floor finishes and internal doors and owners can remove the lightweight partitions to join spaces.
The 40/60 Scheme will target the upper-middle income households who can provide 40% of the housing cost over 5 years, while the rest is financed via bank loan from CBE. The loan will attract interest of 7.5% compared to market's 9.5% and must be serviced within 17 years. The category will also access one, two and three bedroom housing units, going at 8,000 USD, 14,200 USD, 19,000 USD respectively.
The new 4-year housing program builds on the Integrated Housing Development Programme (IHDP Phase1), which failed to deliver the goal of alleviating shortage of housing such as providing low-income affordable homes and reducing slums by half by 2020.
The housing schemes have helped increase the number of construction companies and material processing companies. Before the scheme, Ethiopia had 3 cement companies but now reports ten, with Dangote's East Africa's largest cement having entered testing phases this month. The government is now supplying steel on its own project after building a steel factory.
Construction materials are also being sourced from Ethiopia with partitioning being done with agrostone panels that cut down the cost by 50%. The country has two agrostone factories. These panels are made of fiberglass reinforcement, binders (magnesium oxychlorine cement – MOC and other magnesium-based chemicals), and fillers such as bagasse from sugarcane factories.
The homes are a good response since people have negative attitude towards mud houses according to Ethiopian Institute of Architecture. The city administration has said it was considering calling foreign investors to build condominiums. "Foreign investors have shown their interest to build condos but we have to check our policy, the job opportunity, the design, and the cost before we allow them to enter in to the business,''  Mayor of Addis Ababa Driba Kuma said end of last month, while calling on local contractors to invest in construction of condominium.
The Ethiopian Ministry of Urban Development, Housing & Construction (MoUDHC) announced late last month plans to to construct 2.45 million houses in housing schemes, between 2015/16 and 2020/21.