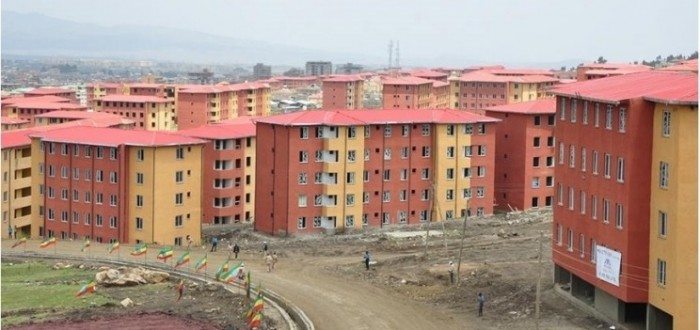 The Ethiopian Ministry of Urban Development, Housing & Construction (MoUDHC) is planning to construct 2.45 million residential units in housing schemes, between 2015/16 and 2020/21. Out of the residential houses, 750,000 will be built in urban areas and 1.7 million in the rural areas. The plan was discussed in a Ministry's review meeting held in Adama (Nazreth) earlier this month.
The construction project is expected to commence in 2015-2016 fiscal year and is in line with the Growth and Transformation Plan (GTP) currently underway.
Mohammedzain Kedir, policy and programme bureau officer of MoUDHC confirmed the news and said that the houses will be erected in the housing schemes of 10/90, 20/80 and 40/60.
For smooth construction of the residential units to take place, the Ministry has proposed to give out 150,000ha of land for the urban development projects and also issue space for the construction of a maximum of 20 industrial parks.
Out of the 150,000ha of allocated land, 40% will be set aside for construction of the houses, 30% of it for infrastructure and the remaining 30% for green areas.
Ethiopia currently has a population of 90million people out of which 17million live in urban areas. The number is expected to increase to 22million by 2020, hence construction of these houses. The project will build on urban reviews and national spatial plans on urbanization and population growth – undertaken by MoUDHC, World Bank and Ethiopian Development Research Institute (EDRI), among other organizations.
Minister of MoUDHC Mukuria Haile, the minister had told House of Peoples Representatives in January this year that the country was planning on constructing 65,000 houses this year. 74,000 completed houses are to be transferred to owners in Addis Abeba. The country is targeting at reducing percentage of old houses from 60pc to 30 pc and currently it has managed the percentage to 45.
Addis Abeba Saving Houses Development Enterprise (AASHDE) had announced in December last year that it would give out project tenders for the 40/60 residential units or housing scheme to international companies to alleviate housing shortage. The country was also expecting a model city and a housing development in Addis, to be undertaken by Turkey, following a visit of delegation in Ethiopia to discuss the matter.