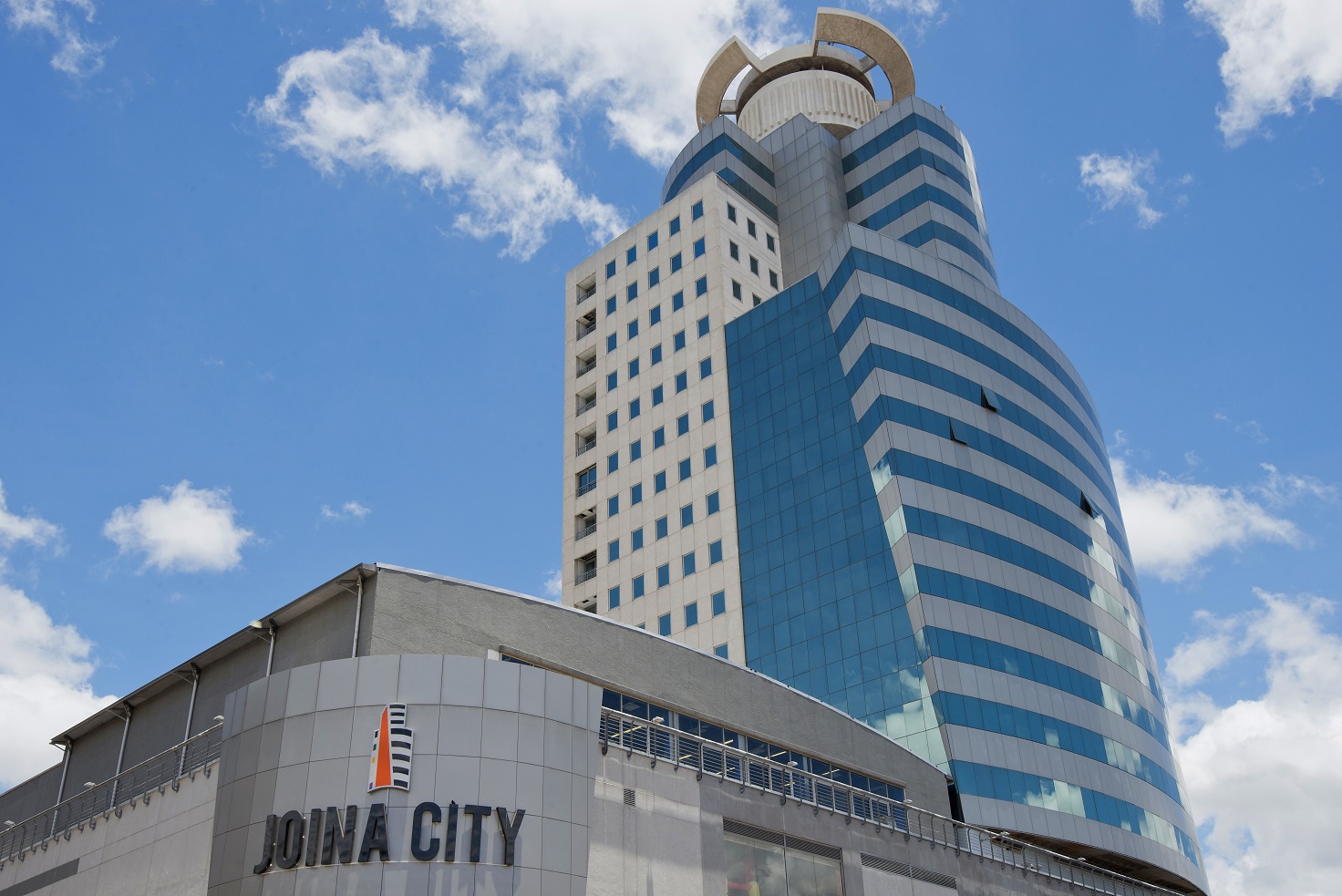 The Joina City was developed with the vision of being the most prominent destination in the central business district (CBD) of Harare housing  leading institutions and retailers.
The retail element of the building is designed to provide a "high end" city shopping mall destination in the central business district ("CBD") of Harare. The office component has been designed and built to a very high office space standard.
Joina City has 17,000mq of retail space, 12,000mq of office space and parking for 600 vehicles.  It comprises a supermarket, clothing outlets, hair salons, bookshops, personal care facilities, office floors, banking facilities and underground parking bays.
The building is backed up by an 850KVA generator which ensures uninterrupted power supply during citywide load shedding. It is prepared for all emergencies, with water reserve tanks holding 24,000 litres, just in case water supplies are cut off as often happens in Harare these days.
The third-tallest building in the country, the Joina City Shopping Mall and Office Tower in Harare, stands at 105 m (344 ft), the project was completed in 2010 after 12 years of construction and is Zimbabwe's only skyscraper built in the last 10 years.
Tough times
The plans for the construction of Joina Citywere approved in 1998 and mobilization took place the same year just before the Zimbabwean economic collapse which took place around 14 November 1998. The main challenges faced were reassuring the investors that the project was viable, and due to the economic collapse foreign currency became scarce hence this hindered the importation of the 80-85% of materials required to complete the building interior and exterior.  The investor portfolio was restructured to ensure that foreign exchange was made available. From 2003-4 foreign currency was acquired through the standard banking practices however during this time the country faced food shortages and the availableforeign currency was needed for the importation of maize. Due to this development application for the money from the banks faced further delays.
Due to the hyper inflationary environment service providers and contractors were paid using fuel coupons as these were a stable source of remuneration and currency.
Given that the project took 12 years to complete it is no surprise that the contractors and their teams continued to change, however the architects and consulting teams remained constant, hence the vision was kept intact. The buildings doors were finally opened to the public in March 2010.
Accolades
Joina City boasts several accolades apart from being the third tallest building in the country. It has the largest underground parking space in Southern Africa, with the exception of South Africa.  Joina City also has the single largest lift and escalator installation in the country.
The parking facilities are well secured and with 3 levels of underground parking available to casual and contract users it eases the street parking demand and congestion for both the city and surrounding buildings.
Joina City offers retail facilities in a beautiful, secure and upmarket environment to ordinary Zimbabweans, i.e. those who commute, work around the CBD and generate low to medium incomes. Our vision was and remains "To provide an upmarket shopping experience to ordinary Zimbabweans."
Project Team
The project team consisted of Arup Zimbabwe, Chigwaze & Partners, Constain, Reclon Consultants, Apex design architects, Southland project managers, Joina Development Company (PVT) LTD, SIP Project Managers South Africa, StauchVolser Architects South Africa, WEVES South Africa, Marriot Properties South Africa, CB Richard Ellis Zimbabwe, MCD Plumbing, and Thermacool