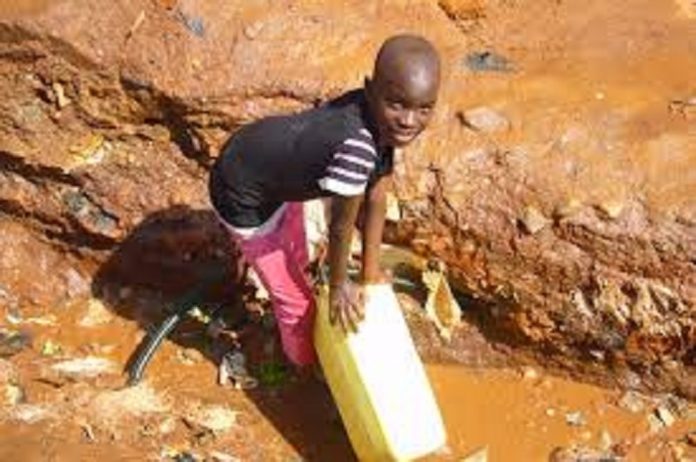 Informal settlers in Namibia face acute shortage of water
An acute shortage of clean drinking water has hit Macaravan east informal settlers in Namibia located in the Zambezi Region leaving over 1 500 residents without any source of potable water.
The settlers have turned to sourcing dirty water from an underground drainpipe for household needs and drinking.
The damaged pipe is located between the informal settlers in Namibia, the University of Namibia's Katima Mulilo campus, and Katima Mulilo's export processing zone (EPZ) industrial area.
The unemployed and impoverished residents have been depending on the unpurified water after the eight taps they depended on were closed by the Katima Mulilo Town Council in April this year.
On site, several people carry water in big containers on their heads, while others pay N$ 2 to have their 5 litre buckets of drain water transported in wheel burrows back to their shacks.
The water is very dark and smelly, but this does not deter the residents, particularly women, from using it to bathe their babies and carry out laundry at the site.
"Where do you expect us to get water to drink and bath? This drain has been our lifesaver. We are not sure how safe the water is to use, but drinking it alone has left many of us with diarrhoea. We cannot walk long distances to the river to draw water because it is far and we fear crocodile attacks," said a woman who only identified herself as 'Namatama'.
Namatama, a resident aged 32, said officials from the council have warned people to stop fetching water from the drain as they will be punished but those warnings have been ignored as they continue vandalizing locks and screws fixed to the drain so as to access water not fit for human use.
Council closed our taps
"Council closed our taps because they want us to vacate the area to make way for development. But we will not move until we are given an area to set up our houses, at a place with water and electricity," she said.
Zambezi Regional Governor, Lawrence Sampofu while commenting on the matter, said he was unaware that the Informal settlers in Namibia were drinking water from drains. He added that no reports of taps being closed have been sent to his office for scrutiny or advice.