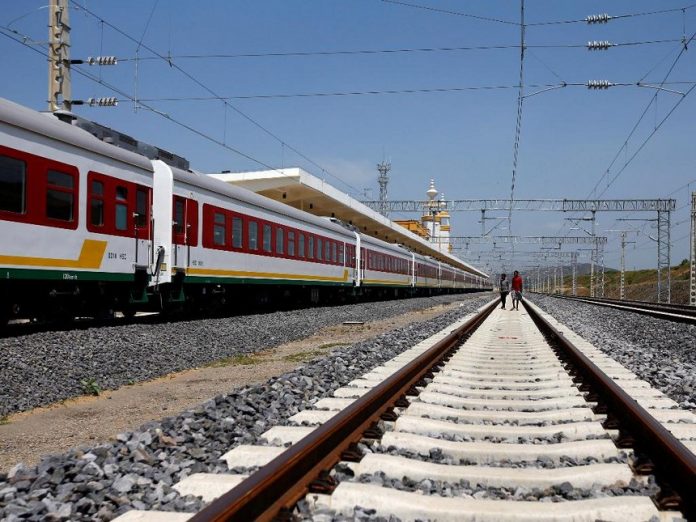 The construction of the first electric Standard gauge Railway line in sub saharan Africa has been officially completed with a colourful ceremony at Nagad Railway Station in Djibouti.
The Addis Ababa-Djibouti Railway railway will link Ethiopia's capital with the Port of Djibouti and ease transportation of goods in the area.
Also read:US$4b newly constructed Djibouti-Ethiopia railway set for testing
The event was graced by Djibouti's President Ismail Omar Guelleh and Ethiopia's Prime Minister, Hailemariam Desalegn and some of the senior officials from both governments.
The railways is expected to reach a maximum speed of 160 km/h for passenger trains and 120 km/h for cargo trains. It will cut cargo journey times between the Port of Djibouti and Addis Ababa from three days by road to just 12 hours.
Trial services for the new US$4.2 billion railway began in October 2016, with regular services transporting goods and passengers expected to begin early this year.
Also read:The newly constructed Ethiopia-Djibouti Railway line to start operation in 2016
According to Djibouti's President Ismail Omar this was a great achievement for both countries as it will enhance trade and above all raise the economic status of the two countries which have been enjoying good working relationship.
"The railway is a major milestone in the region as we expect to have a better working relationship and between the two countries and we expect to carry on more projects that will enhance economic growth in between the countries" he added.
Currently, more than 90% of Ethiopia's trade passes through Djibouti, accounting for 70% of the overall activity at Djibouti's ports. With Africa's GDP predicted to double by 2035, and the population expected to reach 2.5 billion over the next 30 years, the continent is in need of major new infrastructure links.
This is one of the biggest project that has been carried by the two countries and they agreed that they will hold talks over the possibilities of having a joint road connecting the two borders.