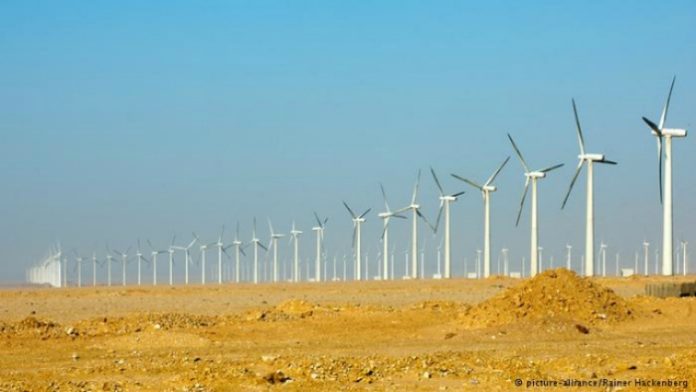 The European Investment Bank (EIB) and the Arab Republic of Egypt have signed a loan accord of EUR115m for the construction of a wind farm in Egypt in the Gulf of Suez.
Also read:Gamesa to deliver a 220MW wind power farm in Egypt
The wind farm in Egypt will contribute to meet rising electricity demand using sustainable wind energy.
In the presence of Sahar Nasr, Minister of Investment and International Cooperation and European Union Delegation Chargé d'Affairs, Reinhold Brender, the funding deals were signed in Cairo by Heinz Olbers, EIB Director of operations in the Neighbourhood Countries and Dr. Engineer Mohamed Mousa Omran Executive Chairman of New and Renewable Energy Authority.
"The EIB is glad to finance the Gulf of Suez wind farm which contributes to environmental sustainability and climate change alleviation. The project is in line with the Bank's purpose to offer more funding to renewable energy projects.
The European Investment Bank is the world's biggest investor of climate action; last year we contributed EUR 20.7 billion for climate related investment across Europe and around the world." said Heinz Olbers, European Investment Bank's Director of operations in the Neighbourhood Countries.
The Gulf of Suez wind farm project entails the design, construction and commissioning of a large-scale onshore wind farm of around 200MW situated on the west bank of the Gulf of Suez, some 400 km southeast of Cairo with up to 100 turbines will be installed. The site, of a size of around about 57 km², is characterized by its dry desert conditions and has very favorable wind resources.
The project is funded by European Finance Institutions; European Investment Bank, KfW, Agence Française de Développement and the New and Renewable Energy Authority. The European Commission offers a grant of EUR 30 million to the project.
EIB's loaning activities in the Mediterranean area in general and Egypt in specific are based on a Mandate from the European Union – the External Lending Mandate (ELM) presently covering the period 2014/2020 – through which the Bank works collectively with the EU and the government of Egypt to support socio-economic development in the nation.