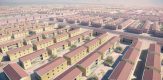 Some 600 houses in Namibian town of Rundu will soon  be constructed with 100 of the houses set to be completed by the end of this year.  The 600 houses in Namibian town of Rundu will add to the current 30,000 units in the area.
Also read:Namibia launches initiative to solve housing and land shortages
According to the project developers, the 600 units will comprise two bedroom houses with a garage and some without a garage, as well as three bedroom houses with garages and some without. The house prices will range between $38,500 and$69,300.
The servicing of the land is being done by Armstrong Constructions and the construction done by Armstrong Properties. Both companies belong to Ferdinand Olavi and Mathew Hungamo.
The company will develop the new suburb on a 82Ha plot in an area between the Trans-Caprivi Highway and the Rundu-Nkurenkuru road. The suburb will also have a fuel station, a private doctors' consulting room and a supermarket, to name a few.
Currently the company is busy constructing roads leading to the area and will start with installing sewerage lines in May before the actual construction of the houses starts in June. Electrification of the suburb would then follow.
This is a private-public partnership project with the Rundu Town Council and will be built in phases.
The prices of the plots are included in the prices of the housing units. Olavi says, with his business partner Mathew, they felt they needed to do something for their home town and that is to bring modern houses at affordable prices. What is also notable is the fact that the project will be the first suburb to be developred by local investors, as all the others are developed by international investors.
Rundu has since Independence developed suburbs, such as Millennium Park, Queens Park and recently Rainbow Village, as well as the old NHE township – also known as Kings Park – and the new NHE mass housing township development next to Unam Rundu Campus, as well as the new suburb that is now under construction.
The developers said, unlike old suburbs, new houses will be fitted with modern facilities, including aluminum frames on the windows.