Here are the world's top ten construction equipment manufacturers. They build heavy-duty automobiles, specifically designed for implementing construction tasks, most commonly equipment concerning earthwork operations
Caterpillar (USA)
Caterpillar Inc is an American corporation which designs, develops, engineers, manufactures, markets and sells machinery, engines, financial products and insurance to customers via a worldwide dealer network. Caterpillar is a leading manufacturer of construction and mining equipment, diesel and natural gas engines, industrial gas turbines and diesel-electric locomotives. Caterpillar's headquarters are situated in Peoria, Illinois; it announced in January 2017 that it would move its head office to Chicago.
Podemcrane
Podemcrane is a leading crane components supplier (wire rope hoists, end-carriages, trolleys) for crane manufacturers and end users and continues its expansion worldwide. As a successor of Podem AD, they are the biggest manufacturer of electrical wire rope hoists in Central and Eastern Europe.
During the 60 years of production history they have produced 2 000 000 hoists, sold in 60 countries worldwide and are known with the quality, durability and reliability of our products.  They offer our customers a complete package of equipment and support for the entire lifting industry in accordance with international standards.
Podemcrane production technology is subject to constant improvement. They use modern technology and manufacturing systems (CNC-machines, plasma cutting machines, welding robot) to produce parts and component and are also controlling the quality of raw materials upon entry into the production site.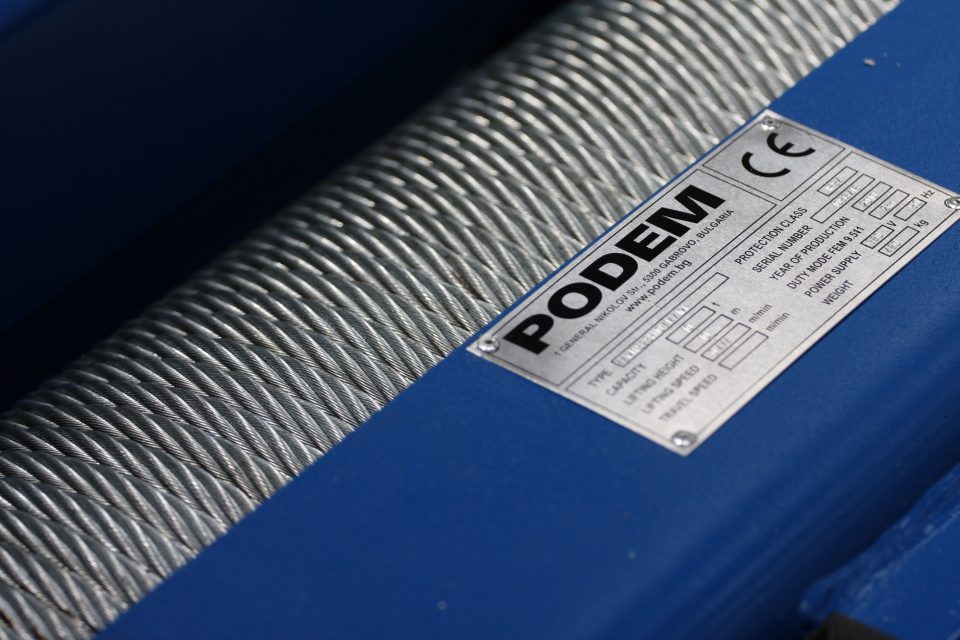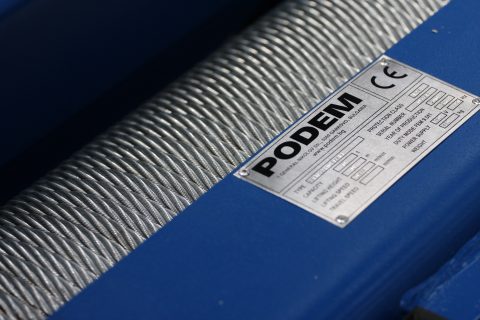 Optimas GmbH
Optimas GmbH – the Specialist for quick and economical paving develops and produces a whole range of equipment for paving sites since 1978. Most important brands are: 
Paver Laying machine "PaveJet" 

Vacuum Laying machines "Vacu-Pallet-Mobile", "Vacu-Lift", "Vacu-Mobile E" 

Vacuum Lifting devices "Vacu-Magnet 500/1500" 

Laser screed "PlanMatic" 

Material dose bucket "Finliner" 
Optimas GmbH was the very first producer of a functioning machine for the laying of concrete pavers and slabs. The machines and equipment are being produced in a modernly designed factory staffed by around 80 employees. The production line is equipped with the most modern fittings including industrial robots and powder coating equipment, which ensures high quality and environmentally-friendly finishing. 
In order to ensure that our customers are in a position to improve their competitiveness and continue to make better profits we are constantly introducing product improvements and innovations. 
Komatsu (Japan)
Komatsu Ltd is a Japanese multinational corporation that manufactures construction, mining, and military equipment, as well as industrial equipment like press machines, lasers and thermoelectric generators. Its headquarters are in Minato, Tokyo, Japan. The corporation was established in 1921. Worldwide, the Komatsu Group consists of Komatsu Ltd. and 182 other companies. Komatsu is the second major manufacturers of construction equipment and mining equipment after Tata Hitachi Construction Machinery.
Volvo Construction Equipment (Sweden)
Volvo CE – is a key international company that develops, manufactures and markets equipment for construction and related industries. It is an auxiliary and business region of the Volvo Group. Volvo CE's products consist of a variety of wheel loaders, hydraulic excavators, articulated haulers, motor graders, soil and asphalt compactors, pavers, backhoe loaders, skid steers and milling machines. Volvo CE headquarters are situated in Brussels, Belgium
Hitachi Construction Equipment (Japan)
Hitachi Construction Machinery Co. Ltd. is a construction equipment company in Japan, and a Hitachi Group company. It is a first-class company, providing both small and large-scale equipment to clients throughout the world for a varied range of tasks. HCA ensures its equipment is of the uppermost caliber, delivering superior productivity and durability, with minimal operating costs.
HCA has products to handle all tasks, including digging, loading, carrying, breaking, grabbing, cutting, crushing, and screening. Clients from metropolitan construction workers to big mining companies rely on HCA's industry-leading products and reputable servicing and parts in order to achieve optimum productivity and economy.
Also Read:Top 10 generator manufacturers in the world
Fiori Group (Italy)
Fiori Group is an Italian company founded in 1942 in the province of Modena. It is a leader in the design and production of off-road vehicles for the production of concrete batching vehicles and dumpers for the construction industry.
The company's product portfolio is rounded off by the Group capabilities in finding the most effective solution for any customer in making and transporting concrete on-site with a great flexibility, minimizing energy costs and reducing environmental impact.
These characteristics have led Fiori Group to a continuous success and to deserve the undisputed title of the technological leader in its market segment.
Liebherr (Germany)
The Liebherr Group is a large equipment manufacturer based in Switzerland. It has over 100 companies structured into ten Divisions: Earthmoving, Mining, Mobile Cranes, Tower Cranes, Concrete Technology, Maritime Cranes, Aerospace and Transportation Systems, Machine Tools and Automation Systems, Domestic Appliances, and Components. It has a worldwide workforce of over 42,000, with a turnover of €9,009 million as of 2016. By 2007, it was the world's largest crane company.
Liebherr presently has the world's most powerful and tallest crawler crane in LR 13000. It is capable of lifting 3000 tones and has a maximum pulley height of 248 meters. This is realized with the attachment of an additional 126m-long lattice jib to the 120m main boom. The height of the crawler framework is an extra 2m, which offers the lattice structure a total height of 248m. For the world record the LR 13000 was fitted with 400 tons of slewing platform ballast and 1500 tons of derrick ballast.
As Mr. Gerold Dobler, Liebherr-International Deutschland GmbH points out, the extensiveness of Liebherr's construction machines program is like no other. Apart from tower cranes of every kind and size and mobile construction cranes, the program includes a broad range of earth moving equipment and hydraulic excavators, wheel loaders, crawler tractors and crawler loaders, telescopic handlers and dumper trucks. "For special underground engineering projects, we supply universal duty cycle crawler cranes or special piling and drilling rigs. Our concreting technology opens up a whole range of solutions for the cost-effective production and optimum transportation of quality concrete," he adds.
Sany (China)
Sany is a Chinese multinational heavy machinery manufacturing company headquartered in Changsha, Hunan Province. It is the sixth-biggest heavy equipment manufacturer in the world.
Zoomlion (China)
Zoomlion is a Chinese producer of construction machinery and sanitation equipment, Its headquarters are in the Zoomlion Science Park in Changsha, Hunan.
Zoomlion is world's sixth largest and China's major construction machinery enterprise. "In 2008, Zoomlion acquired CIFA, the world's third largest concrete machinery manufacturer, which was the largest ever European acquisition by a Chinese company at the time
Terex (USA)
Terex Corporation is an American worldwide manufacturers of lifting and material handling solutions for a variety of industries, including construction, infrastructure, quarrying, recycling, energy, mining, shipping, transportation, refining and utilities. The company's main trade segments include aerial work platforms, construction, cranes, material handling & port solutions and materials processing.
Doosan Infracore (South Korea)
Doosan Infracore is an international company that produces various sizes of excavators, loaders and diesel engines, ranging from compact to large-size machinery. Doosan Infracore is up-and-coming as one of the globe's top-tier engine manufacturers based on its diverse lineup of multi-purpose products, which can meet tougher environmental regulations in the world.
John Deere (USA)
Deere & Company is a USA company that are main manufacturers of  agricultural, construction, and forestry machinery, diesel engines, drive-trains (axles, transmissions, gearboxes) used in heavy equipment, and lawn care equipment.
Çeksan
Çeksan, founded in 1989 as private limited Company in İzmir, is acting with the vision of being leader manufacturer of road sweeping machine manufacturer of the world with a successful history.
All design and prototype studies are made by Çeksan R&D Center which is officially approved by Ministry of Industry and manufacturing of the sweepers is made in Çeksan's own plant without outsourcing.
Çeksan with more than 30 years of experience is today exporting the sweepers to more than 50 countries in 6 continents and is proud of serving its customers in many parts of the world.
BOMAG
BOMAG is a member of the international FAYAT group. The company builds machines for all areas of road construction – soil compactors, cold planers and recyclers, asphalt rollers and road pavers. As the global market leader in the compaction sector, BOMAG sets standards as well as the pace for an entire industry. BOMAG has developed numerous technologies, from systems for measuring and documenting compaction – such as the ECONOMIZER and BCM – to technologies for managing whole machine fleets such as TELEMATIC. Decades of experience, expertise and dedication to quality guarantee that the BOMAG technologies are equal to any challenge.
BOMAG is very well represented all over the African continent with strong exclusive dealerships to serve the clients technically and logistically in every region in Africa
Dont forget that top equipment needs to be backed by good maintenance and service of all machinery parts which includes diesel engines and industrial gearboxes that are essential for smooth operations
Also Read:
Top construction equipment manufacturers in South Africa
Top construction equipment companies in the United States
Top construction equipment companies in Nigeria
Top construction equipment companies in Kenya