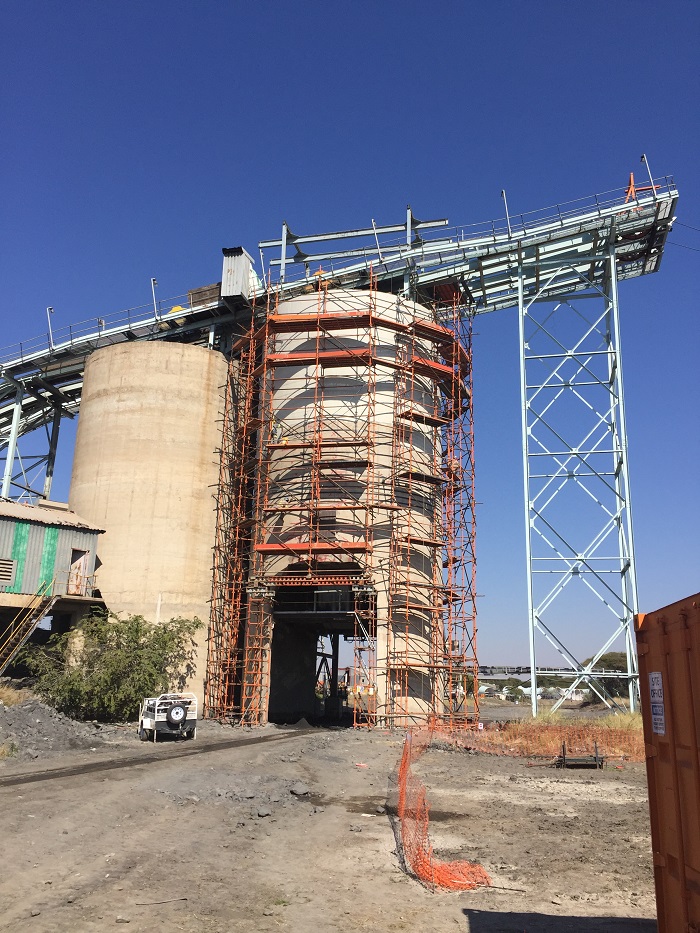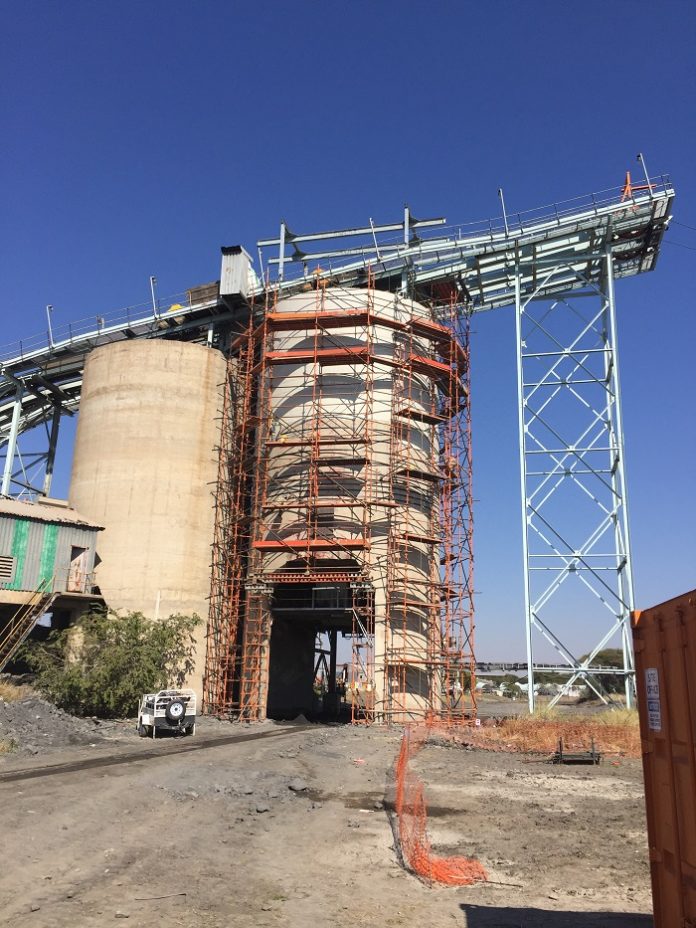 World-renowned Carbon fibre structural strengthening system, Carbodur, from Sika was specified by Anglo Technical Division for a silo structural strengthening project in Limpopo.The project commenced in June 2016 at the Dishaba Platinum Mine situated between Northam and Thabazimbi, where two coal storing silos required structural strengthening.
Teichmann Structures was contracted to externally bond the Sika CarboDur M plates onto the silos.
Sika CarboDur M consists of pultruded carbon fibre reinforced polymer (CFRP) laminates designed not only to strengthen concrete, but also timber, masonry and steel structures. Supplied in lightweight rolls, Sika CarboDur M is easily installed, especially on overhead applications such as soffits of beams. The laminates are a combination of Standard or high Modulus (high stiffness); they are non-corroding and provide excellent durability and fatigue resistance.
Sikadur-30, a thixotropic, structural two-part adhesive based on a combination of epoxy resins and special filler, was used to bond the Sika CarboDur M plates onto the silos. Designed for use at normal temperatures, high strength Sikadur-30 is easy to mix and apply, with no primer required. It provides excellent adhesion, high creep resistance under permanent load, as well as high initial and ultimate mechanical resistance. Sikadur-30 hardens without shrinkage and is impermeable to liquids and water vapour.
By completion of the project in July 2016, 950m of Sika CarboDur M614 (60mm wide x 1.4mm thick) laminates had been bonded onto the silos. Sika CarboDur systems can be used in a wide variety of applications including increased load bearing capacity, repairing damaged structural elements, improving serviceability and durability, changing structural systems and providing increased resistance to possible earthquakes, impact or explosion.
As a final protective coating on the silos, Sikagard-550 W Elastic, a highly elastic, thixotropic coating available in various shades, was applied. Based on UV-curing acrylic dispersion, with excellent crack-bridging properties even at low temperatures, Sikagard-550 W Elastic provides high diffusion resistance against CO2 as well as high resistance to weathering. Solvent-free and water vapour permeable, Sikagard-550 W Elastic has a reduced tendency to dirt pick-up and contamination.
A prohibitive time schedule and some adverse weather proved challenging for Teichmann Structures, nevertheless the project was completed successfully and the efficacy of these world-renowned products will be confirmed in the course of time.
For more information on Sika products and systems, visit www.sika.co.za
Sika AG Corporate Profile
Sika AG, is a globally active specialty chemicals company with its South African Head Office based in Durban, and branches in all major SA cities.
Sika AG, located in Baar, Switzerland, supplies the building and construction industry as well as manufacturing industries (automotive, bus, truck, rail, solar and wind power plants, facades).
Sika is a leader in processing materials used in sealing, bonding, damping, reinforcing and protecting load-bearing structures. Sika's product lines feature high-quality concrete admixtures, specialty mortars, sealants and adhesives, damping and reinforcing materials, structural strengthening systems, industrial flooring as well as roofing and waterproofing systems.
Sika has subsidiaries in 93 countries around the world and manufactuers in over 170 factories, with some 17 281 employees link customers directly to Sika and guarantee the success of all partners. Sika generated annual sales of CHF 5.49 billion in 2015.