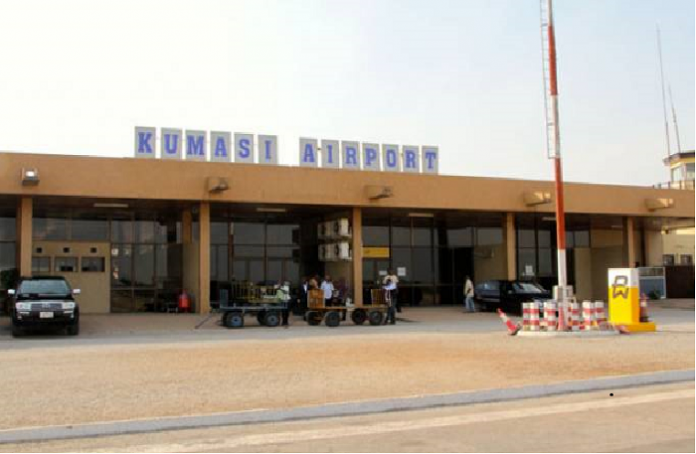 President Nana Addo Dankwa Akufo-Addo has commissioned the construction of the second phase of the Kumasi International Airport project.
Present to grace the occasion was the Asantehene, Otumfuo Osei Tutu II and other government officials.The 1,981 m runway will be extended to 2,320 m runway and taxi link as well as the construction of a new ultra-modern terminal building with a capacity of 1,000 people.
Similarly, there will be an additional construction of two new apron parking stands of 17,500 m2 comprising of a car park, access road, security fence, substation and provision of bulk utility services.
The US $78.2m project is expected to be completed within the period of 24 months. The project contract has been awarded to Messrs Contracta Construction, UK Limited and expected to create 1, 200 direct and indirect jobs in the country.
According to President Nana Akufo-Addo, his government is committed to the development of the domestic aviation industry in the country. He added that, his government is poised to converting the Kumasi Airport to an international standard forming part of the multi-modal transport system introduced by government which included road, railways, marine as well as air transportations.
President Akufo-Addo further indicated that, the project will stimulate the country's industrial and agricultural growth and boost tourism potential in the Ashanti Region.However, the completion of the project will ensure the growth in domestic airlines thereby providing a significant expansion in domestic and regional routes.
Moreover, plans are far ahead for the commencement of other projects in the aviation industry which included phase II of the Tamale Airport and the rehabilitation of the Sunyani airstrip.
Also read: New terminal to be constructed for Kumasi Airport in Ghana
Aviation sector potential
According to Cecilia Abena Dapaah, Minister of Aviation, the aviation sector has the potential to turn around the fortunes of the country as well as being "the game changer" in promoting the economy to call for both local and international investors.
John Dekyem Attafuah, Ghana Airport Company Limited (GACL), Managing Director assured the President that, GACL is going to manage and protect the property of the aviation ministry as it is their duty.
"GACL has plans of trademarking the airport as "Airport City" to house corporate offices, malls and commercial offices among others adding that "we are going to work hard so as to ensure the efficient management of aviation facilities in the country," said John Dekyem Attafuah.