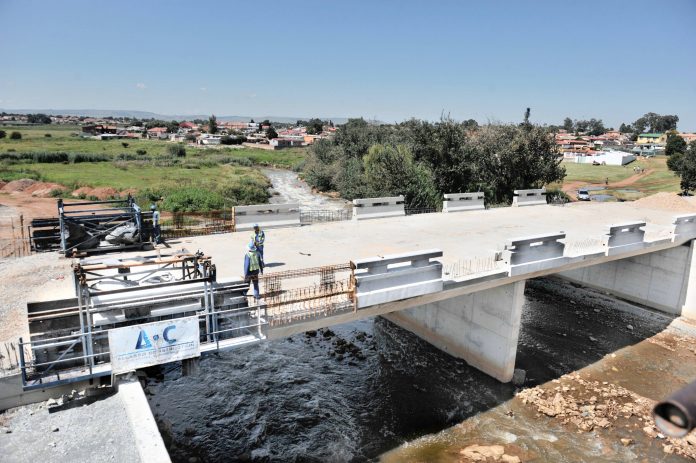 Johannesburg City Mayor Herman Mashaba and Transport MMC Nonhlanhla Makhuba have officially opened the newly constructed Klipspruit bridge and a 300-meter road adjacent to it.
The bridge located in Soweto Wards 11 and 17 replaced a culvert bridge which had been prone to flooding during the rainy season. Construction works which began in January 2018, involved pedestrian walkways, gabions, side drains, stone pitching and concrete curbs among others.
According to Johannesburg Road Agency (JRA) head Mr. Siya Genu the total cost for the project is US $3.4m. "The project has created jobs for 54 local workers and offered opportunities to 14 local small and medium-sized enterprises," he added.
"The Klipspruit bridge is a world-class bridge built to last for decades. I would like to thank the local communities for their eventual support in the construction of the bridge which is evident with the minimal theft experienced throughout the construction period," said Mr. Genu.
Also Read:Construction of Stanford Road bridge in South Africa nears completion
The Klipspruit bridge
The transport MMC on his side noted that the bridge demonstrated the city's commitment to ensuring the safety of its residents even with little resources. "As we continue with our development projects it's my plea that you assist us in making these things happen," said Makhuba.
Moreover, the mayor noted that the development of the bridge will enhance mobility and boost businesses by connecting communities. He stressed that residents should hold the city accountable at all times on development projects.
Meanwhile, Genu said that the M2 bridge rehabilitation project is 60% complete and is scheduled for handover on October 31. He noted that the contractor Stefanutti Stocks is currently working on the reconstruction of four columns across Sauer Street. However, he said the construction of the 4 meters by 18-meter tall columns will take about a month to be completed.