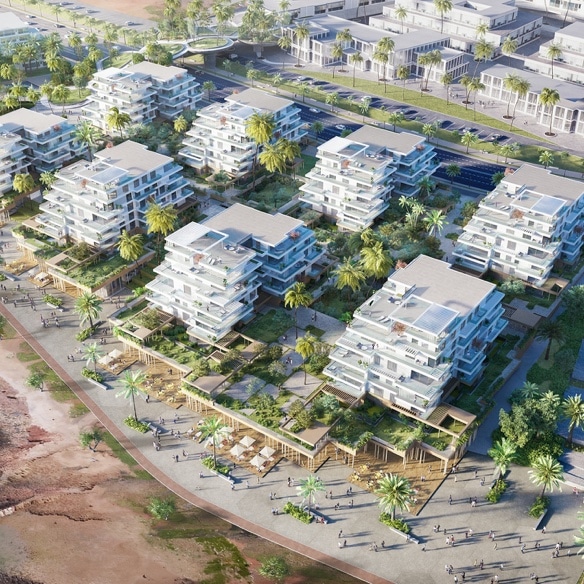 The construction works of the first phase of Le Carrousel a mixed-use project in Rabat situated off the Atlantic coast, the capital city of Morocco, are set to be complete by the third quarter of the year 2022 according to the developer, Imkan Properties L.L.C. (Imkan).
The Abu Dhabi-based developer said that the construction work is on track with the contractor, Sogea Maroc, the subsidiary of the French Group Vinci, having finalized the earthworks and begun laying the foundation of the development. The project's model residential apartment is also under construction and is on track to be delivered this coming month.
Also Read: Construction of Arribat Centre, biggest mall in Morocco, now complete
Covering a 10 hectares piece of land, this phase of the project is estimated to cost about US$ 82M. It includes the construction of residential areas, seafront promenade as well as over 40 retail outlets.
The Design of the Le Carrousel project 
The design of the Le Carrousel project is inspired by Dutch artist M.C. Escher, whose work often includes paradoxical architectural designs of seemingly infinite loops.
The development, other than refined residences within an exclusive private community, it features a 500-meter seafront promenade, a five-star hotel with 123 rooms and suites, and an open-air shopping mall with an area spanning 30,000m2, featuring 120 shops. The mall will be like no other in the North African country.
The project is also designed to provide a unique 360-degree experience for both its residents and visitors with only 50% density and more than 30% of the development's land reserved for green spaces.
Le Carrousel is set to become one of the leading destinations in the republic of morocco and has become an integral part of the development of the Rabat Corniche. It is expected to create more than 1,100 job opportunities upon completion.