A 327-million-dirham ($89 million) construction contract has been awarded for Jubail Terraces at Souk Al Jubail village in Abu Dhabi Jubail Island development. UAE's leading contractor in Abu Dhabi, Construction General Contracting House (CGCH) won the project's award.
The group comprises Construction General Contracting House Ltd and Construction House Transportation LLC alongside Construction House Real Estate LLC and Castilla Building Materials LLC. The company will be responsible for the development of the mega island project, as well as all associated amenities. 
In addition to the contract, it was also revealed that its supervising consultant is a world-leading design, engineering as well as project-management consultancy, Arkins. Real estate company, Jubail Island Investment Company (JIIC) owns the $2.7 billion island. Meanwhile, its development and management are by LEAD.
As a whole, it boasts an idyllic collection of a total of six residential village estates, of which is between Saadiyat Island and Yas Island. 
Read Also: Abu Dhabi Reeman Living by Aldar Properties Unveiled
Jubail Terraces at Souk Al Jubail village offer luxury and sustainability 
An official groundbreaking ceremony was held on the island to mark the project's commencement.
In attendance was senior management including the Managing Partner of LEAD Development, Mounir Haidar. In addition to the Corporate Director of Jubail Investment Company (JIIC), Abdulla Al Shamsi. Furthermore, the CEO of CHCH, Wahbi Mohamed el wardani, and the General manager was in attendance.
Quite impressively, the project includes a new 242 units. Its location is within Soul Al Jubail village, of which was launched for sale in February 2023. The mixed-use destination aims for handover in March 2025. 
While commenting on the project, Mounir Haidar expressed delight in having officially signed the contract with CGCH. Moreover, the contract signing further reinforces JIIC's commitment to the development of a world-class landmark destination. More especially, one that is synonymous with luxury living and sustainability.
Additionally, the project strives to offer potential residents more choices and flexibility. Furthermore, the new low-rise and low-impact apartment blocks feature high-quality and unique designs. 
Project background
Located just outside Abu Dhabi between Yas Island and Saadiyat Island, Jubail Island is an upcoming nature master-planned community-mixed-use development surrounded by thousands of mangrove trees, picturesque estuaries, and a sparkling waterfront.
Featuring six village communities the development will house 5,000+ residents in 400 single-family and 400 multi-family homes. Jubail Island amenities include the Jubail Mangrove Park, Kayaking, Pura Eco Retreat, the proposed Retail Street, Schools, Lush greenery and Parks, Jubail Marina, and Jubail Beach Club.
The overall objective for Jubail Island development is to preserve, promote and harmonize the natural context with the built elements, encouraging the community with nature, unique waterfront living, and wellness. The project will also promote a nature-oriented lifestyle of village life with a unique and compelling pedestrian experience in full harmony with the site and the local context.
Reported earlier
May 2022
Construction of Main Bridge to Jubail Island in Abu Dhabi Completed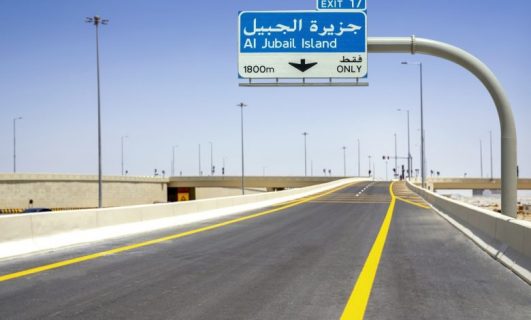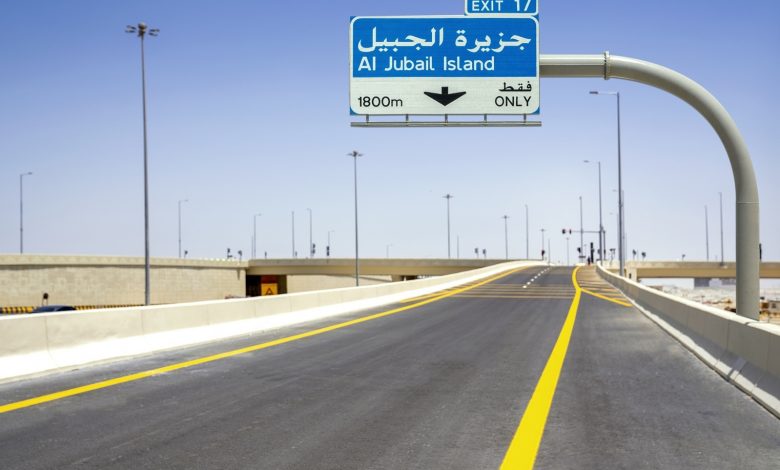 The construction works of the main bridge to Jubail Island, a new nature island that is being developed across 4,000 hectares of mangrove forests and coastal estuaries with more than 30 km of waterfront, as part of a greater master plan that includes a culture island and an entertainment island, is completed.
This was announced by Jubail Island Investment Company (JIIC), the developer of the Dh5 billion project that will also feature a total of six residential village estates covering more than 400 hectares. 
Overview of the main bridge to Jubail Island in Abu Dhabi 
According to JIIC, the main bridge to Jubail Island, the construction works of which began in August last year, is 140 meters long. Part of its development included intelligent traffic signal systems alongside speed control systems, pedestrian signals, and street lighting. It also included beautification and afforestation works. 
Read Also Cordoba, First Phase of Bloom Living Project in Abu Dhabi Sells Out
The bridge will be key in the facilitation of movement in and out of the island directly from the Sheikh Khalifa bin Zayed Al Nahyan highway (E12), and facilitation of easy, direct access to Jubail Island as well as proximity to public parks, open spaces and cycling tracks.
The bridge will also link various villages on the island to one another as well as facilitate movement between the two sides of the island, where the Jubail Mangrove Park, Jubail Pura Eco Retreat, and the marine activities will be situated, and the rest of the existing developments that lie in the island.
Jun 2022
Contract Awarded for Jubail Marina Project in Abu Dhabi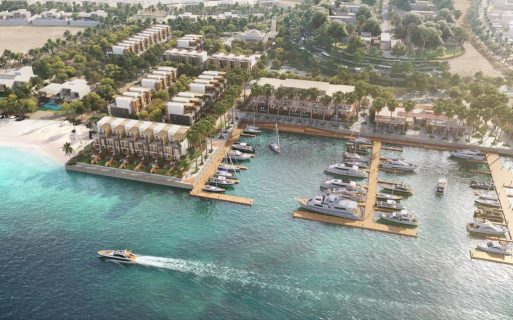 Jubail Marina project contract, the value of which is approximately US$ 11M has officially been awarded by Jubail Island Investment Company (JIIC), the master developer of Jubail Island that sprawls across 4,000 hectares of mangrove forests and coastal estuaries with more than 30 kilometers of waterfront, to Al Dhafra Pipeline & Contracting Company (APCC). 
Speaking on the appointment the operations corporate director at JIIC, Abdulla Saeed Al Shamisi stated that the contract signing reinforces the company's commitment to developing a premier marine community as well as a landmark destination community that is synonymous with luxury living.
Also Read: Fifth Phase/Aldhay of Abu Dhabi Bloom Gardens Project on Track
Development of the Jubail Marina project
Situated at the new 66-berth marina that is located in the Marfa Al Jubail community in Abu Dhabi, the Jubail Marina project entails the construction of six residential village estates that cover over 400 hectares, as well as a yacht club, and a marina. 
In April, the project received a boost when the Abu Dhabi Islamic Bank provisioned well about $136 million which roughly translates to Dh 500 million for further construction and development works. In particular, funding will cover infrastructure works and the building of well up to 133 townhouses as well as 453 villas as part of the development's first phase. 
Within four years, the project is expected to be home to 10,000 residents. The area, Marfa Al Jubail will also receive an endless stream of tourism opportunities as it will be anchored by a luxury yacht club complex as well as a boardwalk accompanied by alfresco cafes and restaurants, thanks to the Jubail Marina project.
Jun 2022
Contract awarded for construction of Souk Al Jubail at Jubail Island development
Contract for the construction of the Souk Al Jubail, 150 townhouses residential development on Jubail Island, a $2.72bln project sprawled across 4,000 hectares of mangrove forests and coastal estuaries with more than 30 km of waterfront in Abu Dhabi, has been awarded.
The 22-month contract worth about US$ 60M was awarded by the Jubail Island Investment Company (JIIC) to the Middle East UNit of China State Construction Engineering Corporation (CSCEC), a global investment and construction group featuring professional development and market-oriented operation.
Scope of the project 
Through a statement, the Jubail Island Investment Company stated that the Chinese firm other than constructing the townhouses will also undertake a range of infrastructure works that include superstructure as well as sub-structure works. Other infrastructure works that the firm will also carry out are MEP works, landscaping as well as facades.
The Souk Al Jubail project aims to offer families premium living through a diverse variety of luxury townhouse options. Thus the 150 townhouses featured in the project will range from two-bedroom, three-bedroom, and four-bedroom units.
The managing director of JIIC, Mounir Haidar happily stated that the Souk Al Jubail Project is yet another significant milestone towards the turning of Jubail Island from a vision to reality adding that the company is positive that the homes that are elegantly designed will appeal to a wide spectrum of potential purchasers.
Mounir concluded by saying that with amenities such as schools located within walking distance from the estate, Souk Al Jubail is set to be a true, all-around community.
Jul 2022
Ain Al Maha village project launched at the Abu Dhabi Jubail Island
Ain Al Maha village, a waterfront residential neighborhood that is part of the Abu Dhabi Jubail Island development project has been launched. The 153-hectare neighborhood project was launched by the Jubail Island Investment Company (JIIC).
Featuring about 240 waterfront villas, the Ain Al Maha village will be located on the southern edge of Jubail Island. In addition to the villas, the project will also feature children's play areas and parks. This will span over an area of 92,000 meters squared. The parks will encourage residents and visitors to live healthier lifestyles.
Specialized areas for sports activities will also be available. These will include athletic courts alongside a purpose-built running track. Additionally, the project will be surrounded by water and environmental nature. The village will offer premium sea-view residences. These homes will offer spectacular views of the island's mangroves.
The Ain Al Maha village will redefine the general living experience. It will offer an open and balanced space for residents. Moreover, it will create extensive nature-based areas. The Ain Al Maha Village Project will also feature two landmark communities. These will offer dining, shopping, medical, and education facilities.
Furthermore, 2,500 meters squared retail complex will be available. One center will also feature a world-class school. On the other hand, the other center will include a mosque. The destination will provide easy connectivity and accessibility to other villages on the island. The location is also within accessible reach of the Sheikh Khalifa Highway.