The US$ 7.1bn City of Austin's Project Connect, which was approved by Austin voters in the election of November 2020, has moved forward with its latest groundbreaking on the Pleasant Valley MetroRapid Line, one of the 4 MetroRapid lines that connect the northeast and southeast regions of the city.
The new Pleasant Valley MetroRapid Line, which is among a series of projects under the Project Connect transit plan, will feature all-electric buses, along a route that cuts across East Austin from Mueller all the way to the future Goodnight Ranch Park & Ride. The bus corridor project will add 15 new stations, with bus stops positioned at key destinations, which include Riverside, ACC Eastview, Dove Springs, and McKinney Falls.
Search for construction leads
Capital Metro(Cap Metro), which has been working together with the city on the Project Connect transit plan, said the new MetroRapid Line will enhance the frequency and quality of public transit services and also provide more options for neighborhoods in East and South Austin. The CEO of Cap Metro, Randy Clarke, also mentioned that the all-electric, zero-emission fleet of buses used for this new line, shows the company's sustainability commitment to the city
Other facets of Project Connect are also in progress and with the engineering teams nearing the project's 30% design threshold. 
Design changes to the City of Austin's Project Connect
The City of Austin's Project Connect heads reviewed some of the roadway design changes that drivers, pedestrians, and other users should expect as the project progresses. 
These design changes have been approved following the collaboration between CapMetro, Austin Transit Partnership (ATP), the city, and the community's feedback. The project-wide elements will be added to areas along with the Orange and Blue light rail projects, which are also under Project Connect. 
Some of these modifications along the Orange and Blue light rail routes include the addition of  U-turns at some signalized intersections, to enable drivers to access private driveways and other destinations; on-street parking changes, which will involve either modifying or removing the back-in angled parking along with South Congress between Milton Street and Gibson Street, plus the removal of parking areas along Guadalupe Street between 41st Street and 43rd Street, as well as The Drag.
Other design changes in store for the City of Austin's Project Connect include the addition of pedestrian crossings at stations and some lane alterations. Signalized pedestrian crossings will be provided for every station along the Blue and Orange rail line routes. The crossings will be added at both ends of each station to accommodate incoming and outgoing traffic.
In addition, the lanes between I-35 and Hwy. 183 along Riverside Drive, will be modified and one lane will be removed in each direction; this will allow the insertion of the light rail lines and enable more reliable safe transit.
Federal Funding for the project
Cap Metro has partnered with the Federal Transit Administration to work on Project Connect and is seeking federal funds to finance part of the project's cost. This was discussed recently in a meeting between the CapMetro leaders; Nuria Fernandez, an administrator of the Federal Transit Administration; and U.S. Rep Lloyd Doggett.
Lloyd Doggett mentioned that the partnership between CapMetro and the Federal Transit Administration was crucial for the success of the Project Connect transit plan, as the plan was for nearly half of the project's US$ 7bn price tag to be covered by federal funds.
Randy Clarke also pointed out that the US$1 trillion infrastructure bill signed by Joe Biden would go a long way in advancing various phases of Protect Connect. 
Project overview
Project Connect is a transit expansion project that is being carried out by the Capital Metropolitan Transportation Authority (Capital Metro), a public transportation provider in the city of Austin, Texas.
With this project, Capital Metro will add two light rail lines (MetroRail Blue Line and MetroRail Orange Line), one bus rapid transit line, and one commuter rail line (Green Line) to the already existing Red Line, which will also undergo major improvements as part of the project.
The MetroRail Blue Line will operate on a 24 km stretch from Austin-Bergstrom International Airport to North Lamar, with a total of 20 statins, while on the other hand, with a total of 22 stations, the MetroRail Orange Line will be approximately 34 km long linking slaughter and North Lamar/Tech Ridge.
Also Read: The North-South Commuter Railway in the Philippines (NSCRP) Timeline and All You Need To Know
MetroRail Blue Line and the Orange Line will run at a frequency of 10 minutes that can be increased for special events if needed, and they will arrive every 5 minutes on sections of the route where they share the same tracks, for example, the downtown area where a 2.6 km transit tunnel running under Guadalupe street from Cesar Chavez Street to 14th street, as well as under 4th street from Guadalupe to Trinity street, will be built as part of the Project Connect.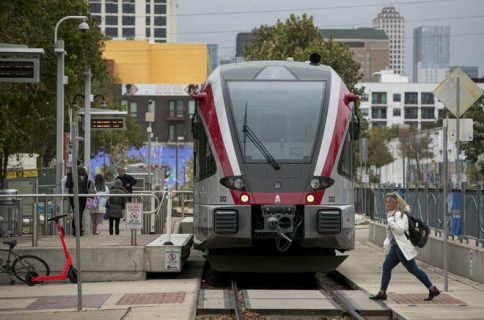 The new commuter rail line (Green Line) will be 43 km long from downtown Austin to eastern Travis County and into Bastrop County, connecting Manor, Texas with downtown. GreenLine will operate along Capital Metro's existing freight line between Austin and Manor, with a possible future terminus at Elgin, connecting suburban residents to central Austin. It will also interline with the Red Line between Downtown and Plaza Saltillo stations, where it will then split off, with the already existing Red Line heading north and the Green Line heading east.
The Texas public transportation provider also plans to in 9 new Park & Rides (Four Points, Loop 360, ACC Highland, Delco Center, Expo Center, Wildflower Center, Goodnight, McKinney Falls, and MetroCenter), and 1 transit center (Eastside Bus Plaza Transit Center). This is in addition to 4 new MetroRapid routes (The Gold Line – from ACC Highland to Republic Square- that could be converted to a light rail line eventually, the Expo Center – from East Austin to UT and downtown, the Pleasant Valley – from Mueller to the Goodnight Ranch Park & Ride, and the Menchaca and Oak Hill MetroRapid Extension.
Furthermore, Capital Metro will establish 3 new MetroExpress routes (Four Points – from FM 620 to downtown, Oak Hill – from the Pinnacle Park & Ride to downtown, and South MoPac – from the Wildflower Center to downtown), and 15 new neighborhood circulator zones or rather pickup and drop-off locations that will provide first-mile/last-mile service connections to transit stations and other destinations.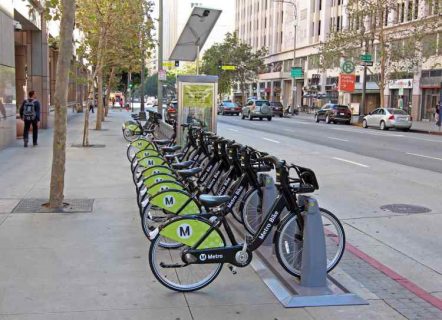 There are also plans MetroBike service, where an all-electric bike fleet will be stationed at transit hubs and integrated into the CapMetro App for bike rentals and payment.
The Initial Investment for Project Connect is US$ 7.1bn with nearly half of the costs expected to be supported by federal grants and commitments.
Reported earlier
August 2020
The Austin City Council approved to put the project to a vote on the ballot for November 3, 2020, concurrently with the 2020 presidential election, and has since been passed.
September 2021
Improvements to the Red Line, which runs from Leander to Downtown Austin, began with the construction of additional tracks between Lakeline Station and Leander to establish a zone for passing trains.
CapMetro's board approved the purchase of approximately 200 electric buses, the largest order of electric transit buses in the U.S, and the first buses are expected to arrive in December 2022.
October 2021
Capital Metro Board of Directors approved a resolution authorizing the execution of a five-year, US$ 50M contracts for MetroRapid construction. The funding comes from the Capital Metro Five-Year Capital Improvement Plan, a subset of overall Project Connect funding while Unity Contracting Services, Stacy and Witbeck, and M.A. Smith Contracting Company are the contracting companies involved in the deal.
Nov 2021
A $1.7 billion Project Connect Transit Plan in Austin, will receive support from Transit Forward, a nonprofit group. The Project Connect Transit Plan which was launched 27th October, includes a series of mass transit projects in Austin that will immensely change the area over the next 13 years by creating a new age of train lines and bus hubs.
Transit Forward supports Austin's Project Connect Transit Plan
The implementation of the Transit plan is will be promoted by Transit Forward, as promised to the voters and the NGO organization is also working towards ensuring that the plan is sustainable, equitable, and accessible. The group will also enlighten the community throughout the development phase of the Project Connect Transit Plan, while also promoting transit-support policies. Transit Forward is still in the process of finalizing its board, but some seats have already been occupied. 
Austin's Project Connect Transit Plan will include a downtown subway tunnel and more train lines.  The underground tunnel will stretch across 1.6 miles and run from Cesar Chavez Street to 11th Street, from Guadalupe Street to Trinity Street, and from Fourth street to the cul de sac near Lady Bird Lake. 
In addition, the Project Connect Transit Plan also includes the development of two light rail lines which are intended for connecting far-reaching points of the city. One of these light rail lines is The Blue line, which is designed to link the Austin-Bergstrom International Airport (AUS) through the downtown station northwards to Lamar Boulevard at Highway 183; and the second light rail line is the Orange Line, which will run through Republic Square connecting Lamar Boulevard at Highway 183 South to Stassney Lane. The initial design, engineering, and procurement work for both light rail lines will take about three to four years. While the construction and commissioning of these lines will be rounded up in another four or five years.
The CEO of the Greater Austin Asian Chamber of Commerce, Fang Fang stressed the importance of actualizing this Transit Plan and mentioned that it would ensure accessible and equitable transit options across the city. Fang also pointed out that a robust transit system is crucial for maintaining Austin's fast-growing economy because this would help increase the level of connectivity for businesses in the area.
December 2021
In a preliminary design workshop, Project Connect program leaders outlined a vision for a pedestrian-centric Fourth Street corridor as part of the upcoming blue line light rail.
Bookended by Republic and Brush squares and topped by the Texas Capitol grounds to the north, Fourth Street's preliminary design envisioned a promenade-like streetscape with outdoor cafe seating, pedestrian and bike-centric sidewalks and lanes, as well as room for buses on the roadway.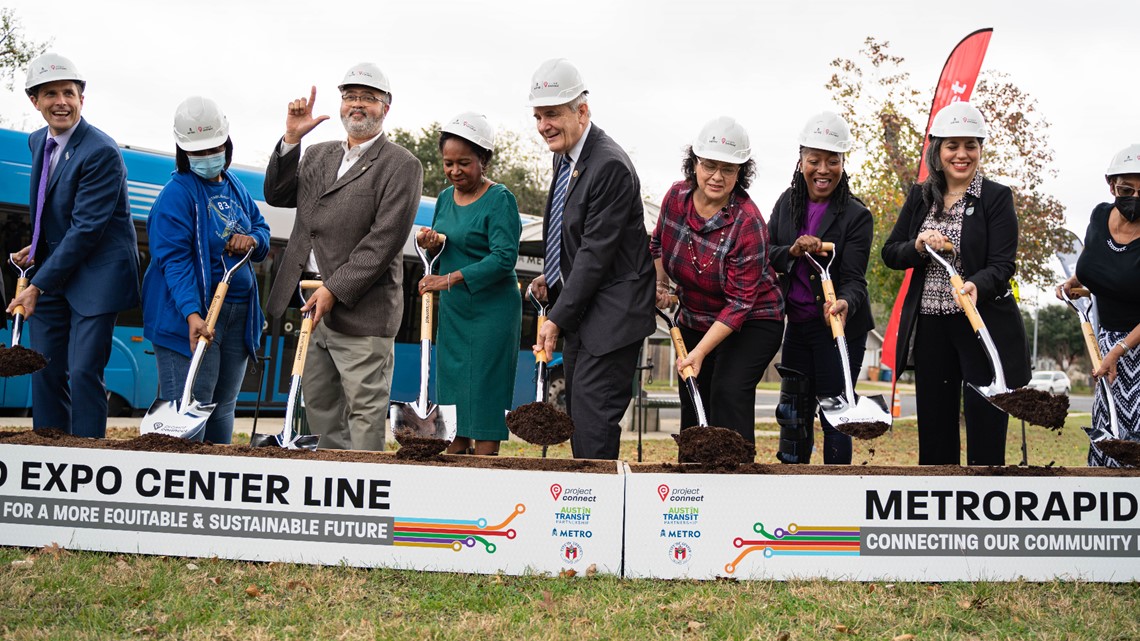 This same month, Capital Metro broke ground on a new MetroRapid line that will connect East Austin to downtown and The University of Texas at the Lyndon Baines Johnson Early College High School.
The "Expo" line is one of the four new MetroRapid lines included in the Project Connect expansion of transit in Austin. The bus service will run every 15 minutes and use an electric vehicle fleet once complete, after approximately three to four years.