Eko Atlantic City is a Nigerian International Commerce city, also referred as Eko Atlantic in Lagos State, Nigeria, being developed on land reclaimed from the Atlantic Ocean. After completion, the new peninsula will accommodate at least 250,000 people and 150,000 daily commuters flow.. The scheme is also designed to help in stopping the Lagos city's coastline erosion.
The development borders Victoria Island district of Lagos city, and the Phase 1 side of Lekki to the north, while the rest of Western, eastern and southern borders is a coastline. Eko Atlantic City is designed to grow as the next generation of property in Africa with a total of 10 districts, spread all over approximated 10 square kilometres (3.9 sq mi) land area. It is set to fulfill the needs for residential, commercial, financial and tourist accommodations.
Read also:The Riverfront Jacksonville Project, Florida, US
The development.
Eko Atlantic City development is being delivered on a Public–private partnership, with private companies and investors providing the funding, with the Lagos State Government acting as a strategic partner, supported by the Federal Government. The scheme's contractors are the China Communications Construction Group, a company working on marine dredging and landfill operation field. Consultants are the transport and traffic experts Royal Haskoning and ar+h Architects. The Chagoury group subsidiary, South Energyx Nigeria Ltd was purposely created to undertake the development. The sea defence system testing took place at the DHI Institute in Copenhagen, Denmark. The models were tested successfully for one-in-a-hundred-year ocean surges, and one-in-120-year, one-in-150-year and one-in-1,000-year storms.
Eko Atlantic City is located on erosion reclaimed and protected by a coastal revetment referred as the Great Wall of Lagos. The revetment designed by Royal Haskoning colloquially is a 8.5 km long barrier built primarily of rock and sealed with concrete accropode armour.
Timeline.
2009
The Eko Atlantic City project received global attention when its private sector partners on the Project, South Energyx and the Lagos State Government received the Clinton Global Initiative Commitment Certificate. While the scheme was still in its dredging phase, around 3,000,000 cubic metres (3,900,000 cu yd) had been sand-filled and placed in the reclamation area and around 35,000 tonnes of rock transported to the site. In some areas of Bar Beach, the land being reclaimed could already be seen. Dredgers were working around the clock to sand-fill the site.
2013
On 21 February, at the reclaimed land, a dedication ceremony was held hosting Goodluck Jonathan, Bill Clinton, Babatunde Fashola, Bola Tinubu, Aminu Tambuwal, and Ibikunle Amosun.
2014
In March, the firm responsible for the development, South Energy Nigeria through it's managing director, David Frame revealed that "The first residential tower will open in 2016."
2020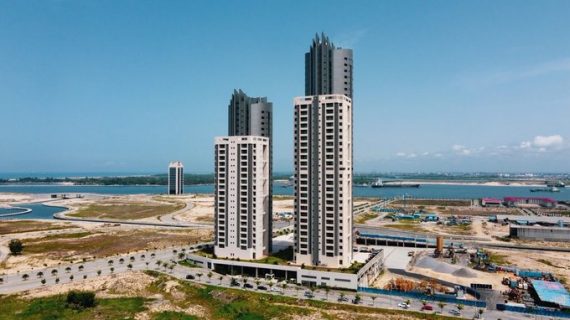 By November, some most notably structures like Eko Pearl Towers had been completed with several more under development and at planning stages. The area has become an active venue for popular afro-concerts and sports events like the Copa Lagos and Lagos City Marathon. Eko Atlantic City has also received an EDGE certification from the International Finance Corporation (IFC), a member of the World Bank Group.
2021
Eko Atlantic City comprises of many ongoing and complete schemes. All approved structures being delivered in Eko Atlantic City are registered by the Eko Atlantic Sales Office.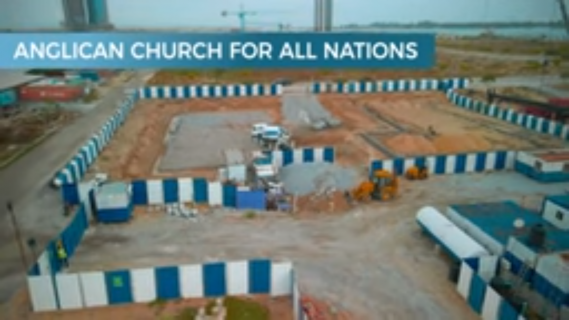 The multipurpose structure, Anglican Church for All Nations comprises of place of worship, residences and gathering place.
The Alpha 1 is a Grade A office developed in Marina District.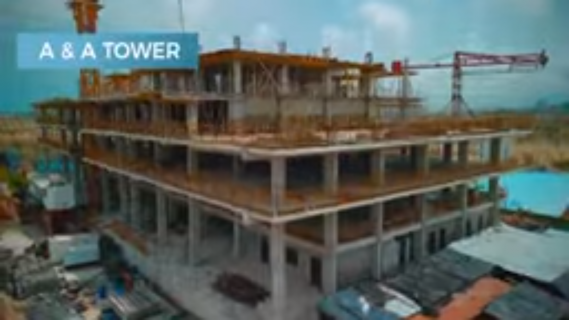 The Arkland A&A Towers is a two and three bedroom apartment with shops and offices delivered in thehighest specifications.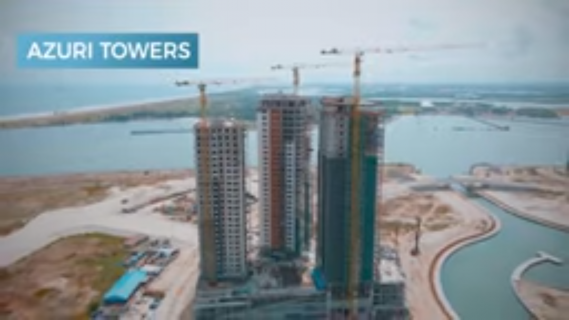 The Azuri Peninsula is a modern mixed-use development also in Marina District set for luxury offices, residences and retail.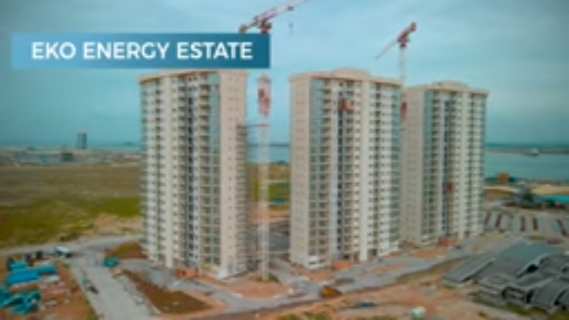 Eko Energy City.
In October 2021, the United States (US) Department of State awarded Pernix Federal, LLC of Lombard, Illinois US$ 319M design-build contract for a new US Consulate General in a 12.2-acre site in Eko Atlantic City.
Reportedly, the location of the project will provide the future diplomatic campus and its neighbors with access to sustainable, modern infrastructure, including an 8.5 km seawall designed to protect the city from rising sea levels and coastal erosion
With Ennead Architects of New York, as the design architect, the new Consulate General will provide a modern, resilient platform for diplomacy in the West African country and is expected to be completed in 2027.