Miami Worldcenter recently announced the completion of Block H, which adds retail and parking components to the 27-acre project as an active vertical building on the US$ 4bn mixed-use complex in the heart of Downtown Miami continues.
Block H has 50,000 square feet of premium street-level and rooftop retail space, as well as a 922-space public parking garage fronting NE Seventh Street between NE First and Second avenues. A resort-style amenities deck serves Bezel Miami, a freshly constructed 43-story luxury rental tower erected next door by ZOM Living, on a piece of the structure's rooftop.
Search for construction leads
Also Read: St Regis Residences to replace senior housing complex in Miami
Miami Worldcenter Overview
Miami Worldcenter, Florida's largest private urban development, will have a diversified mix of residential, business, and hospitality uses, as well as 300,000 square feet of retail, restaurant, and entertainment space. Miami Worldcenter Associates, directed by principal Art Falcone and managing partner Nitin Motwani, is developing the project in collaboration with CIM Group.
At Miami Worldcenter, about 176,000 square feet of retail space have already been built, with another 124,000 square feet still under construction and scheduled to be delivered by the end of the year. Chicago's Maple & Ash and Etta restaurants, Miami chef Michael Beltran's Brasserie Laurel and El Vecino, Bowlero, Sephora, and Lucid Motors are among the development's newly announced tenants.
Remarks on the completion of Block H
"Each development milestone is a significant accomplishment for Miami Worldcenter and our development team. This is a dynamic, diverse project that benefits aesthetically from a diversity of architectural forms, interlaced streets, plazas, and meeting places; it provides a linked community and an engaging experience for everybody," stated Shaul Kuba, co-founder and principal of CIM Group.
"When we envisioned Miami Worldcenter more than a decade ago, we envisioned a Downtown Miami where people could walk, ride a bike, push a stroller, take public transportation, or drive a vehicle, and we're seeing that vision come to life as more of our developments continue to deliver," Motwani said.
Reported earlier
Sep 2021
Construction begins on Jewel Box in Miami Worldcenter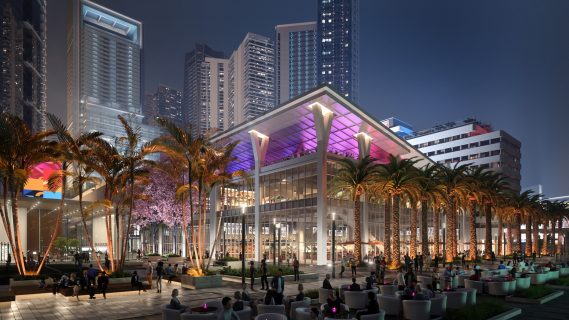 CIM Group and Miami Worldcenter Associates have commenced construction on the Jewel Box in Miami Worldcenter. The iconic Jewel Box is intended to become a world-class signature retail component of the 27-acre Miami Worldcenter.
Located at 150 N.E. Eighth St., Block F-East, Jewel Box is bordered by the CitizenM boutique hotel which is currently under construction on the westside, along with the tower Bezel luxury apartment which is towards the north. 
Also Read World's largest solar battery nears completion in Florida
According to the design plans, the Jewel Box in Miami Worldcenter will be a two-story building with a glass design from floor to ceiling, occupying 78,264 square feet of retail space and a total building size of 135,208 square feet. The plan also includes a rooftop overlooking the World Square plaza and public space at the end of a commercially lined pedestrian stroll. 
Other companies involved in this development include the Miami-based BDI construction, as the general contractor and Coral Gables-based Nichols Brosch Wurst Wolfe & Associates, as the designers. The project is expected to be completed around the second quarter of next year.
The Jewel Box in Miami Worldcenter will exhibit traditional retailing spaces, courts for food and beverages, as well as an entertainment hub. All these features will be designed with efficient linkage to the residential, hotel, and office areas within the master-planned development. The site will also have a wide range of transit connections, as it lies adjacent to Miami central station, providing routes to various parts of Florida. 
Shaul Kuba, the Co-founder and principal of CIM Group, pointed out that the project is aimed at attracting Miami locals and foreigners as well.  He explained that this can be achieved by creating vibrant conditions which combine a proper mix of diverse entertainment, eclectic dining, and boutique retail options.
Ntin Motwani, the managing partner of Worldcenter Associates said the concept and design of the Jewel Box in Miami Worldcenter portray the views of brands across Florida and around the world.
Jan 2022
US$4 billion Royal Palm skyscraper set to be constructed, Miami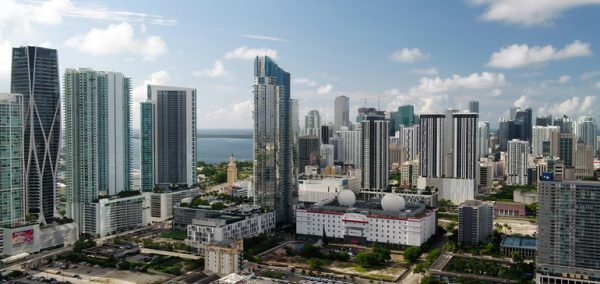 Royal Palm Companies is set to build a US$4 billion skyscraper in downtown Miami that they claim will be the world's s first "COVID-19-conscious" residential, hotel, and medical centre skyscraper.
Legacy Hotels & Residences at Miami Worldcenter, a 55-story, US$500 million project included in the skyscraper project, will include 310 residences (which can be rented out without restrictions), 219 hotel rooms, and a US$100 million, 120,000-square-foot health and well-being centre on the first ten floors.
While the initiative had been in the works for quite some time prior to the epidemic, it was primarily aimed at medical tourists, or those visiting  Miami for medical operations. After the COVID-19 pandemic began, Daniel Kodsi, CEO of Royal Palm Cos., decided to revise the project's design and incorporate virus-fighting technology. Hospital-grade and ultraviolet disinfecting ventilation systems, water purification systems, and UV-ray disinfection robots are examples of these.
Legacy Residences will cater to these types of travellers, as well as other wellness-focused clients, with amenities such as food and beverage service, on-call and on-site physicians and medical staff, a robotic car parking garage, touchless and facial recognition entry systems, ventilators, and voice-activated elevators.
More on the Royal Palm skyscraper in Miami
Since its commencement in 2015, the Miami Worldcenter project has hired over 15,000 additional construction employees. An extra 2,500 people will be employed as part of the Legacy Project.
Approximately one-third of the Legacy construction workers will be unskilled inhabitants of adjacent Miami communities. These employees will receive on-the-job training and will be paid at least 50% more than the state's minimum payment of US$10 per hour.
In exchange, the city will provide tax breaks to the developers. Silverstein Capital Partners, the developer of New York's World Trade Center complex, is funding the project's construction with a $340 million construction loan, the state's first. The financing, together with deposits for the 310 condominiums, will be used to support the project's development.