The lead frameworks and scaffolding systems manufacturer and supplier has been appointed for the Riviera at Mohammed Bin Rashid (MBR) City project. Peri, a German-based company best known for cutting-edge technology was appointed by Dubai's prominent real estate and lifestyle developer, Azizi Developments.
While commenting on the $3.2 billion project, the CEO of Azizi Developments revealed that the beachfront community is successfully advancing and making progress. Farhad Azizi further acknowledged delight in working with Peri to source framework and scaffolding systems for the Riviera at MBR City.
He further acknowledged the firm as an undisputed market leader that places priority on customer satisfaction at the forefront of operations.
Reported earlier
April 2020
Infrastructure construction works at MBR city in Dubai, UAE in good progress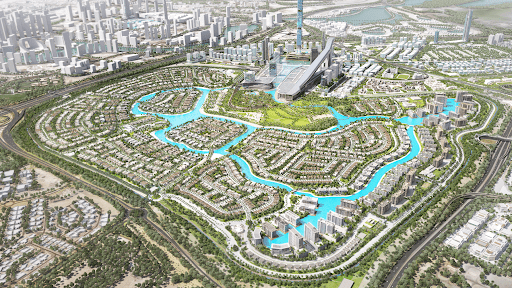 Infrastructure construction works at the Mohammed bin Rashid City (MBR) in Dubai, United Arab Emirates (UAE), home to Azizi's Riviera are in good progress. The infrastructure developments comprise road sidewalks, drainage, and water systems, backfilling, substantiation, and more.
According to Mohamed Ragheb, Executive Director – Engineering Division at Azizi Developments, the company is excited to see the infrastructure works progressing at such a rapid pace, with Riviera, the company's flagship master-planned community, visibly coming to life.
"This milestone signifies a turning point: the project is manifestly evolving into a functioning, well-designed, and liveable city comprising vast numbers of homes, retail units, and recreational facilities, instilling a true sense of accomplishment and pride in all of us," he said.
Recently, Property Monitor reported that in 2019, MBR City experienced the highest sales volume of residential apartments in Dubai, with 3,361 units sold, surpassing all other major areas and making it the most sought-after residential destination in the city.
Riviera
Riviera, a stylish waterfront-lifestyle destination located in the heart of MBR City, is planned to comprise 71 mid-rise buildings with approximately 16,000 residences that are conveniently located in the midst of all the business, leisure, and retail hubs of the city.
Designed to introduce the French-Mediterranean lifestyle to Dubai, which is not merely about architectural art but also about a certain 'joie de Vivre — a celebration of life, an exultation of spirit, Riviera represents a new landmark.
The homes offer spectacular views of the city's skyline and ensure generous space, spread across three districts: an extensive retail boulevard, a canal walk with artisan eateries and boutiques, and Les Jardins — a lush-green social space.
The first phase of Riviera comprises 3,589 residences across 18 towers, consisting of 2,461 studios, 935 one-bedroom, 111 two-bedroom, and 82 three-bedroom units, most of which are projected to be completed in 2020. Phase 1 has a total built-up area of 375,541 sq. m and a total gross floor area of 180,854 sqm.
Aug 2020
Azizi to invest over US $952.8m to develop buildings in Riviera Phase 3 and 4
Azizi Developments, a leading private developer in the UAE, announced its plans to invest over US $952.8m in the next 2-3 years to develop 14 and 22 buildings in Riviera Phase 3 and 4 respectively, its three Avenue buildings in MBR City, two projects in Dubai Healthcare City, and four projects in Al Furjan.
This announcement comes in light of it having sold over 80% of its current ongoing projects and inventory, and demand is projected to surge, especially in MBR City, DHCC, and Al Furjan – the three most sought-after residential destinations in all of the UAE.
The construction of the Al Furjan and Dubai Healthcare City projects, which will feature around 645 and 973 units respectively, Riviera's Phase 3, comprising approximately 3,700 units, Phase 4, with around 5,400 units, and the 423 Avenue units, will commence between August and December of this year.
Catalyzing the emirate's vision and development
According to the CEO of Azizi Developments, Mr. Farhad Azizi, the launches are based on demand, which has been exceptional in MBR City, Dubai Healthcare City, and Al Furjan. The current stock across these up-and-coming locations is nearly sold out, which is why Azizi is now planning further developments accordingly. The new communities will be unique in the lifestyles they grant residents – they are a new type of product, and we will be reaching out to new markets with them.
"The funds will be spread out over several years, with more than 11,000 homes being developed. We are confident that this investment in Dubai, the most promising, forward-thinking, and growth-inclined city in the world, is well placed, and look forward to further catalyzing the emirate's vision and development," he added.
For the construction of the 45 buildings, Azizi will minimize vertical supplier structures by sourcing materials, such as concrete, steel, and aluminum, locally. It will also continue to build its engineering team and construction methods, making the developer less contractor-dependent and taking efficiency and reliability to new heights.
March 2022
Agreement between Azizi Developments and Daikin for the supply of high-end cooling equipment for Phase 3 of Azizi Riviera to be extended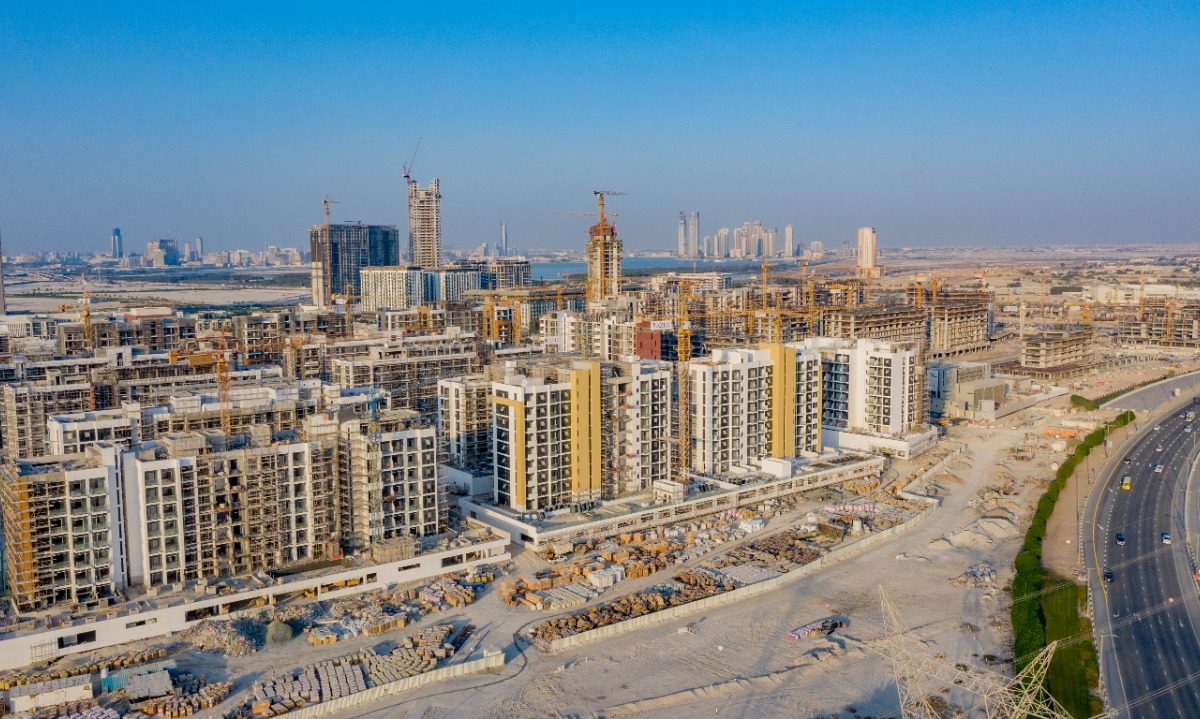 A private developer in the UAE, Azizi Developments, has decided to extend its agreement with Daikin for the supplying of high-end cooling equipment for Phase 3 of Azizi Riviera in the Mohammed Bin Rashid (MBR) City,  one of the biggest mixed-use developments and freehold areas in Dubai
Daikin is a well-known innovator and worldwide partner provider of high-quality and advanced heating and air conditioning solutions. They will provide the project with HVAC systems comprised of their air-cooled chills, fresh air handling units, and fan coil units. 
CEO of Aziz Developments, Mr. Farhad Azizi, expressed the company's confidence in Daikin as a "highly proficient partner" and that the company has worked on numerous projects before. He explained that Azizi Developments have every reason to feel confident that Daikin is the absolute best fit for Phase 3 of Riviera. 
Overview of  Azizi Riviera
Azizi Riviera is best described as a stylish waterfront-lifestyle destination that is located in the heart of Mohammed Bin Rashid City, a planned mixed-use development in Dubai, the United Arab Emirates which is also known as  MBR City. The location is a convenient pinpoint that is in the midst of various leisure, business, and retail hubs of the city.
The project is designed to act as an introduction to the French-Mediterranean lifestyle of Dubai. Riviera is described to represent a new landmark destination that is simultaneously commercial as well as residential with an abundant area of retail space. 
Also Read: Dubai Creek Tower (The Tower) project timeline and all you need to know
Riviera currently features three districts which include a lagoon walk with artisan eateries and boutiques, an extensive retail boulevard, and a vast, lush green garden social space – Les Jardins.
Azizi Developments is not done, however, as they recently announced an addition of a 2.7-kilometer crystal lagoon to Phase 3 of the Azizi Riviera project. The crystal lagoon is confirmed to cover an area of over 130,026 m2 that will be stretched all through and across the entirety and vastness of the community. 
Dubai Waterfront in Mohammed Bin Rashid (MBR) City over 60% complete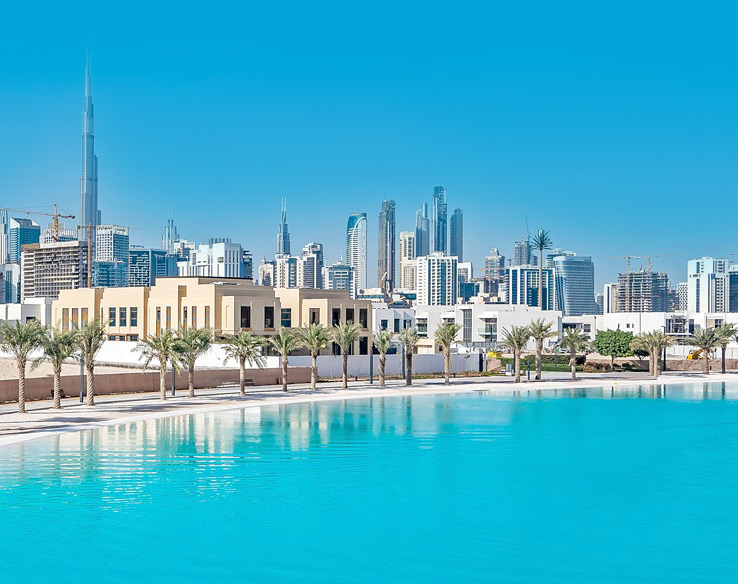 Leading real estate developer in the UAE, Sobha Realty has announced that the 200-acre Dubai Waterfront Development that is being carried out in Mohammed Bin Rashid (MBR) City is 60% complete. 
The development, categorized as a mixed-use project that boasts a total number of 22 hectares of greenery, the equivalent of 30% of the whole project, is set to feature a residential component that includes one-bedroom, two-bedroom, and three-bedroom apartments. 
It will also have four-bedroom, five-bedroom, and six-bedroom villas as well as amenities such as tennis courts, gyms, swimming pools, playgrounds, parks, and swimming pools. 
Sobha Realty ambition 
While announcing the project's progress, Sobha Realty expressed its ambition to continue succeeding throughout the year as well as launching just yet another mega-development that will be near the Sobha Heartland in the third quarter of the year. As a major player in the region, the company pledged its consistency in displaying strength and resilience when it comes to creating communities that uplift the quality of life for its residents.
The company also revealed that to take overwhelming responses from both resident and foreign investors for its luxury properties, they would increase their sales target for the year to $1.6 billion; a 50% increase from the previous year.
May 2022
An agreement signed for implementation of Riviera interior space project
Dubai-based private real estate developer, Azizi Developments has signed an agreement with Nerkal Interior for the Riviera Megaproject. According to the agreement, Nerkal Interior will direct and model the interior space for the Riviera Megaproject which is located in the city of Mohammed Bin Rashid.
The Riviera project is set to represent a new landmark destination that is both for commercial and residential use. It will feature a 2.7-kilometer-long crystal lagoon that is swimmable and covers an area of well about 130, 026 square meters.
The lagoon is said to stretch across the entire community and will be filled with well over 51.5 million gallons of clean and desalinated water that residents can swim in. The lagoon will be linked to a lagoon walk, to make it as easily accessible as can be. 
A statement from Nerkal Interior confirmed that the project will also feature an abundance of retail space as well as various boutiques and a variety of artisan eateries. Important to observe is that the Riviera Megaproject is strategically right next to the upcoming Meydan One Mall as well as the Meydan Racecourse.
The racecourse is set to be home to the Dubai World Cup and its proximity to these two significant upcoming buildings proves just how grandeur of an experience visitors and residents will gain once it is officially launched.
CEO of Azizi Developments, Frahad Azizi stated that the company was more than thrilled in announcing its partnership with Nerkal Interior. He further added that the firm would be able to provide its customers with a luxurious and unparalleled experience.
Park Avenue elevators installation contract extended
The elevator installation project for Park Avenue in the prestigious MBR City has officially been extended. The extension was by Azizi Developments with Bin Ham North Ocean Elevators.
For nearly a decade, the latter has been the exclusive distributor of Hyundai lifts within the UAE. Noteworthy, Hyundai elevators are among the top 10 elevator brands worldwide. Additionally, the company boasts an annual production capacity of about 25,000 units.
Azizi Developments' CEO gave more insight into the project's agreement extension. Farahd Azizi said that the extended agreement covers the three buildings of their Park Avenue project. Furthermore, he said that the partnership accurately reflects their mission to work hand-in-hand with the best-in-class suppliers only. He noted that they aim to cater to valued investors as well as end-users.
Park Avenue project in Dubai's MBR City is 40% complete overall
This contract extension comes approximately 5 months after the Park Avenue residential community project was reportedly 40% complete overall.
Developed by Azizi Developments, a private developer within the UAE, the Park Avenue project is divided into Park Avenue I, II, and III. Park Avenue I's completion progress is currently at 38% while Park Avenue II is 41% complete. Park Avenue III on the other hand is 40%. 
Moreover, the structure for Park Avenue I is currently at 84% completion while the structure for Park Avenue II is currently at 96% completion. Lastly, the structure for Park Avenue III is currently at 97% completion. Additionally, infrastructure works are also swiftly progressing. The total workforce has seen an increase to 340, to further accelerate construction works.
 Park Avenue features and amenities 
Upon completion, approximately by 2023, Park Avenue will feature a total of 372 residential units. Additionally, there will be 29 retail units and three buildings each with a swimming pool accompanied by a fully equipped gym.
The CEO of Azizi Developments commented on the project. Farhad Azizi said that through having selected trustworthy and reliable contractors they've made significant progress with Park Avenue I, II, and III. Farhad also noted that the project had noticeably higher quality levels.
Moreover, Farhad stated that the project is being built around the concept of connected serenity. He remarked that the project is the epitome of an easily accessible, convenient, and strategic location. Lastly, Farhad noted that the project aims to offer a little getaway to residents and visitors alike, within the city.
Aug 2022
Riviera Reve, the fourth phase of Azizi Riviera in MBR City launched
Riviera Reve, the fourth, most luxurious, and most exclusive and high-end phase of Azizi Riviera in the heart of MBR City, Dubai, has been launched. The project's launch was carried out by Azizi Developments.
With a picturesque ambiance, the Riviera Reve project will span a total area of well over 130,026 square meters. It will have a total number of 24 ultra-luxury buildings with 5,061 homes. Alongside 2,600 studio apartments, the homes will feature 1,579 one-bedroom and 876 two-bedroom units. Additionally, the project will feature exclusive duplex penthouses of exquisite design.
Featured amenities 
All of the buildings come with two swimming pools, fully equipped gyms, steam rooms as well as saunas, not forgetting areas dedicated to children and play. The project's location is right in the heart of Mohammed bin Rashid city, on the shores of Azizi's 2.7-kilometer-long swimmable crystal lagoon. The lagoon walk will also feature a diverse array of boutiques as well as artisan eateries.
The CEO of Azizi Developments spoke about the project. Farhad Azizi said that the development distinguishes itself through its opulence. He continued by stating that the project's concept aims to lead and redefine the luxury property segment. Farhad Azizi further highlighted the project's lavish entrances with cascading waterfalls accompanied by elegant ceiling coves with indirect lighting.
Calacatta Sponda marble flooring, modern over-the-counter wash basins alongside sleek big slab porcelain walls further prove that truly, the project is set to impress.