The Riverfront Jacksonville project is a mixed-use, multi-phased scheme, proposed to be delivered in Jacksonville, Florida, USA, under a public-private partnership. The development was revealed by American real estate company SouthEast Development Group in June 2021.
The master plan for the proposed scheme envisions over 15 acres of public green spaces and 2.3 million square feet of structures on St Johns River banks.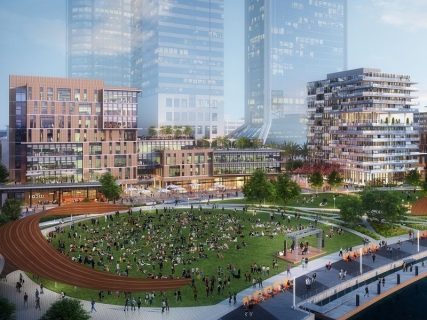 Around $1.1bn Riverfront Jacksonville project is set to generate $430m in total public revenue in a decade including $286m to the City of Jacksonville and $138m to Duval County Public Schools. The $6m remaining in revenue will be allocated to other taxing districts. The Riverfront Jacksonville project will be developed in Downtown Jacksonville, between the former county courthouse and the former site of Jacksonville Landing marketplace.
The Riverfront Jacksonville project will include over 755 residential units, 330,000ft² of commercial space, a 208-room hotel and 200,000ft² of modern retail, dining and entertainment area. Around 3,000 parking lots will be availed across the Riverfront Jacksonville.
Read also: The BMO Tower Development in Chicago.

Public Green Space (A): 15 acres of expansive riverfront parks and public areas set to incorporate programmed experiences and activity nodes, like public art, flexible amphitheatre, retail, event plazas and branded golf greens.
The Bend: Of principal significance to the main plan is the eventual park model on the western parcels. The Riverfront Jacksonville plan comprises a number of public amenities, such as gardens, pedestrian walkways and bigger landscape features.
Building One (B): A lasting split-level, the mixed-use structure will house next-generation 120,000 square feet of commercial office area with ground-level restaurant and retail. The open corridor design will offer clear views of the river along Laura Street.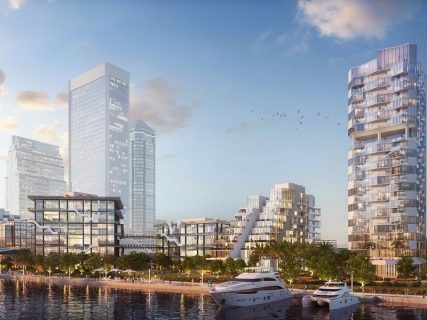 Building Two (C): A residential 14-level condominium tower will give an additional 100 units to Downtown's housing inventory, with a panorama of Downtown and the St. Johns River. The structure will incorporate a state-of-the-art wellness centre and retail areas at the plaza level.
Building Three (D): A destination hotel with 208-room and two-level interactive retail food hall named "30 North" (The Jacksonville's coordinates) linking with a dynamic outdoor area modelled to support year-round community and music events.
Buildings Four and Five (E): Innovative commercial space developed in a WELL health safety and LEED certification standards to offer modern "Healthy Environment" technologies.
Building Six (F): As a future phase, the Hyatt Regency Hotel's current parking structure site will be redeveloped to blend multifamily apartments and residential condominiums.
Building Seven (G): A modern, forward-thinking Exhibition, Entertainment & Technology Center will revive the convention-oriented Hyatt Regency Hotel.
Building Eight (H): A 27-level/410-unit residential structure with a mix of multifamily and condominium units will stand on the east end with additional 50,000 square feet of retail area to enhance the visitor's and residents' experience at the plaza level.
Marina and Boathouse Restaurant (I): A modern entertainment and retail plaza at the base of Building Eight, while public activity areas and a two-level boathouse restaurant are set directly over the water around a three-acre river basin and public marina.
Project team
SouthEast Development Group appointed Gensler, Nelson Worldwide, and SWA Group to deliver the Riverfront Jacksonville project design. Construction will be delivered by Danis, Brasfield & Gorrie and Swinerton while ETM and THA Consulting were awarded the engineering and planning support job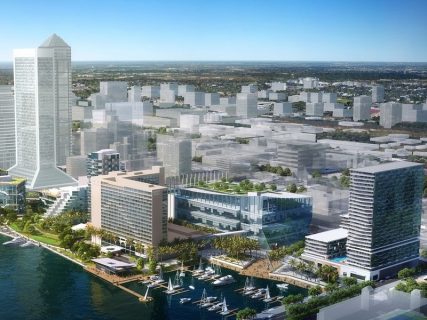 Timeline.
2021
The construction of the mixed-use project was revealed by SouthEast Development Group in June and is expected to start in the third quarter (Q3) of the year, anticipated to complete in 2026. The Riverfront Jacksonville project is estimated to offer approximately 1,700 jobs during the construction phase and more than 2,100 permanent jobs later after completion in retail, restaurants, office, and hospitality.
In mid-October 2021, Steve Atkins, the developer of the project delivered a US$ 2bn plan for a long stretch of the downtown Northbank between the former Jacksonville Landing site and Metropolitan Park, setting the stage for a fork-in-the-road decision for how the city wants to develop that waterfront.
The Jacksonville City Council gave unanimous approval in late October 2021 for plans to build a world-class, Five-Star hotel brand in Jacksonville's sports complex, on portions of the former Shipyards and Metropolitan Park Kids Campus sites.
The US$ 321M proposal will include a Four Seasons Hotel and Residences along with office and retail space, an improved marina, and an expanded Riverwalk.