The BMO Tower is a 51 storey building, 727 feet (222 m) tall under construction in West Loop Chicago, Illinois, and in the south of the Union Station rail terminal. The development will become the Chicago's 24th-tallest building, and the tallest in the west side of Canal Street. Designed by Goettsch Partners and Magnusson Klemencic Associates as the consultants, the tower will offer 1,500,000 square feet (140,000 m2) additional office space to the city. The team planned to take advantage of the Chicago's skyscraper signage rules which were recently loosened to add two signs to the top of the structure.
The signs would punctuate the tower's west and south sides to allow motorists on both the Eisenhower and Dan Ryan Expressways gaze upon the logo of Bank of Montreal and reflect gone days, when Chicago had an international stature bank of its own, rather than flying the flag of another country's number four bank.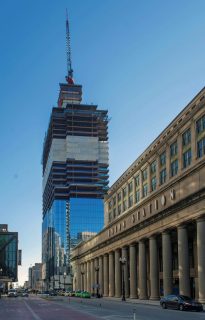 Search for construction leads
Read also:One Chicago Tower facts and timeline.
Enhancing occupants health.
Just like the Salesforce tower, a building also under construction in Chicago, BMO will receive an extreme contrasting office market than when it was earlier conceived. The high rise of covid and remote work has many companies reconsidering their space needs, and BMO Tower could contribute to a possible glut of unleased area. The development team concentrated on main areas to enhance occupant health, The first was ventilation, because the COVID-19. For vertical transportation, they had to use a destination dispatch system to make the number of workers at the same time using the elevator limited.
The third idea was lowering the chance of infection transmission on surfaces by inserting touchless revolving doors. Anyone entering can use a smartphone to enter the turnstile. Washrooms will contain plumbing fixtures and antimicrobial finishes.
The BMO Tower will also have a park on the west side of the building, with a bar and a restaurant. The BMO tower is controlled by Convexity Properties and Riverside Investment and Development. The tower will serve as the BMO Harris Bank headquarters, who are the BMO Financial Group subsidiary, when it is fully constructed in 2022.
Project timeline.
2019
The development was set on the location of an Amtrak-owned parking lot. Plans for the construction were revealed and its in December when the construction started. The tower design comprised of terraced setbacks and V-shaped structural frames. The desicion also called for a 1.5-acre public park, and revamping of the Union Station upper floors into a 400-room hotel.
August 2020
The tower began vertical construction.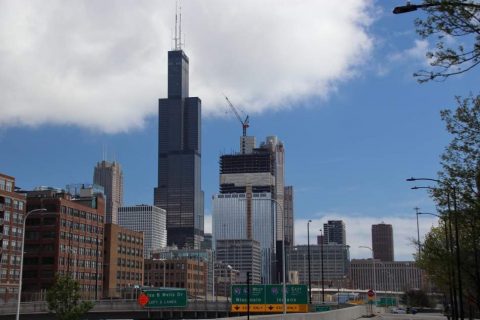 April 2021
The final beam of the building was laid. To make the official topping-off look more official, Clark Construction team was joined by Chicago Mayor Lori Lightfoot, who touted the scheme for the 1,500 union jobs it delivered and the 6,000 office workers who will soon be the residents.