Simple house plans are a set of construction or working drawings that are sometimes known as blueprints. They define all the construction specifications of a house such as the dimensions, materials, layouts, installation methods and techniques.
House plans are useful for planning space and visualizing how people will move through the space. Additionally, plans make it easier to check if the space is suitable for its intended purpose. Moreover, the plans provide a way to work through any potential challenges and redesign before moving forward into more elaborate planning.
More importantly, house plans are important for setting a budget and scheduling construction.
Below are simple house plans for one-, two- and three-bedroom houses.
Simple One-Bedroom House Plan
One-bedroom apartments are often a hallmark for singles or young couples. However, they do not have to be the stark and plain dwellings that call to mind horror stories of the "first apartment" blues.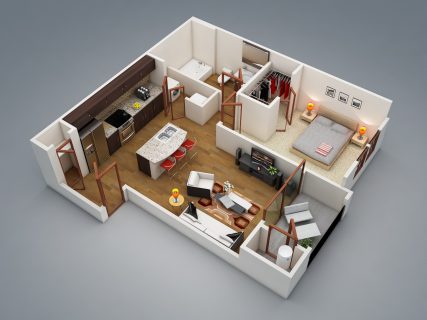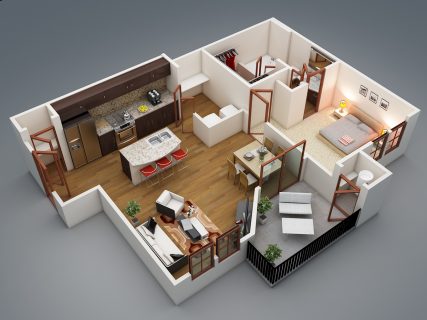 The above is a modern one-bedroom apartment that offers comfortable room sizes plus luxury amenities like a large tub, modern appliances, and granite countertops. It also features a unique balcony space that's perfect for perching on with a good book.
Also Read: Types of African House Plans and Designs
Additionally, there's a workspace that's ideal for young professionals, a comfortable bathroom with dual sinks, a large bedroom, a modern kitchen, a terrace and a laundry and storage area. Natural light spills into the living area and the bedroom in this contemporary one-bedroom apartment.
2. Simple two-bedroom House Plan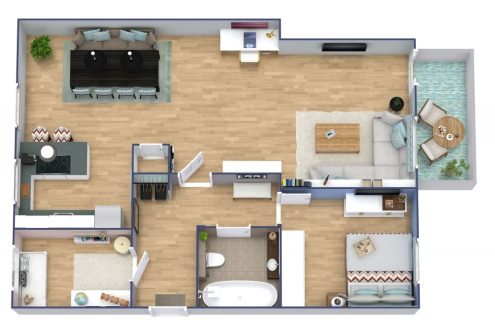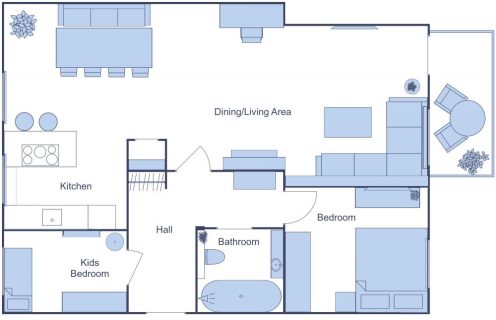 This is an ample and open living space 2-bedroom apartment floor plan. The entrance hall includes a built-in coat closet with a handy bench for putting on footwear. Adjacent to the hall entry is a bathroom that consists of a sink, toilet, and bathtub with an optional shower set.
This apartment's open-concept living space is large enough to put in a desk unit and it has a door leading to a balcony or deck. A featured fireplace provides warmth and charm to the apartments living and dining rooms. On the other hand, there is a peninsula kitchen with a breakfast bar, electric range, sink, microwave, and full refrigerator.
The layout includes a large bedroom with space for a queen-size bed, wardrobe, and a dresser as well as a smaller bedroom that can either be used as a child's bedroom, office, or guest room.
3. Simple three-bedroom House Plan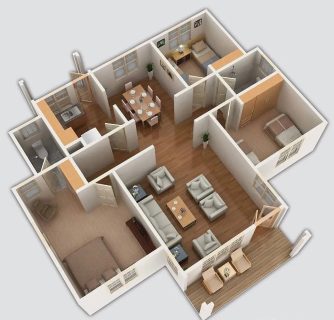 This simple three-bedroom house plan is designed to perfection and defines elegance. According to the plan the house is spacious and it features;
Living room
Open Kitchen
Dining area
Master Bedroom En-suite
Two bedrooms sharing the Cloakroom
Corridor