Antarc Interiors was founded in 2012 as a branch of Antarc Ltd. We are the only one-stop shop for various flooring solutions in East Africa and we strive to deliver the best value proposition to the marketplace. Our fundamental strategy is based on developing, growing and maintaining sustainable relationships with all partners to enhance business opportunities throughout the supply chain.
As a sole representative of Tarkett in Kenya we were appointed to be the main supplier of flooring solutions for the KRIL hospital. Our partner Tarkett is a French multinational corporation and one of the most recognisable flooring brands with over 30 production sites around the world. For 140 years, innovation, dedication to excellence and commitment to sustainability have made Tarkett a global leader in cutting-edge flooring solutions not only for the healthcare sector but also for education, sports, commercial and residential segments. It is worth mentioning that aligned with the 17 United Nations Sustainability Development Goals, Tarkett has been contributing for many years to several of them, deploying its 2020 Sustainability Roadmap throughout the entire organisation.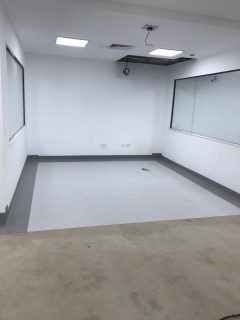 Together with Pharos Architects, we have specified various options in homogenous vinyl flooring from Tarkett depending on the area and performance. Homogeneous vinyl flooring is a tough and ultra-durable solution for heavy and very heavy traffic areas. It is recommended for application in healthcare sector mainly because of its resistance to traffic and ease of cleaning. Tarkett homogeneous vinyl flooring is the only vinyl floor on the market that can be dry-buffed to avoid heavy cleaning protocols and to reduce maintenance costs by 30% over the floor's lifespan.
The main products used for the project are iQ Granit and iQ Toro SC which is static-conductive flooring for operating theatres and x-¬ray rooms.
Being a product that is specially designed for healthcare facilities, iQ Granit is the key solution and it is used in most of the areas. It offers outstanding performance such as extreme durability with superior wear, stain and abrasion resistance for all heavy-traffic areas. Additionally, there is no need for polish or wax, a simple dry-buffing is enough to restore this floor's original appearance. On top of that iQ Granit comes in a very wide colour palette, so interior designers can play around and create colourful formats on the floor.
Finding the right supplier and choosing the right product is only a part of the success. Despite being widely used in other parts of Africa, homogenous vinyl is not a very popular solution in Kenya. "The main issue is lack of product knowledge and complexity of the installation." — says Kush Shah, head of specialty flooring department at Antarc Interiors. Antarc Interiors offers guidance through the whole process from product selection, to installation and after-sales service. We have certified installers and bring specialists from Tarkett Academy who train technicians all over the world and share experience with our team. "We are setting up a benchmark here." — adds Kush Shah. "We believe that KRIL hospital will be a reference point for all future hospital projects in Kenya."
For more information please contact [email protected] or visit www.antarc-ke.com