Based in Indonesia, the world's largest island country on the Southeast side of Asia, Bali Prefab is a company creating prefabricated buildings in Bali and shipping them to an increasing number of customers across the globe.
Bali Prefab tropical buildings form part of the exclusive Four Season's Resort in Tahiti, private residences in Hawaii, exotic bungalows in New Caledonia and structures in far-away Japan and Italy.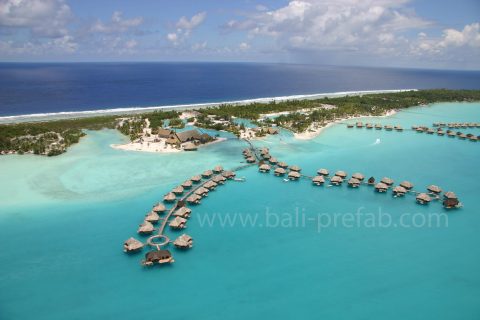 Search for construction leads
The above is only a fraction of clients who have discovered the beauty and savings potential associated with the knock-down approach to tropical building available at Bali Prefab.
The making of the prefabricated building's
Phase 1: Design and Engineering
The 1st stage of the overall building process of the prefabricated buildings is the design phase. Bali Prefab talented team of architects, civil engineers, and master-carpenters that specializes in prefab design homes, villas, restaurants, pavilions, and other associated buildings.
The company uses Auto CAD 2D, 3D, and rendering programs to prepare all of their drawings, including Architectural drawing, Construction drawings, Detailed onsite assembly drawings, 3D drawing for illustration.
Phase 2: Facilities and Materials
This stage entails the selection & processing of the woods and other building materials. Bali Prefab uses only the highest grade hardwoods such as Merbau wood and Bangkirai/ Balau wood. These timbers are naturally resistant to termites and have the equivalent of an F27 structural strength rating according to Australian standards.
The company is also fully certified with Sistem Verifikasi Legalitas Kayu (SVLK) translated to Timber Legality Assurance System in English, which means they only purchase woods that are legally harvested and allowed to be exported.
Once delivered to the factory, the timbers are processed to various stages with their machinery. Key items such as window and door timber, flooring, decking, and siding are sent to be kiln-dried.
Phase 3: Pre-Construction
The pre-construction stage includes prefabrication and erection of the timber frame structures at Bali Prefabs huge, undercover assembly factory area.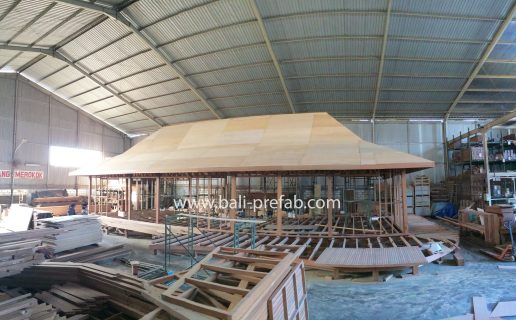 Before installation, each house/building component is machined, hand sanded and then pre-finished to protect the wood. They are then drilled, bolted and screwed together. Upon completion, all parts are labeled and the structure is disassembled for shipping purposes.
Bali Prefab homes are not kit homes, they are fully engineered custom manufactured homes.
Phase 4: Finishing, Packing & Shipping
The 4th stage of the overall building process is the finishing, packing, and shipping of the tropical homes, villas, and structures to their final destination.
Upon disassembly, each component is carefully lacquered with the most appropriate finishing polish. For example, all exterior exposed components are finished with a minimum of Ultran Lasur (exterior purpose, alkyd-based resin).
The ready components are then carefully packed with a layer of protective foam sheeting, and then packed with carton materials. The coding which is directly on the timber members is also applied to the packed component along with the building name and client's name.
Phase 5: On-Site Supervision
Bali Prefab can send their supervisor overseas to oversee the assembling process of the prefab house. However, this phase is optional as the company compiles a detailed client manual coded to facilitate final reconstruction at the final destination.
Features of Bali Prefab buildings
Apart from the finest-quality renewable wood resources, Bali Prefab buildings also feature double wall systems for better insulation and aesthetically pleasing installation of plumbing and electrical wiring.  They also have join wood structures, wall panels and roof structures with bolting systems for better structural integrity.
The company insulate the roofs with double aluminum foil to reduce heat radiation to the building, using optional materials as the final covering layer. Bali Prefab can also create designs according to the client's specification.